The arrival of budget airlines has seen the tourism industry enjoy unprecedented growth, with a rising middle class increasingly seeking new and exciting destinations to visit. Fuelled by social media, cheap airfares and a variety of different routes, tourists are now flocking to a diverse range of attractions across ASEAN.
But as in other regions, overtourism has now forced ASEAN to strike a balance between welcoming visitors and battling overcrowding, congestion and pollution.
Around 129 million tourists visited ASEAN member states last year according to figures released during January's ASEAN Tourism Forum (ATF) in Vietnam, and that sum is expected to rise to 155 million next year – putting untold stress on communities without the capacity to support such massive numbers.
With the news last year that the Philippines and Thailand closed world-famous beaches to allow them to recover from pollution, sustainable tourism is now more important than ever.
For AirAsia, sustainable tourism isn't just a fancy word.
Having flown 600 million people since they started operations 18 years ago, ASEAN's leading low-cost carrier is fully aware that they have played an integral part in not only democratising travel but also enabling overtourism.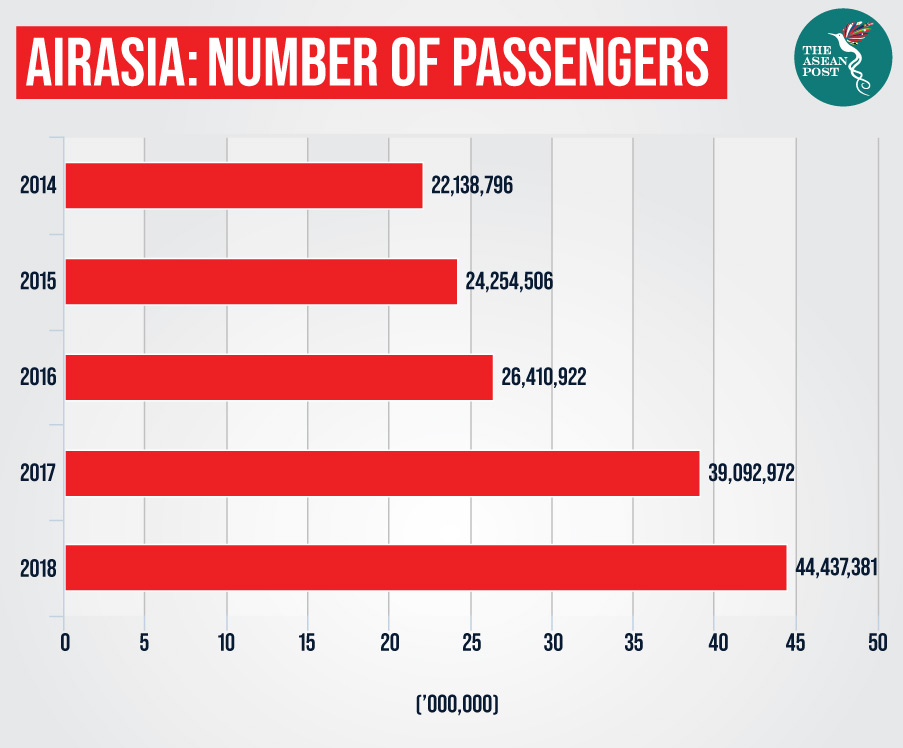 Source: AirAsia
Socially conscious
In their efforts to encourage sustainable tourism, AirAsia has embarked on guest education programs, rolled out carbon reduction and waste management policies, and implemented the collection and separation of recyclable items on flights and in their offices. 
Community-based tourism programmes, consultations with local leaders prior to opening new routes and social enterprise initiatives through its AirAsia Foundation are other ways the company is addressing sustainable tourism – one of the keys of the ASEAN Tourism Marketing Strategy (ATMS) 2017-2020.
Another one of its efforts was on display in Bangkok yesterday when the airline unveiled its 'Sustainable ASEAN' livery on its newest Airbus A320. Held in conjunction with the ASEAN Day celebrations in Thailand – which holds the ASEAN Chairmanship for 2019 – the special livery features notable ASEAN tourism icons alongside the ASEAN Chairmanship logo. 
ASEAN celebrated its 52nd anniversary on Thursday, and the theme of Thailand's ASEAN Chairmanship – Advancing Partnership for Sustainability. AirAsia's initiative is a perfect example of this slogan in action.
Calling the artwork, "beautiful and courageous", AirAsia Group CEO Tony Fernandes said he hoped it would catch people's attention and spark a conversation about the benefits and impact sustainable travel has on the 650 million people who call ASEAN home.
Raising awareness
Airlines have spent countless hours working to reduce their aircrafts' weight in order to reduce fuel consumption and subsequent carbon dioxide (CO2) emissions. In a bid to shed this weight, AirAsia have done everything from replacing bulky pilot manuals with sleek tablets to reducing the amount of water carried on a flight for the aircraft's washbasins and toilets.
While Fernandes noted passengers can't control an aircraft's weight or fuel, they can control how they look after the environment.
"That's what our biggest role is, to promote and raise awareness of sustainable tourism and protect communities from overtourism," Fernandes said after the launch.
"The public need to know that sustainable tourism isn't just about reducing greenhouse gasses or CO2 emissions – it's also about not littering or defacing sites which have historical or cultural value," he added.
The Airbus A320 aircraft with registration number 9M-AJW will be based in Malaysia, where it will fly to more than 50 destinations in all 10 ASEAN member nations from Kuala Lumpur. AirAsia will also launch the livery on an Airbus A320 based in Bangkok later this year.
A320 family
AirAsia recently announced it will upsize its future Airbus single-aisle fleet, converting 253 orders for the A320neo to the larger A321neo. 
The best-selling A320 family incorporates latest aviation technologies including new generation engines and better aerodynamic features, which together deliver at least 15 percent fuel savings at delivery and 20 percent by 2020. The A320neo also reduces CO2 emissions by 5,000 tons per aircraft per year.
Other efforts to cut CO2 emissions include using only one engine for taxiing before taking off and after landing.
Although the air transport industry is only responsible for two percent of global CO2 emissions, efforts such as those undertaken by AirAsia not only help them to be more sustainable and socially responsible but also goes a long way in setting an example for other carriers.
Clinching the World's Best Low-Cost Airline award for the 11th year in a row at the Skytrax World Airline Awards 2019 in June, AirAsia is now well-placed to promote a greener future and lead a global push for sustainability.
Related articles:
Towards sustainable tourism in ASEAN