The novel coronavirus crisis has introduced us a to a different world – one with a new normal. Temperature checks, social distancing, masks, work-from-home and distance learning are some of the new norms that all of us need to embrace and adapt to. Governments have imposed strict measures in order to break the chain of infections, this includes travel restrictions and citywide lockdowns. The COVID-19 virus is not only a health threat, but has also decimated livelihoods, local businesses and the economy in general. 
It is believed that until an effective vaccine is found, the new normal is likely to stay indefinitely. This can be seen from the recent announcement made by the President of the Philippines, Rodrigo Duterte who said that he will not allow face to face classes in schools until a COVID-19 vaccine is made available. 
To date, over 6.2 million people have been infected with the COVID-19 virus and total deaths recorded have already passed the 370,000 mark. Scientists and pharmaceutical giants around the world – from ASEAN member state, Thailand to European countries – are currently working at breakneck speed to develop a vaccine for the disease since it first emerged in Wuhan, China. 
According to the Global Alliance for Vaccines and Immunisation (GAVI), as of 11 May, there are more than 102 candidate vaccines that researchers are working on, of which at least nine are now being tested in clinical trials on humans.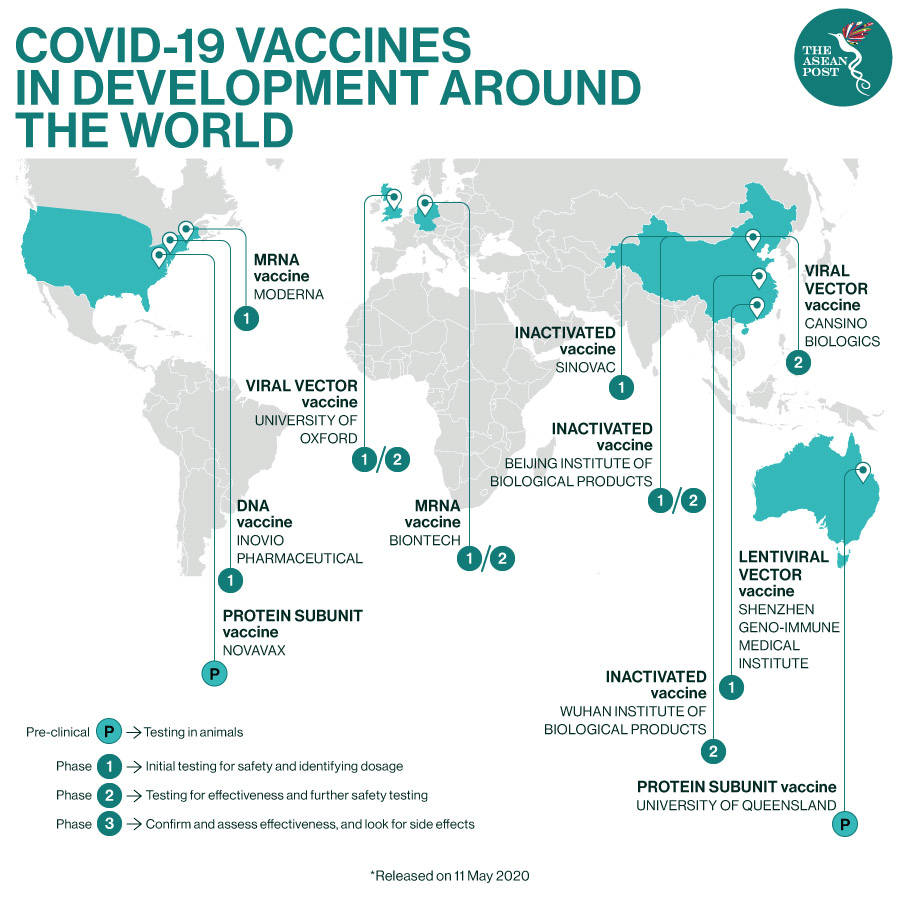 So, what are some of the latest developments in the race to find a COVID-19 vaccine?
"When candidate vaccines make it to human clinical trials, they first go through Phase 1 trials primarily to test the vaccine's safety, determine dosages and identify any potential side effects in a small number of people. Phase 2 trials further explore safety and start to investigate efficacy on larger groups. The final stage, Phase 3 trials, which few vaccines ever make it to, are much larger, involving thousands or tens of thousands of people, to confirm and assess the effectiveness of the vaccine and test whether there are any rare side effects that only show up in large groups," stated GAVI.
Some candidate vaccines that are in Phase 2 include the Beijing Institute of Biological Products and Wuhan Institute of Biological Products, which both belong to China's state-run Sinopharm Group. Others include BioNtech's MRNA Vaccine in Germany and the University of Oxford's Viral Vector Vaccine in the United Kingdom (UK). 
There is good news from the Beijing Institute of Biological Products, as it was recently reported that the vaccine jointly developed by the organisation and China National Biotec Group Co. has completed Phase 2 testing and may be ready for the market at the end of 2020 or early next year, according to a report published in the official WeChat account of the state-owned Assets Supervision and Administration Commission.  
Nevertheless, Phase 3 would not be endured without challenges. Media reports have stated that the final stage of testing needs to be done in a place where the virus is still spreading rapidly, and China's cases seem to have been plummeting every day. Other than that, a viable vaccine needs "massive production capabilities in order to meet global distribution demands."
Although many are hoping for a vaccine or a cure to be deployed very soon, "unfortunately, we really do not know which vaccine will work and whether there will be one at all. If we're lucky, we'll receive indications in autumn as to (a potential vaccine's) effectiveness," GAVI head Seth Berkley told a Swiss newspaper.
There are other concerns regarding the search for a vaccine; domestic interests and that a vaccine would first go to high-income countries. 
Based on a statement by GAVI, when a COVID-19 vaccine is ready, scaling-up manufacturing capacity to produce enough for the world will be a difficult task. Even with the current investment into greater manufacturing capacity, it is not enough to vaccinate everyone straightaway. 
"So, when vaccines do become available, it will most likely be those at greatest risk of the coronavirus – health workers, older people and those with underlying conditions, such as diabetes – that will be prioritised first."
Dr Koh Mia Tuang, a consultant paediatrician with a subspecialty in paediatric infectious diseases at the University of Malaya's Medical Centre in Malaysia recently wrote an article in the local media discussing the affordability of a COVID-19 vaccine when it is eventually made available.  
"There is no guarantee that less developed countries will be able to afford and have access to the vaccine," explained Dr Koh. 
"Even now, certain more powerful and rich nations have an understanding with potential vaccine manufacturers to have exclusive rights to the first vaccines, which will likely culminate in an artificial global vaccine shortage," he added.
At the moment, drugs such as antivirals lopinavir/ritonavir (for HIV treatment) and remdesivir (originally developed for Ebola) have been rebranded as temporary treatments for COVID-19 patients with severe conditions.
Until a viable, safe and effective vaccine is found, it is important to adhere to guidelines and safety measures provided by health authorities. In reference to the popular proverb 'prevention is better than cure', and as advised by many medical specialists such as Dr Koh Mia Tuang himself: stay healthy, practice social distancing and diligent handwashing, wear face masks when possible and avoid crowded areas as preventive measures against the COVID-19 coronavirus.
Related Articles:
Global Virus Vaccine Race Heats Up