The centrality of the Association of Southeast Asian Nations (ASEAN) is often mentioned and emphasised by government officials and scholars in the Asia-Pacific region. ASEAN plays a leading and central role in the region's multilateralism as it hosts and sets the agenda for numerous meetings that include non-Southeast Asian states to discuss a wide range of issues. 
This ASEAN-led multilateralism refers to inclusive multilateral mechanisms that were initiated by ASEAN such as the ASEAN Regional Forum (ARF), East Asia Summit (EAS) and ASEAN Defence Ministers' Meeting Plus (ADMM-Plus). All these three mechanisms involve the 10 ASEAN member states and extra-regional countries – the ARF consists of 27 members from various regions whereas the EAS and ADMM-Plus consist of the same 18 member countries. 
The fundamental goal of these three complementary mechanisms is to maintain regional peace and stability through institutionalised regular dialogues primarily between leaders and ministers. 
While ASEAN-led multilateral mechanisms have largely succeeded in preventing the outbreak of conflicts and wars in the region, there are still areas in which ASEAN can improve in. Therefore, this article aims to examine the multilateral security mechanisms that are present in other regions such as Europe, the Middle East and South Asia with a view to evaluating the areas in which ASEAN has done well in and the areas in which it can further improve on. Northeast Asia was left out of this study due to the lack of a multilateral security mechanism in that region. 
Multilateral security mechanisms 
Among the three regions of Europe, the Middle East and South Asia, Europe has arguably the most developed and inclusive multilateral security mechanisms. 
The key mechanisms in Europe are the European Union (EU) and the North Atlantic Treaty Organization (NATO). While the EU (which is made up of 27 member states from the region) is relatively new to defence and security cooperation, it has increasingly been institutionalising defence cooperation. Examples of such cooperation mechanisms include the Permanent Structured Cooperation (PESCO), the European Defence Fund (EDF) and Coordinated Annual Review on Defence (CARD). 
As for NATO, which consists of 29 member states – including non-European states such as the United States (US) and Canada – it has historically been premised on the US' leadership and it currently exists as a multilateral grouping primarily to counter a perceived or real threat from Russia. 
As for the Middle East, while it lacks an inclusive multilateral security mechanism that includes all the states in the region, there are two major regional groupings such as the Gulf Cooperation Council (GCC) and the Arab League. 
The GCC consists of six Gulf states on the Arabian Peninsula – Saudi Arabia, United Arab Emirates (UAE), Qatar, Kuwait, Oman and Bahrain. It was formed primarily due to a common security worry that Iran (after its 1979 revolution) would export its ideology to the region. The GCC today is however not as united as it once was since the threat perception of Iran among its members is now quite different.
As for the Arab League, it is meant to offer an Arabic collective security system and it consists of a larger number of 22 states (from North Africa and the Middle East) compared to the GCC. As there remains intra-Arab conflict in the region, the Arab League's contributions to the wider region's security are rather limited.
In the South Asian region, the two significant multilateral security mechanisms are the Indian Ocean Rim Association (IORA) and the Indian Ocean Naval Symposium (IONS). 
IORA aims at "strengthening regional cooperation and sustainable development… through its 22 member states and 10 dialogue partners". Although IORA's original role was to promote economic cooperation in the region, its focus from 2011 also started to include maritime security/safety and non-traditional security matters. 
IONS is a regional forum that involves 24 littoral states of the Indian Ocean and it is meant to increase maritime cooperation among navies of the region. While IONS includes focus on maritime security issues, it is dominated by India which holds the power to side-line its rival, Pakistan. 
It should be noted too that both IORA and IONS do not include all the Indian Ocean states and there is no pan-Indian Ocean regionalism. There is also no common external threat faced by IORA and IONS member states, respectively.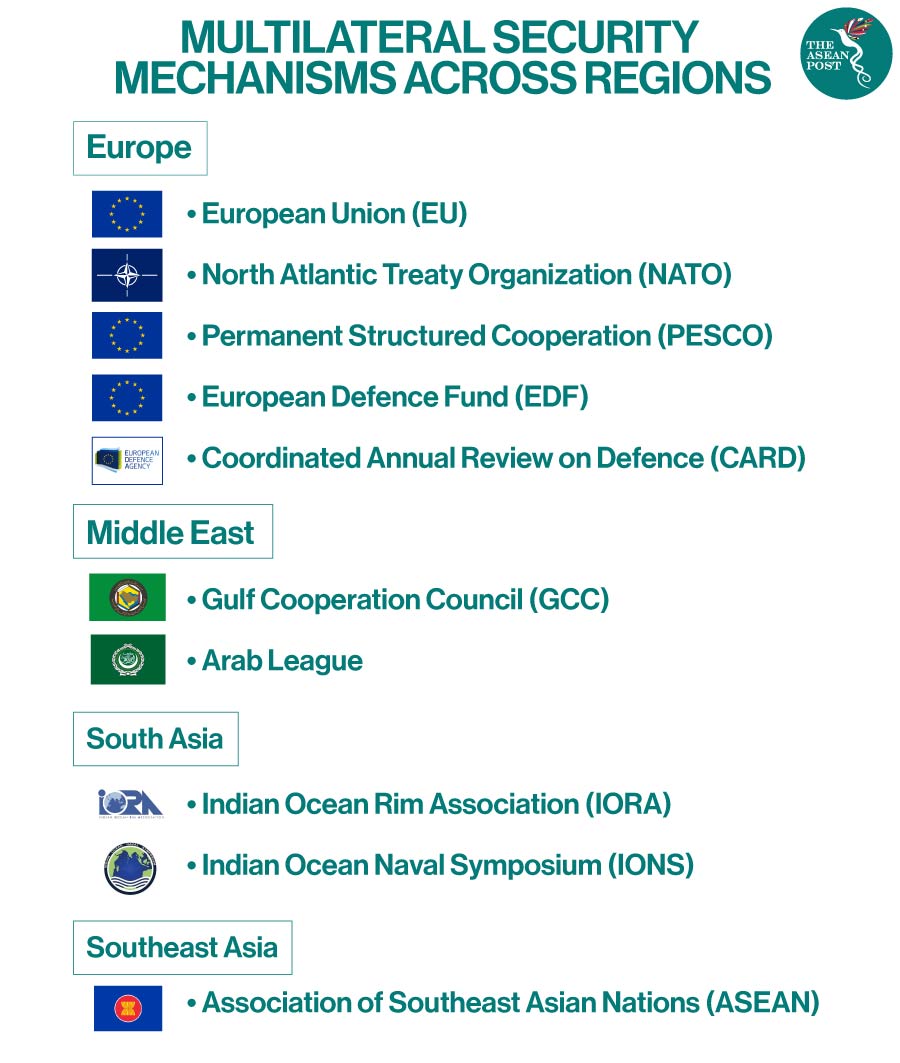 What can ASEAN learn from them?
Firstly, ASEAN can learn from the European experiences in how they have managed to reduce the prospects of conflict/war among European states to almost zero. Therefore, ASEAN should build up its own capacity to address its security challenges, try harder to reconcile diverging threat perceptions among its members, and do more to promote intergovernmental cooperation in defence and security matters. Supranational defence cooperation in ASEAN is however, unlikely to work at this point because of sovereignty concerns, a lack of trust, and a general reluctance of ASEAN member states to cede control of their military resources to a central command.
Secondly, ASEAN should refrain from ever becoming a non-neutral grouping and never base its raison d'être on being a bloc against a certain country. In the case of the GCC, it is an exclusive grouping of six Gulf states that was founded as an anti-Iran bloc. Therefore, the GCC cannot be accepted as a central and neutral convener in the region by Iran and other countries which are friendly to Iran. The day that ASEAN loses its neutrality will be the day that ASEAN ceases to be central in the region's multilateralism. 
Thirdly, ASEAN needs to prevent any bilateral rivalry between its member states from dominating the multilateral agenda and resulting in the exclusion of one of the two rivals. The South Asian examples have shown how the rivalry between India and Pakistan has made it difficult for the region to have any inclusive and effective multilateral security mechanism. For instance, India did not invite its fellow IONS member Pakistan to the IONS' 10th year anniversary meeting in India in 2018. In addition, Pakistan remains excluded from IORA. For ASEAN, having an inclusive regional grouping that is united is of paramount importance. 
The way forward
It can be concluded that a regional grouping such as ASEAN can only be central to regional multilateralism if: (1) there is peace within the region; (2) the extra-regional states acknowledge the grouping's neutral and inclusive status; and (3) any bilateral rivalry does not dominate the regional grouping's agenda and lead to the exclusion of a member state. 
There must also be an acknowledgement that while supranational governance sounds good at a conceptual level and it should be an aspirational goal, the European example is an exception rather than a norm in global politics. Therefore, the focus for ASEAN should continue to be on enhancing intergovernmental security cooperation instead for the foreseeable future.
Related articles:
ASEAN lacks real economic integration