On Wednesday, President Rodrigo Duterte widened a month-long quarantine of Luzon to the entire Philippines in what local media are calling a six-month state of calamity. It is inevitable that the move will stall business operations and economic growth. However, since the first announcement of the lockdown on 12 March, residents have been left feeling tense and confused, unsure of guidelines to the sweeping lockdown which Duterte said would instil "peace and order" in the region. 
In addition, the government there has not provided assurances on how they are planning to address the needs of Filipinos unable to work remotely or have access to hospitals. 
"Upon further study of worldwide trends and measures and the need for extreme caution during such a time as this, I have come to the conclusion that stricter measures are necessary," President Duterte said in a recent public address.
The "enhanced quarantine" of Luzon, which is home to 60 million people and is responsible for 70 percent of the Philippines' economic output, will place tens of thousands of daily wage earners at risk of supply shortages. Hours after the announcement, the country's central bank governor said policy makers are "inclined" to cut key interest rates by 50 basis points when they meet today. 
Confusion in Manila
Without clear instructions on the lockdown in Metro Manila, utter chaos was reported on the first day of quarantine at police checkpoints at the border between Laguna province and Metro Manila. The police checked temperatures of hundreds of travellers with just two thermal scanners, one for motorcyclists and people on foot, and the other for commuters in jeepneys and buses, private motorists and truck drivers – the line went on for kilometres. 
The government recommended social distancing, but the checkpoint officers were helpless to make people adhere to it, especially travellers riding pillion on motorcycles and on the few buses and jeepneys that refused to run half-full.
The Department of Health (DOH) reported on Wednesday that the number of confirmed coronavirus cases in the Philippines has surpassed 200 and that three more patients had died, bringing the local death toll to 17.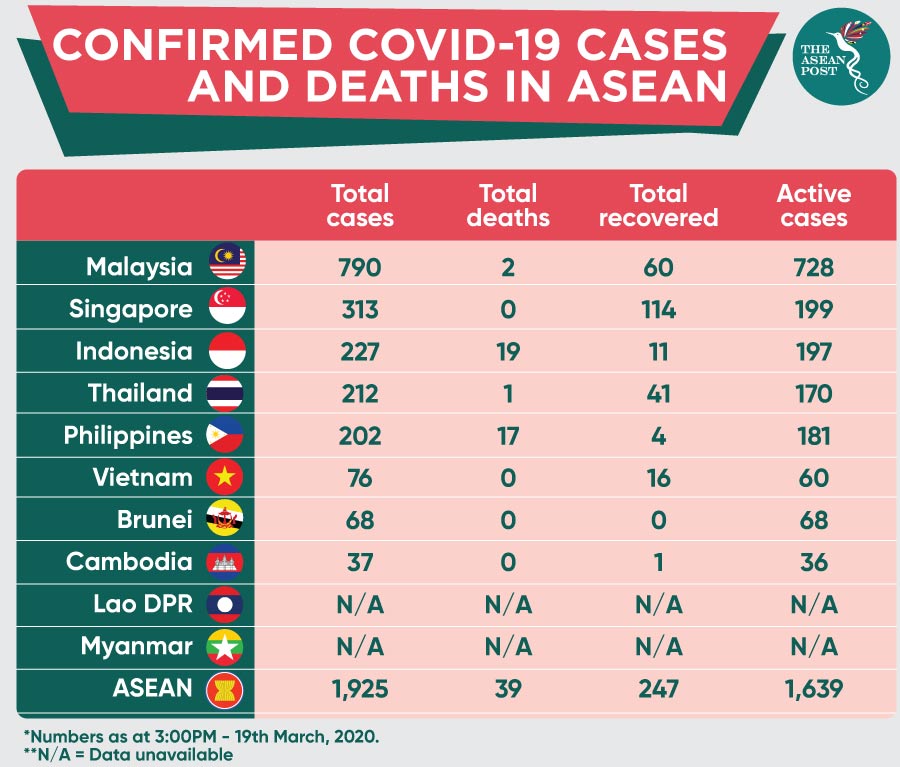 Handling things better
The stage at which a country calls for a nationwide lockdown is an indicator of its medical capacity. For instance, Germany only called for a lockdown when cases reached over 5,000 while Southeast Asian countries have to make that call much sooner. Malaysia took the same measure when it reached just over 500 confirmed cases. 
While the Philippines' drastic measures did little to calm public panic and enable transition, Malaysia took precautionary steps to ease the enforcement of a Movement Control Order (MCO) which has so far been relatively smooth.
Malaysia's Prime Minister Muhyiddin Yassin announced on Monday that a two-week nationwide MCO was necessary to curb the spread of COVID-19.
"I understand you may find the actions taken by the government as inconvenient and difficult for you to perform your daily routine but this is necessary to curb the spread of COVID-19 that may cost the lives of our people," he said.
Just a few hours before announcing the lockdown, the Prime Minister reassured Malaysians that the government will be providing financial assistance for employees who are affected by the virus or forced to take unpaid leave for a maximum period of six months.
Although the majority of citizens remained at home on the first day, the Prime Minister made a second speech on Wednesday appealing to residents to remain at home as cases surged to over 700 – mostly coming from the Tabligh cluster – a Muslim gathering held at the end of last month with 16,000 participants from all over Southeast Asia. 
'We are more afraid of God'
Consequently, Cambodia's rate of infection more than tripled within a span of 10 days to 37 as of Wednesday night after more Cambodians had returned from Malaysia in early March from the Tabligh gathering. The authorities in Cambodia are now facing the real possibility of a community or cluster outbreak.
Still, thousands of Muslim pilgrims from across Asia gathered in Indonesia on Wednesday, despite fears that their meeting could fuel the spread of the coronavirus, just two weeks after a similar event in Malaysia caused more than 500 infections. 
Organisers and regional officials said the event in the world's fourth most populous nation had begun, although the regional police chief said he was making a last ditch-effort to persuade organisers to call it off.
"We are more afraid of God," one of the organisers, Mustari Bahranuddin, told the local media, when asked about the risk of participants contracting and spreading the deadly virus. 
While ASEAN is facing a scenario that the entire world is not prepared for, there are many lessons to be learnt from neighbouring countries and critical measures that can be adopted to avoid further chaos and the spread of the COVID-19 virus while also ensuring the wellbeing of citizens. 
Thailand for instance, is focusing on disinfecting roads around trading zones, transport stations, ports, education facilities, outdoor activity areas and public gathering points in Bangkok. While a nationwide lockdown has not yet been enforced, the Thai government has so far imposed a two-week shutdown of entertainment nightspots and other venues to combat the outbreak. 
"The third stage means disease transmission to a second person, third person and so on. Thailand remains at a controllable stage," said Prime Minister Prayut Chan-o-cha, although the government has assured the public that preparations are being made for stage three – a possible nationwide lockdown. 
Model response
Singapore's response to the coronavirus has been held up by many around the world as a model. As of this week, the country has had 266 total cases with zero deaths, and its infection rate is much slower than the rest of the world. This could be attributed to the mandatory quarantine imposed on patients that tested positive. 
Twice a day, patients will get a text message and they must click on the link that will show authorities where their location is. To deal with those that might cheat and leave their phones at home with someone else, the government has officials knocking on patients' doors every now and then.
Contact tracing teams were also deployed to identify all the contacts of an infected person and called them up. Often these people have early symptoms and arrangements are made for them to be picked up and tested.
Aung San Suu Kyi announced on Monday that no one in Myanmar is infected with COVID-19. Human Rights Watch reported that a spokesperson for Myanmar's government has claimed that people's "lifestyle and diet" protected them from the disease – raising major concerns that the country is downplaying the impact of the deadly respiratory illness.
Related articles:
Philippine leader tells millions to stay home