From centuries-old temples in Cambodia to sleek new public transport systems in Singapore, tourism's rapid growth is set to play a critical role in shaping infrastructure use in ASEAN. 
Around 129 million tourists visited the region last year, and that number is expected to rise to 155 million in 2020. Overall, travel and tourism contributed US$329.5 billion, or 12 percent, to the region's gross domestic product (GDP) in 2017 according to the World Travel & Tourism Council (WTTC) – and that number is expected to rise further to US$598.3 billion in 2028.
But factors such as cheaper travel options, a rise in connectivity and fewer tourist barriers have increased demand to unsustainable levels, and ASEAN's long term competitiveness as a tourist destination may be undermined by bottlenecks unless appropriate investment is made in travel infrastructure and other travel resources according to the World Economic Forum (WEF) in a recent report.
ASEAN has yet to meet global benchmarks in tourist service infrastructure, and environmental sustainability remains the region's greatest competitiveness constraint – with many countries suffering from high air pollution, water stress, below-average levels of wastewater treatment, endangered wildlife and forest loss.
While ASEAN may be ahead of the pack when it comes to the competitiveness of its tourism sector, the industry's expansion means critical gaps in policy, resources and infrastructure will be exposed if not properly managed.  
Southeast Asia scored an average of 4.8 on the WEF's 'Travel and Tourism Competitiveness Report - Travel and Tourism at a Tipping Point' which was released on Wednesday. The index ranks 140 countries on their relative strengths in relation to global tourism and travel. The global average was 3.8 while the average for Asia Pacific was 4.2, reflecting ASEAN's strong balance of natural and cultural resources to attract tourism – and its value for money.
Singapore was judged to have the most competitive travel and tourism sector in ASEAN, followed by Malaysia and Thailand.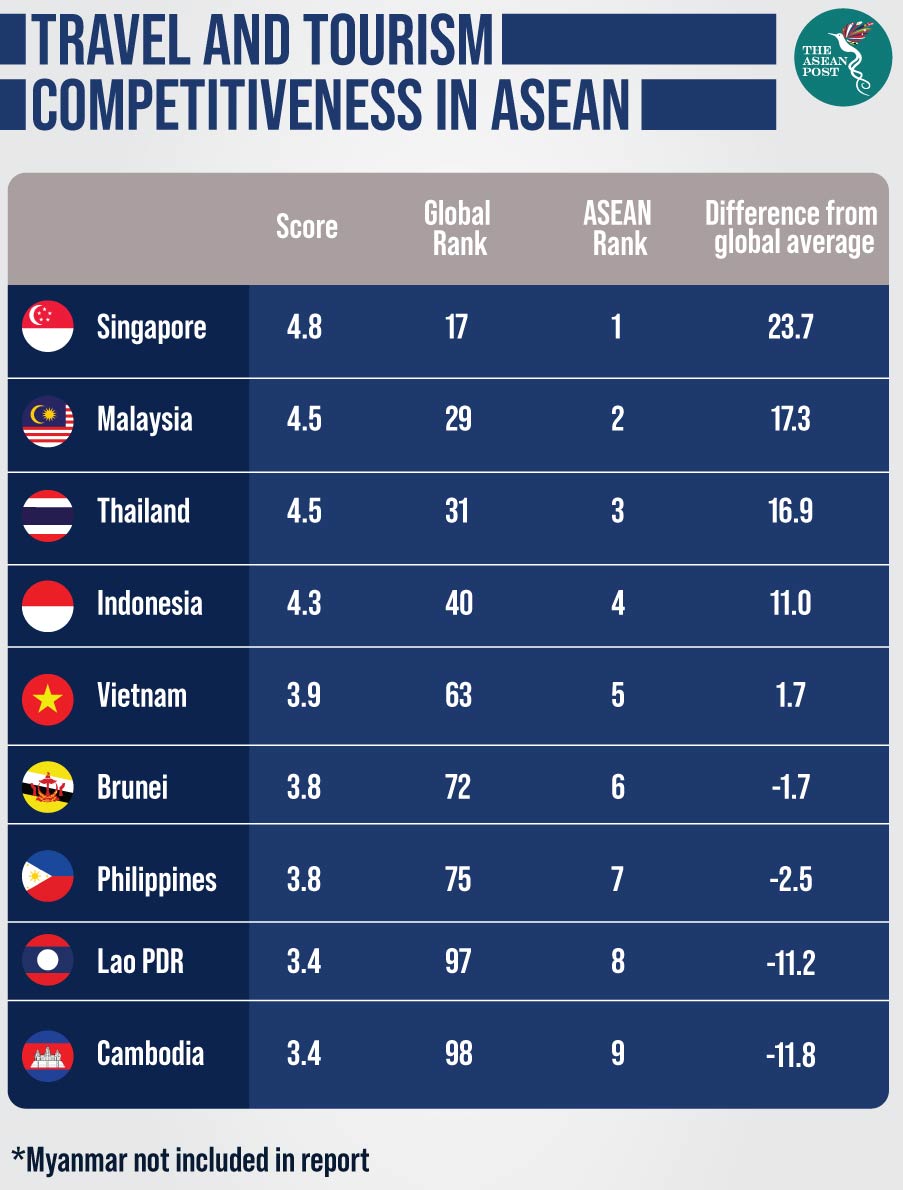 Source: World Economic Forum 
Singapore leads the Asia Pacific charts in the pillars for human resources and labour market as well as prioritisation of travel and tourism. Brunei topped the Asia Pacific pillar for price competitiveness thanks to its low fuel prices, ticket taxes and airport charges. 
Vietnam was the most improved country in two pillars, international openness and air infrastructure, while other ASEAN highlights saw Indonesia named the most improved country for health and hygiene and the Philippines deemed the most improved country for ground and port infrastructure. 
The scores for the biennial report were calculated based on four sub-indexes – enabling environment; travel and tourism policy and enabling conditions; infrastructure; and natural and cultural resources. These were then divided into 14 pillars and 90 individual indicators.
Changes in key cities
Given that international tourist arrivals surpassed 1.4 billion in 2018, beating predictions by two years, it is no surprise that 'overtourism' – congestion and overcrowding from poor tourism management – is a new industry catchphrase.
This is especially true in ASEAN, where the bustling city of Bangkok stands out as a global haven for tourists.
A report released by Mastercard on Wednesday saw the Thai capital retain its top spot on a list of Asia Pacific's most popular destinations for international travellers with 22.8 million overnight international arrivals last year.
Singapore and Kuala Lumpur come in second and third with 14.7 million and 13.8 million overnight international arrivals last year according to Mastercard's Asia Pacific Destinations Index (APDI), a regional subset of the Global Destination Cities Index (GDCI) which is now in its tenth year. 
Bangkok also beat Paris and London as the world's most popular city to visit, with Singapore and Kuala Lumpur coming in fourth and fifth, globally. 
With Bangkok, Singapore and Kuala Lumpur accounting for 51.2 million overnight international arrivals last year, these large numbers of visitors are putting increasing stress on already overloaded infrastructure.
Thailand's main international gateway, the Suvarnabhumi Airport in Bangkok opened in 2006 with a yearly capacity of 45 million passengers but is now handling 65 million visitors. The country last year announced a US$7.9 billion plan to expand the airport and increase annual capacity to 150 million passengers by 2030.
The second-most densely populated country in the world after Monaco, Singapore this week revealed plans to build certain facilities – such as utilities and transport – underground. 
New housing developments in Kuala Lumpur will be limited to a population density of not more than 1,000 people per acre (0.4 hectares) according to a government ruling in April.
As the WEF points out, such cases show that competitive travel economies might be approaching a 'tipping point' where rising tourism is not met with enough carrying capacity or sufficient management policies. The resulting potential loss of competitiveness puts nations at risk of becoming victims of their own success.  
"Countries must look beyond their short-term gains from travel and tourism to ensure a positive future for their economies," said Lauren Uppink, Head of Aviation, Travel and Tourism at the WEF.
"Travel and tourism can drive economies, but only if policy-makers ensure proper management of their tourism assets, which requires a holistic, multi-stakeholder approach." 
Related articles:
Towards sustainable tourism in ASEAN
Thai airport misery may last years as Chinese overwhelm upgrades