ASEAN Member States (AMS) need to step up their game on energy storage development. As the 6th ASEAN Energy Outlook foretells, ASEAN's Total Final Energy Consumption (TFEC) projects to increase by 38 percent by 2025 and 146 percent by 2040, from 375 Mtoe in 2017 to 922 million or mega tonnes of oil equivalent (Mtoe) in 2040. 
ASEAN's top priority in facing this situation is to supply the growing demand with clean and sustainable energy. Determinedly, the region has set the targets of 23 percent renewable energy share in Total Primary Energy Supply (TPES), and 35 percent share of renewable energy in ASEAN installed power capacity by 2025. This means that energy storage is required.
What Is The Status Quo? 
AMS have begun to make efforts to balance the intermittency issue of renewable energy in their electric grids by developing energy storage systems. To date, there are various types of energy storage technologies around the globe. Amongst others, pumped hydro storage is the most mature and largest commercially available. 
First Gen Hydro Power, one of the leading providers of clean and renewable power in the Philippines, is currently investing US$124.89 million to develop a storage project with a total capacity of 120 megawatts (MW), namely, the Aya pumped hydro storage in Pantabangan, which could store eight hours straight of energy. This project is the second pumped hydro storage in the country, after the 728 MW Kalayaan I and II complex in 1982. 
Indonesia follows suit with the state's electricity company, Perusahaan Listrik Negara (PLN), targeting the pumped-storage hydroelectric power plant (PLTA) Cisokan, West Java, to start operating by 2025. This pumped storage will store a total capacity of 1000 MW which becomes the first and only pumped storage in the country.
On the other hand, battery energy storage is considered as a critical technology in the transition towards sustainable energy. The declining price and increasing use of lithium-ion batteries, is proven by the declining price especially in electric vehicles and renewable projects within the region. 
Thailand installed two sets of KSTAR 5kW+10kWh energy storage systems (BluE-5000D) in December 2020. The storage already provides clean and stable night-time power supply at the Chumpoll Temple in Ayutthaya Province, Thailand. 
Despite the great potential of the energy storage system for the region's transition, these technologies, are unfortunately not yet broadly deployed by all AMS. 
Policy To Push Further Development
As renewable energy sources will play a more prominent role in the region's sustainable development, the integration of energy storage systems in Southeast Asia is imminent. Energy storage seems to be facilitating the transition towards clean and sustainable energy, particularly for islands and rural areas within the region. 
In the next three years, the World Bank forecasts that approximately 10 GW storage capacity might be realised. Although most of the projected 10 GW capacity would probably be contributed by pumped hydro storage, it deems battery technologies are beginning to make impacts. But for this to happen, there has to be an energy storage target as most countries in ASEAN do not have rules regarding the storage or fundamental commercial structures to support such emerging technologies. 
Government support in terms of policies, regulations, and laws are now in the spotlight as the push for the adoption of energy storage takes place. The regulatory uncertainties pose an obstacle to equity investors and debt funders regarding deploying these essential technologies.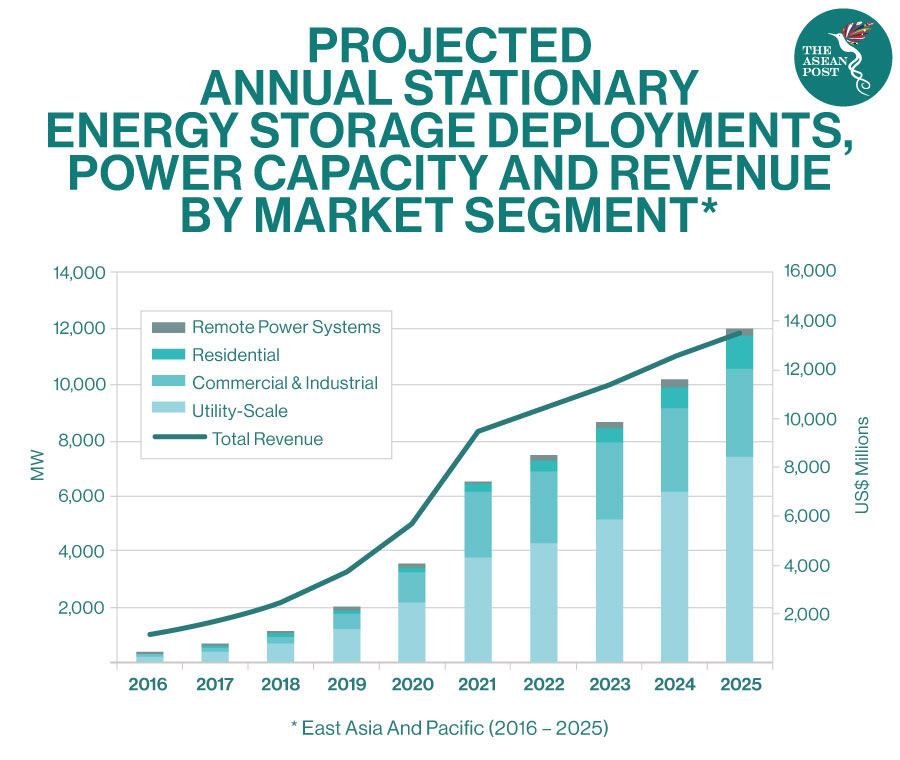 ASEAN could learn from Beijing's policy initiatives, which as of 2019, the central China government had already issued over 10 policy documents. Moreover, of 34 provincial administrative regions, 17, in addition to 22 municipalities, had issued policies to develop hydrogen energy storage for industries and infrastructure. 
In addition, the country's policies are in the midst of reforming its energy markets, thus, the non-state power providers are able to enter the local market, ensuing more opportunities for independent power producers (IPPs) to supply ancillary and capacity services with energy storage systems. 
Although several ASEAN countries have already begun to implement the development of energy storage at the technical level, specific policies to encourage further adoption of these storage systems lag behind. According to the ASEAN Centre for Energy (ACE) Policy Brief: Enabling Policies for Promoting Battery Energy Storage in ASEAN, only a few AMS have related policies. 
For instance, Thailand's Ministry of Energy presented its 'Energy 4.0' strategy by integrating disruptive energy technologies such as energy storage systems. This effort is to ensure the country's successful transformation towards a low carbon society. 
To accommodate this strategy, in September 2019, the Department of Energy issued a circular addressing the need for support from the Energy Regulatory Commission to give cost recovery mechanisms and outline the responsibilities of each stakeholder in the power industry and permit requirements. 
Policies provide an incentive for developers of utilities, and investment funds could capitalise on the opportunity furnished by the storage development. From there, everything will advance. 
Furthermore, having understood massive potential renewable projects within the region, governments of ASEAN countries should start realising energy storage policies ahead of further development. There are numerous renewable power plants already, yet few of them are coupled with energy storage. Policies should be enacted to embrace this development; in order for sustainability in the region to thrive.