Despite rising trade tensions and geopolitical risks, half of ASEAN's member states are among the top drivers of global growth.
The International Monetary Fund's (IMF) World Economic Outlook released last week painted a bleak future for the global economy which is in a "synchronised slowdown" and is anticipated to grow 3.0 percent this year – the weakest since the 2008 global financial crisis. 
It is also a 0.3 percentage point downgrade from the IMF's World Economic Outlook in April and a significant reduction from last year's 3.6 percent global gross domestic product (GDP) growth. Global GDP growth in 2020, meanwhile, is now estimated to stand at 3.4 percent – a 0.2 percentage point reduction from April's report.
All these reductions are hardly surprising.
This month alone, the heads of the World Trade Organisation and the World Bank joined the IMF in downgrading their economic outlooks for the year.
When it comes to their share of global GDP growth, though, ASEAN is punching above its weight.
Indonesia leading the way
Indonesia is leading the charge in the region, with its share of global GDP growth this year measured at 3.9 percent according to Bloomberg's list of top 20 drivers of global growth in 2019 which was calculated based on data from last week's IMF report.
The largest economy in Southeast Asia, Indonesia are ahead of only China (32.7 percent), the United States (13.8 percent) and India (13.5 percent) as the biggest drivers of global growth rates in 2019.
With a projected GDP growth rate of 5.0 percent this year according to the IMF, Indonesia is expected to maintain its dominant position in the medium term thanks to strong domestic consumption and a wide range of infrastructure projects.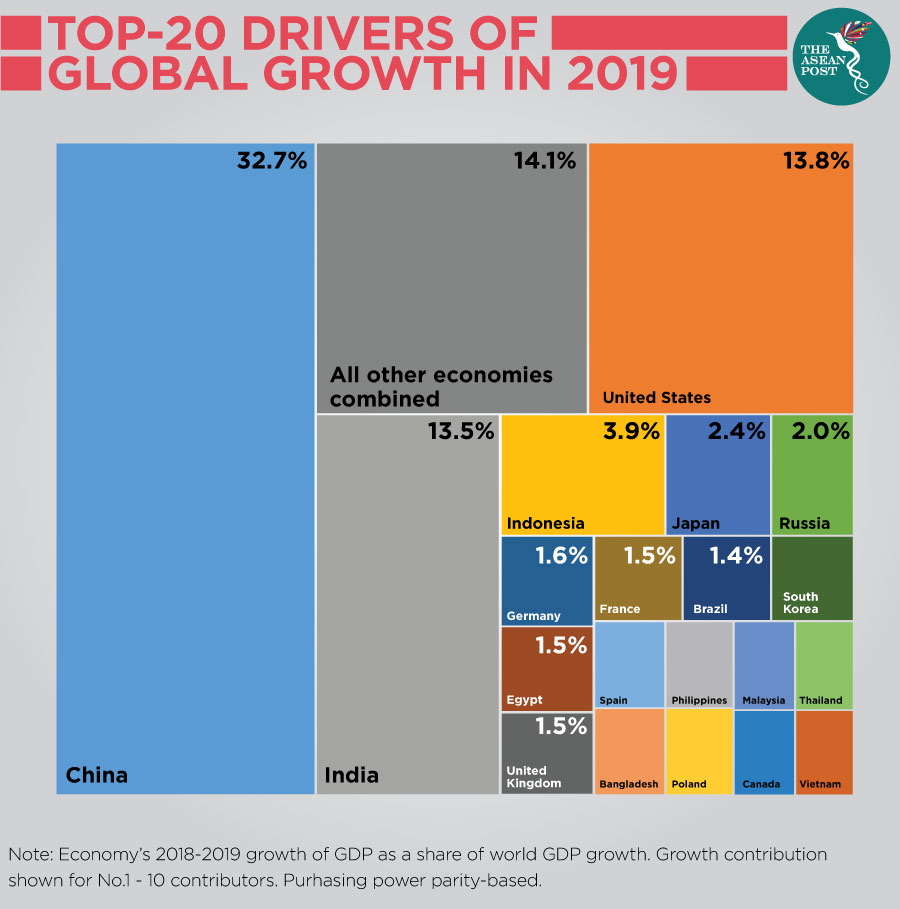 Indonesia are joined by Malaysia, the Philippines, Thailand and Vietnam as among the world's top-20 largest drivers of global GDP growth. Cumulatively, these 20 economies make up 85.8 percent of the world's GDP growth.
Future of global trade
There have been increasing doubts about the long-term future of the global trading structure due to factors such as the US-China trade war, slowing growth in China, broader conflict in the Middle East and Brexit-related uncertainty – all of which is taking a toll on business confidence.
A notable feature of this year's sluggish growth has been the slowdown in manufacturing and trade partly due to higher tariffs and prolonged uncertainty surrounding trade policy – which has dented investments and demand for capital goods.
Earlier this month, the IMF's new managing director Kristalina Georgieva used her inaugural speech to warn that trade tensions could reduce global economic output by 0.8 percent by 2020 – or around US$700 billion.
Monetary stimulus packages by central banks – including Indonesia, Philippines and Thailand – have helped reduce downside risks to growth, and the IMF believes that global growth would be lower by 0.5 percentage points in both 2019 and 2020 in the absence of such monetary stimulus.
"At three percent growth (in 2019), there is no room for policy mistakes and an urgent need for policymakers to cooperatively deescalate trade and geopolitical tensions," said the IMF's chief economist Gita Gopinath.
"Besides supporting growth, such actions can also help catalyse needed cooperative solutions to improve the global trading system.
"Moreover, it is essential that countries continue to work together to address major issues such as climate change, international taxation, corruption and cybersecurity," she added.
End of US supremacy?
For the US, the trade war could also mark the start of more uncertain times ahead.
Georgieva's predecessor, Christine Lagarde, said in an interview with American media on Sunday that the US could lose its status as a global leader because of the trade war with China.
"I was brought up as a citizen of this world. The risk I see is that the United States is at risk of losing leadership. And that would be just a terrible development," said Lagarde, who takes the reins of the European Central Bank next month.
Bloomberg's statistics seem to give credence to this theory.
The US' share of global growth is expected to slip from 13.8 percent to 9.2 percent by 2024 according to Bloomberg's analysis – with 
India's share projected to rise to 15.5 percent and replace the US as second behind China, highlighting Asia's rise as the main engine of the world economy.
With no concrete signs of a respite in the spat between US and China – the world's two largest economies – other economies should redouble efforts to defuse trade tensions of their own and rejuvenate multilateral cooperation with the aim of ensuring sustainable economic development and inclusive growth.
Related articles:
Seeds of next global financial crisis being sown
Trump sparks confusion on China tariffs