The coronavirus pandemic is taking a heavy toll not only in terms of human lives, but also on the world's economy. The World Trade Organization (WTO) forecasts that global trade will fall between 13 and 32 percent across all regions and sectors in 2020. The outlook for investment is not much rosier with the United Nations Conference on Trade and Development (UNCTAD) projecting global foreign direct investment (FDI) to drop by 40 percent from its 2019 value of US$1.5 trillion. 
In light of these facts, the ASEAN Secretariat in its Third Policy Brief released at the beginning of July looks at how the association's 10 member states have coped with the disruption in supply chains caused by the pandemic and what measures the bloc took to ensure that domestic demand of essential goods was met. 
As the paper points out, ASEAN was not alone in adopting measures to counter the negative effects of the COVID-19 outbreak. According to a WTO study, more than 80 countries and territories took some sort of action to ensure that goods in high demand, such as medicine, food and medical supplies would keep flowing to their citizens. The measures can be divided into two main categories: tightening of export restrictions and relaxation of import restrictions. 
The report while noting that the implementation of such measures was more than justified by the need to contain the spread of the virus, it warns that in the longer run they may damage smaller countries that rely on imports for health and food security. It warns against turning these temporary policies into "permanent trade barriers."
According to an International Trade Center (ITC) study, a total of 295 trade-related measures were implemented by 139 countries and territories. The first thing that catches the eye is that out of 295 measures, 156 were restrictive and 139 liberalising with 132 measures focused on exports and 163 on imports. The ITC noted that the vast majority of export measures (127 out of 132) were restrictive with 89 measures specifically limiting or prohibiting exports in some form or other.  
Import measures, on the other hand, were mostly liberalising (134 out of 163) and ranged from tariff reduction to trade facilitation measures such as the simplification of certification requirements. 
Biggest Exporters Of PPEs
The ASEAN 10 represented about 10 percent of all measures reported by the ITC (28) with a balanced mix of 15 liberalising measures and 13 that were restrictive. Indonesia, Vietnam and Thailand were the countries that issued the highest number of measures (five each) followed by Malaysia (three), Singapore, Cambodia, Myanmar and the Philippines (two) and Lao PDR (one). 
Essential products such as food, medicine and medical products (medical supplies, personal protective equipment (PPE) and medical equipment) were the main targets of restrictive actions on exports and not surprisingly accounted for the bulk of liberalising measures on imports. According to WTO data, the total value of trade in medical products was US$597 billion, or 1.7 percent of total world trade, in 2019. 
ASEAN member states, with exports of US$7.5 billion, are among the biggest exporters of PPEs with an almost 24 percent share of total PPE trade in 2019. Malaysia leads the way with 14.2 percent followed by Thailand and Vietnam with 4.8 percent and 3.2 percent, respectively. Many countries understandingly gave precedence to fulfilling internal demand of these products before allowing export.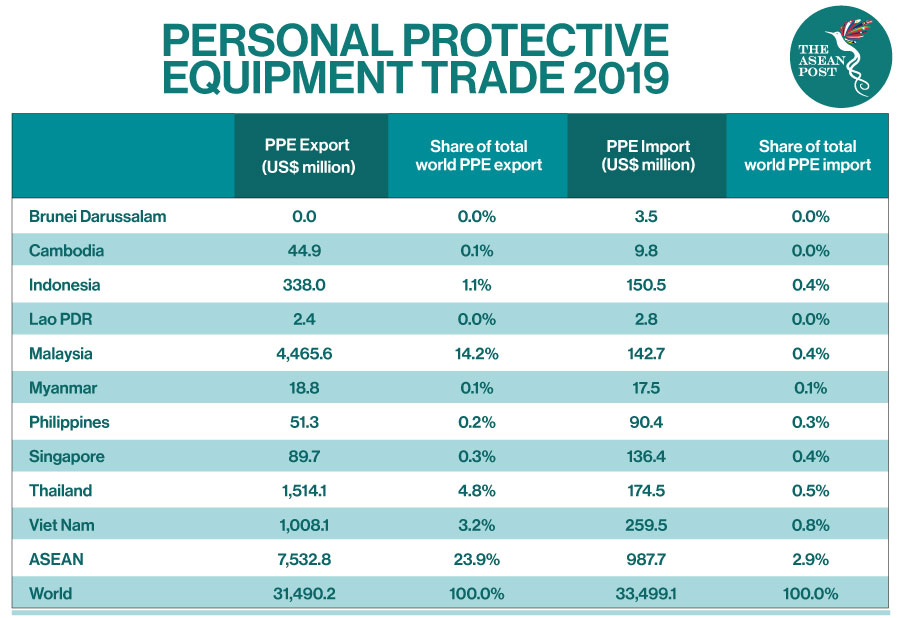 Food supplies are another area of concern. While the pandemic does not create new challenges, it poses potential problems should it affect food production and distribution chains in the longer run. As of June, the WTO has seen only a handful of temporary restrictions on food imports or exports, while the ITC recorded less than 20. Most of the measures, such as suspension of rice export permits, were aimed at securing domestic supplies, while some, such as bans on import of live animals from some countries, were implemented to prevent the spread of the COVID-19 virus. 
Now that the initial emergency phase is over, the paper points out how trade policies can play a pivotal role in the containment of the coronavirus and in the post-pandemic recovery.
The paper argues that regional policy makers have realised that well-structured trade policies are essential to cushioning the impact of the pandemic and any other future potential disruption. 
Minimising Disruptions
Regional cooperation and integration are key to minimising disruptions due to unforeseen events. On 15 April, 2020, the ASEAN Ministers on Agriculture and Forestry group issued a statement where it underscored the need to maintain regional food supply lines open and reduce the use of export control measures. 
This concept was reinforced in a 4 June meeting of the COVID-19 response group that adopted the so-called Ha Noi Plan of Action. The plan calls for ASEAN member states to share information on export restrictions in a timely fashion, refrain from imposing unnecessary non-tariff measures and leveraging the existing platforms to build a stable flow of services and goods across the region. 
Moreover, now that most tariff lines have been eliminated, ASEAN wants to keep working toward its shared goals of trade facilitation to ensure that member economies and those of their trading partners remain open even during events such as a pandemic. 
ASEAN also is pushing forward its digitalisation efforts to implement electronic solutions to reduce cost transactions and to simplify customs procedures. 
Moving forward, the role of the private sector too will be revaluated and it will assume an increasingly important role in the delivery of essential services and supplies as well as in providing recommendations to policy-making bodies on steps to guarantee uninterrupted supply chains.
Related Articles:
Will COVID-19 Trigger A Global Recession?