Abortion is an extremely taboo topic in some parts of conservative Southeast Asia.
ASEAN member states such as the Philippines and Lao do not permit abortion. Whereas Indonesia, Malaysia and Thailand only allow abortion if a medical practitioner deems that continuing the pregnancy poses a danger to the mother's life and health. 
As many countries criminalise abortion, some women and girls with unwanted pregnancies could resort to unsafe abortions to terminate their pregnancies. Unsafe abortion is a life-threatening procedure typically carried out by persons lacking the necessary skills or in an environment that does not conform to minimal medical standards or both. 
According to the World Health Organisation (WHO), the largest number of unsafe abortions occur in Asia, with most of them in south and central Asia. Some of the barriers to accessing safe abortion include restrictive laws, poor availability of services, high cost and stigma.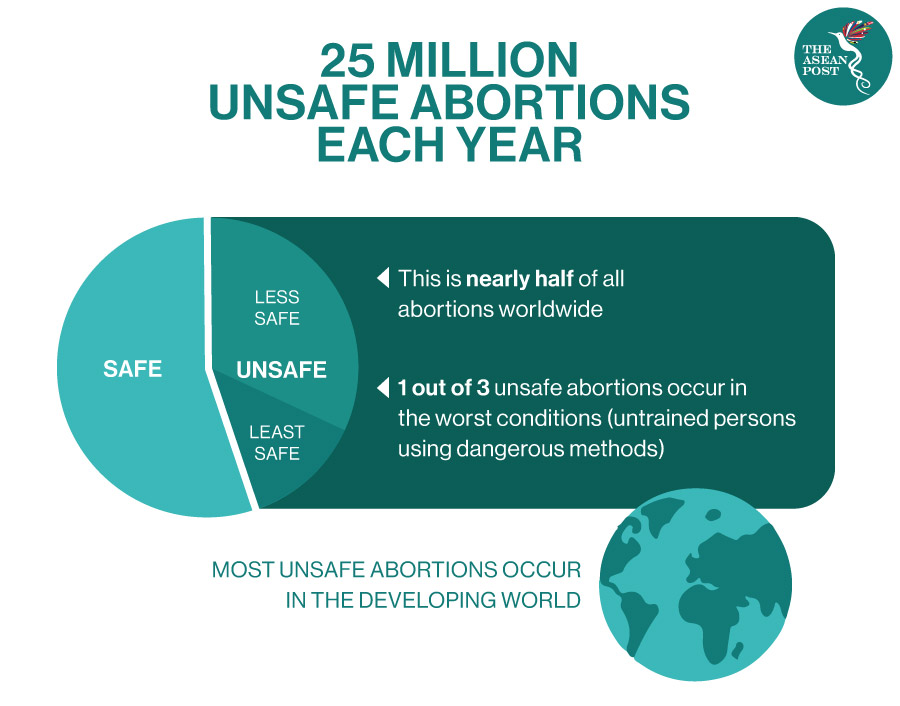 The Guttmacher Institute estimated that over 600,000 illegal abortions were performed in the Philippines in 2012 alone. Ending a pregnancy is illegal in the country and anyone performing or facilitating the procedure could face up to six years in prison. Whereas in Thailand, local media reported that the number of unsafe abortions per year is believed to be as many as 200,000 – killing dozens and maiming thousands with long lasting medical conditions. 
Over in Malaysia, an ASEAN member state that is notorious for baby dumping, – abortion is mostly illegal with the exception to save the life of the mother or to preserve her physical or mental health. It has been reported that some women who have been raped and women with foetuses with congenital abnormalities have been refused abortion in Malaysia.
Access to abortion in the Muslim-majority country has been hampered by religious, cultural, and social stigmas against abortion, and the high cost of termination services in the private health sector.
But in recent years, there has been a rise in the online sale of illegal abortion pills such as misoprostol and mifepristone in Malaysia – which could lead to serious health risks. Unsupervised use of abortion pills could result in complications such as uterine rupture, abnormal bleeding and fatal infections. It was reported that five women died after consuming abortion pills bought online; four of the deaths from back in 2015, while the last was reported in 2017.
"The Health Ministry (KKM) has received 51 reports regarding the online selling of these pills for illegal abortions, which are against the law, throughout 2018 and 2019," said Malaysia's Director-General of Health, Dr Noor Hisham Abdullah.
Nevertheless, some experts are calling for abortion pills to be made available at public health clinics and pharmacies.
"These pills are safe when taken under advice and have been approved by established medical authorities, such as the World Health Organisation, the International Federation of Gynaecology and Obstetrics, as well as the International Planned Parenthood Federation. The guidelines issued by the Health Ministry have been acknowledged in 2012," explained Reproductive Rights Advocacy Alliance Malaysia (RRAAM) hotline coordinator, Dr Sim Poey Choong.
Nisha Sabanayagam from the All Women's Action Society said most people resorted to pills sold online as they were an easier and less stigmatised route, due to the negative perception of abortion.
Pandemic
In the wake of the coronavirus crisis, accessing safe abortion services and related sexual and reproductive health services has become extremely difficult for women and girls. 
According to the Human Rights Watch (HRW), many in Europe are struggling to safely access abortion care during the pandemic as barriers caused by highly restrictive abortion laws and onerous administrative requirements to access abortion services make safe access to essential health care extremely challenging. Some in the region cite shuttered borders for making it hard for women in countries with strict abortion regulations like Poland, to seek the procedure elsewhere.
In Indonesia, authorities believe that there could be more than 400,000 births than usual next year as virus lockdowns keep couples at home and cut access to contraception. 
Hasto Wardoyo, head of Indonesia's national population and family planning board said contraception in the archipelago has "dropped drastically" since the outbreak emerged in the country – raising fears of an increase in abortions and a push up in maternal mortality rates. Unsafe abortion is said to cause approximately 30 percent of maternal deaths in Indonesia.
"Abortion should not be stigmatised, especially when it puts women's lives at risk," said Nisha Sabanayagam. "Women should also be allowed to express their rights over their bodies freely and this includes saying no to unwanted sexual activities, including sex without the usage of contraceptives and being allowed the option of safe and medically supervised termination of pregnancy, especially if the continuation of the pregnancy causes them undue mental and physical stress."
Related articles:
Southeast Asia's Baby Dumping Problem