While little may be known about Myanmar cinema outside the country, the industry is rapidly expanding thanks to a new generation of filmmakers who are looking to break away from the comedy genre so popular with local cinema goers.
One of these rising filmmakers is John La Raw, a Catholic priest who has always had a lifelong passion for filmmaking. A student of filmmaking in Korea, La Raw's films focus on social issues and have been screened in Italy and Spain.
With Myanmar cinema celebrating its centennial next year, La Raw spoke to The ASEAN Post about the background, current trends and future predictions for the film industry there.
Can you tell us about yourself and what inspired you to get into filmmaking?
John La Raw: Becoming a filmmaker was my childhood dream. I've gained a lot of inspiration and valuable life lessons from watching movies, so I would like to make movies that provide not only entertainment but also important life messages.
I started writing and directing stage plays and performed them during cultural and religious celebrations in my hometown, Namti, by learning filmmaking from books and watching movies. I wrote and directed four local feature videos based on cultural and religious teachings and then I went to South Korea to study filmmaking.
Can you tell us about your films?
John La Raw: My first student film at film school, The Confession (which was shot in Korean), won several awards and was screened in several film festivals. My second film, The Opium War, is a documentary about the anti-drug movement of the Kachin people in Myanmar and was shown in international film festivals in Madrid and Rome.
My last film is my first commercial feature film called Ma Ma. The title in Burmese is Tan Bo which literally means "value". Ma Ma, an orphan, works for the biggest drug gang in Yangon and while selling drugs on the street, she dreams of earning enough money to start a new life with her boyfriend. But one day everything falls apart. After her boyfriend dumps her, she finds out that she's pregnant. And when the gang's boss wants her to choose between her own life and that of her unborn baby, Ma Ma will have to take the most important decision of her life. The film is a joint effort of Korean crew and Myanmar cast. The film is going be released on September 12 in JCGV cinemas – one of the two cinema operators in Myanmar.
Can you provide us with a brief history of Myanmar cinema?
John La Raw: Burmese cinema has a long history dating back to the 1910s. Burma's first producer and director, Ohn Maung, is today known as the father of Burmese cinema.
Burma's first film was a recording of the funeral of Tun Shein – a leading politician of the 1910s who campaigned for Burmese independence in London – which Ohn Maung captured with a second-hand camera.
Ohn Maung then founded The Burma Film Company to produce and direct more films. He hired Nyi Pu (Burma's first actor) to shoot the first Burmese silent film Myitta Ne Thuya (Love and Liquor) which proved to a major success despite its poor quality due to a fixed camera position and inadequate film equipment.
The film was based on a story by P Moe Nin about how gambling and alcohol destroyed a man's life. The day the film premiered, 13 October 1920, is commemorated annually as Myanmar Movie Day – so 2020 will be the centenary of Myanmar cinema.  
What can you tell us about the average cinema-goer in Myanmar?
John La Raw: Myanmar's population was about 54 million in 2017, and it is estimated that general movie goers make up around 200,000 to 2,000,000 of that number. If it is a box office movie, it will draw around 1-2 million people. The majority of movie goers (roughly 65 percent) are young people (around 18-35 years old).
What is the cinema scene in Myanmar like now?
John La Raw: There are around 150 cinemas in Myanmar operated by two groups; Mingalar Group and JCGV Group. Most Myanmar movies, say seven out of 10, are comedies. Romance, drama and horror are other popular genres, while there are a few religious films and action films that have been produced too.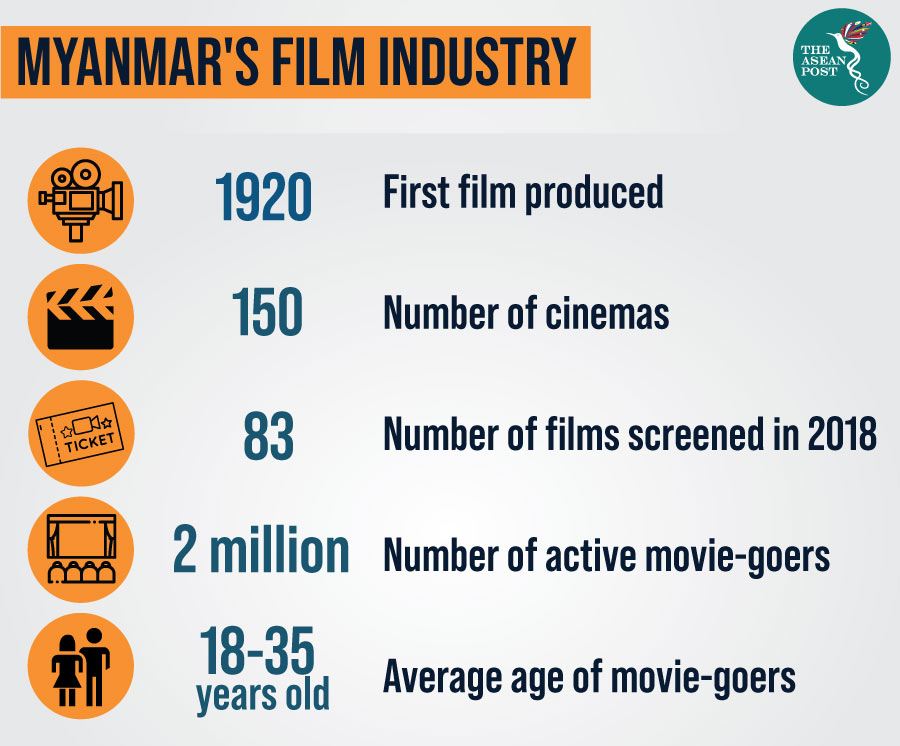 Source: Various
How does the Myanmar movie scene compare with that of other ASEAN countries?
John La Raw: In terms of quality, Myanmar is far behind other ASEAN countries such as Singapore, Malaysia, Thailand, Vietnam and the Philippines. Ironically, Myanmar has produced more films than our neighbouring countries. For example, there were only 13 (local) films screened in Thailand last year and there are around 570 cinemas in the country. But in Myanmar, where there are only 150 cinemas, 83 films were screened in 2018.
While our neighbouring countries' movies are featured in famous international film festivals and have expanded into international markets, Myanmar's movies are still struggling in the domestic market. A lack of equipment and technical knowledge in the film industry, low budgets and severe censorship have had a big impact on the quality of Myanmar movies. Most of the films are shot with little budget over a short period of time.
Which ASEAN countries are currently leading innovation in filmmaking?
John La Raw: ASEAN film industries are still lagging behind Asian countries such as South Korea, China, India, Japan and Hong Kong. Hollywood films, Bollywood films and Korean films are more dominant and popular than local films in the market.
But in their own way, ASEAN countries are trying to improve the quality of their movies and to expand the market with joint productions, hiring professionals from other countries and by sending young filmmakers abroad to study.
Some ASEAN films such as the Thai film Tom-yum-goong (2005), Indonesian film The Raid (2011) and Vietnamese film Furie (2019) were shown in the United States (US) and Europe. The actors from those films – Tony Jaa, Iko Uwais and Ngo Thanh Van – have become famous and have been cast in some Hollywood movies. Therefore, we can say there is a bright future for the ASEAN film industry.
How has the Myanmar cinema scene developed since 2011?
John La Raw: The newly elected government took power from the military government in 2011, and they opened up the media industry and relaxed censorship on films – so there is a certain amount of freedom in the filmmaking process. The new government also supports film associations by providing land, studios and some equipment.
Some young filmmakers who studied abroad are coming back to Myanmar and have started producing quality movies, and even though comedies still make up the majority of movies in Myanmar, there are a good number of quality movies that have been produced lately.
What can be done to further develop Myanmar's film industry?
John La Raw: The government must support Myanmar's film industry by lifting censorship, providing film equipment, building film studios and film schools. Investments from businesses are also important for the film industry. The present filmmakers must learn more knowledge and skills in filmmaking, and they should make films with proper and adequate preparation (pre-production) and spend more time on production and post production. They should also make films from other genres.
Where do you see Myanmar cinema in 10 years?
John La Raw: Myanmar's people love movies and cinemas are being built in many cities and towns. While many young people who studied filmmaking abroad are coming back and making quality movies, many film professionals from abroad are coming to Myanmar to co-produce films – and I expect to see more of that. In 10 years', I predict that the Myanmar film industry will be blooming with quality movies and promising domestic and international markets, and some films will be screened in famous film festivals around the world.
Related articles:
Myanmar's filmmakers are playing catch-up
The changing dynamics of Myanmar politics
Myanmar man faces jail for speaking about child soldier past