Imratul Najwa Abdul Latif, famously known by her stage name, Najwa Latif, was only 16 years old when she signed to NAR Records in 2011. A year later she released her self-titled debut album, 'Najwa'. Though she sometimes sings in English, Najwa's songs are mainly in her national language of Bahasa Malaysia. 
In 2013, Najwa became a campaign ambassador for Colgate's Sixth Annual Ramadan Charity which helped to raise RM150,000 (US$36,000) for 15 orphanages in Malaysia. That same year, she sang a duet with Chinese idol singer Wang Lee Hom at his concert at the resort of Genting Highlands, Malaysia. 
Several awards and nominations later, Najwa decided to continue her studies in Teaching of English as a Second Language (TESL). She is currently an English lecturer at UNITAR International University, though she occasionally sings at events during the weekends. 
From a YouTube sensation to a recording artist with an album and multiple singles released, Najwa Latif has no plans to stop singing, just yet. The ASEAN Post sat down with Najwa Latif to talk about her current and future plans, and how ASEAN awareness among Malaysia's youth isn't as bad as it's made out to be. 
You already have a strong career, yet you decided to further your education. Why?
Najwa: My main ambition is not to become a singer. Since I was a child, I have always wanted to be an educator. I want to educate people. Another reason that motivates me to teach is probably because many of my family members are teachers. My parents are teachers, my eldest sister is an English teacher. 
Singing for me is a hobby. I would call it 'rezeki' (sustenance). Whenever the opportunity to sing comes along, I will grab it. As long as there is demand for me, I will continue to sing. But if there are signs for me to stop, then I'll stop. 
You are also a lecturer. How do you juggle two professions?
Najwa: It is not really hard, because I have been singing since I was in high school. The schedule is similar. I would have classes on Monday until Friday and invitations to sing at events would come on Friday to Sunday. It is not hard for me to manage my time. I will however complete school work on the weekdays so that on the weekend, I'll be able to let loose. 
As a lecturer do you agree the younger generation in Malaysia are not aware of ASEAN?
Najwa: I disagree. I believe some of them are very aware of ASEAN. This week, I had a discussion with my students where we talked about the problems we are facing not just in Malaysia, but in other ASEAN countries as well. I got to know that ASEAN countries are among the worst ocean polluters with plastic - and we have to reduce that. And I learnt that from my students. I believe many of them are aware of the issues and also the beauty of ASEAN. Perhaps what they lack is exposure. They should get more involved in the discussion on ASEAN. In my classes, I give my students the opportunity to talk about whatever they want to talk about.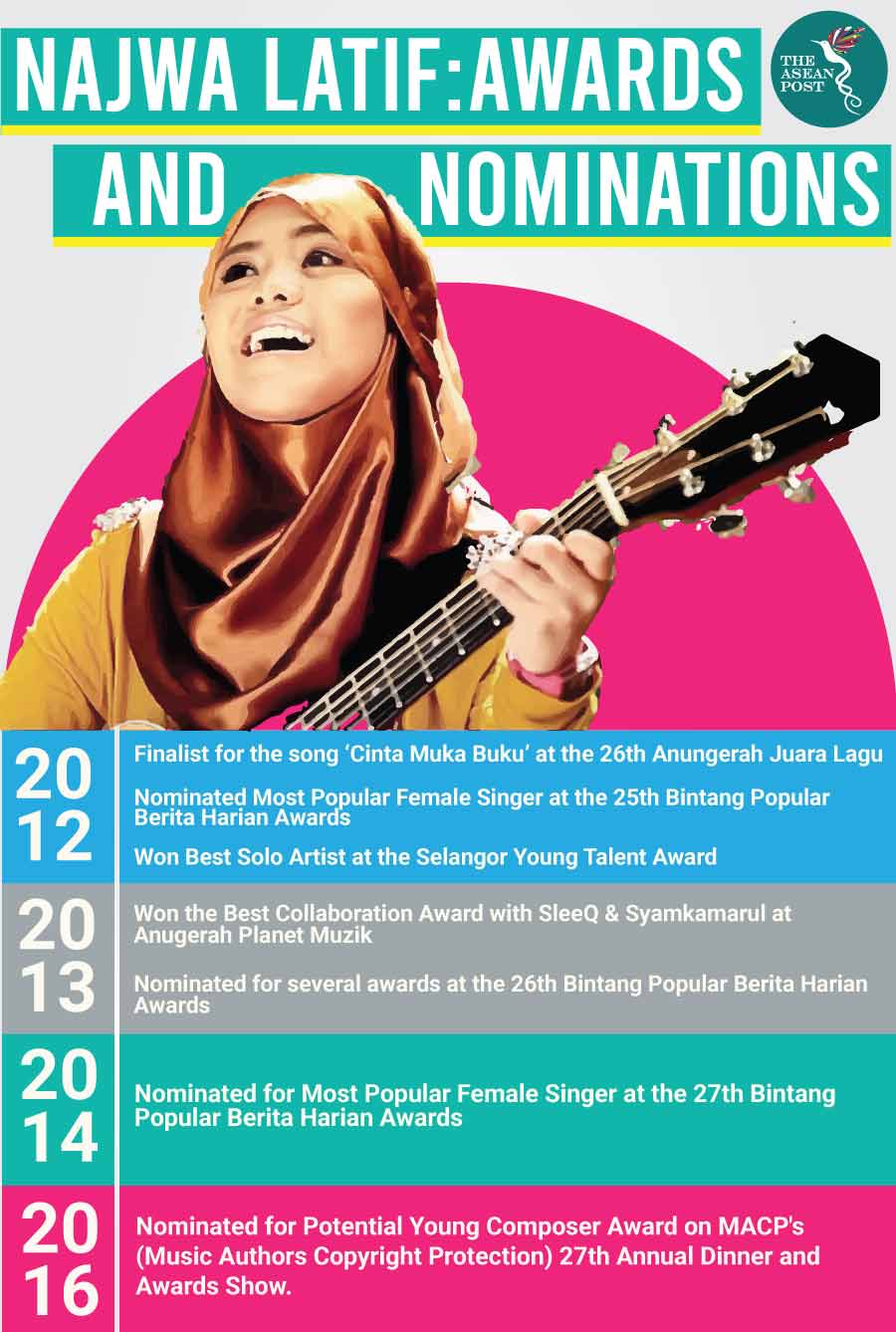 Source: Various
A young person yourself, how aware are you of ASEAN?
Najwa: First, I know what ASEAN stands for. Secondly, I know of the beautiful countries we have in the ASEAN region and lastly, I am aware of the rich culture and tradition shared by ASEAN countries. I have been to six out of 10 ASEAN countries, and I found that the people of Southeast Asia are among the friendliest in the world.
Your songs are mostly in Bahasa Malaysia, yet you were able to garner fans from Singapore, Indonesia and Thailand. Do you think language is a barrier for you when expanding into the bigger ASEAN market?
Najwa: I don't think language is a barrier. I believe music can cross the boundaries of language. You can speak to anyone through music. There is no such thing as language as a barrier when it comes to music. Music can bring people together. Even now in Malaysia, we have so many people who are into Korean music (Korean Pop Music) and they unite and sing the songs together. I truly believe that music unites everyone. 
Will you write songs in English for your non-Bahasa speaking fans?
Najwa: I have actually composed a song in English, called 'Only Yours', which is my very first single in English. However, we have not officially released it yet. The song will be in my second album which will be out soon. 
Do you think language can be a force to bring your ASEAN fans together?
Najwa: Yes. If we look at the people, especially in Malaysia, they are very welcoming when it comes to songs and music from abroad. Although the acceptance of music in languages other than English shouldn't be forced, responses from my fans in Thailand and Singapore have been very encouraging. They like my songs regardless of the language I sing in. They even said that they have learnt a new language from listening to my songs, which is great feedback. I am glad that I was able to introduce the Bahasa Malaysia language to my fans from other countries. I would love to learn other languages, such as Thai and compose a song in that language. Definitely, if time permits, I would compose songs in other languages. 
People have also translated the song title of my first single, 'Cinta Muka Buku' into 'Facebook Love'. It is fun to see my song translated into other languages. I also learnt English from music. When I was 16, I was not able to speak any English. That is why I chose English as my major so I can communicate with people. 
You are very active on social media. How would you use that platform to create ASEAN awareness among your fans? 
Najwa: I have many platforms I can use to bring awareness to Malaysia's youth about ASEAN. I am currently using social media like my YouTube channel. I am trying to be active in sharing information to my fans and subscribers, along with my sister. I would say that social media is a great platform for me to share information about myself and on ASEAN with people from around the world. 
Do you feel hindered in your career by the choice of what you wear or what language you use?
Najwa: When I was 16, I did feel hindered. Now that I have grown older, I have come to a realisation that it is not about the way I look. It is the music that I wish to share with people. It is about how I portray myself and how I can deliver good messages to people through my music. For instance, my first single, 'Cinta Muka Buku'; people interpret it as a love story between a guy and a girl. But I don't want it to be interpreted as such. I wanted the song to be interpreted broadly. I want to let people know about the unconditional love between two people. 
I do get negative comments, now and then, but I have learnt to take them positively. If there is room to improve, I'll improve. But otherwise, I will stay true to myself.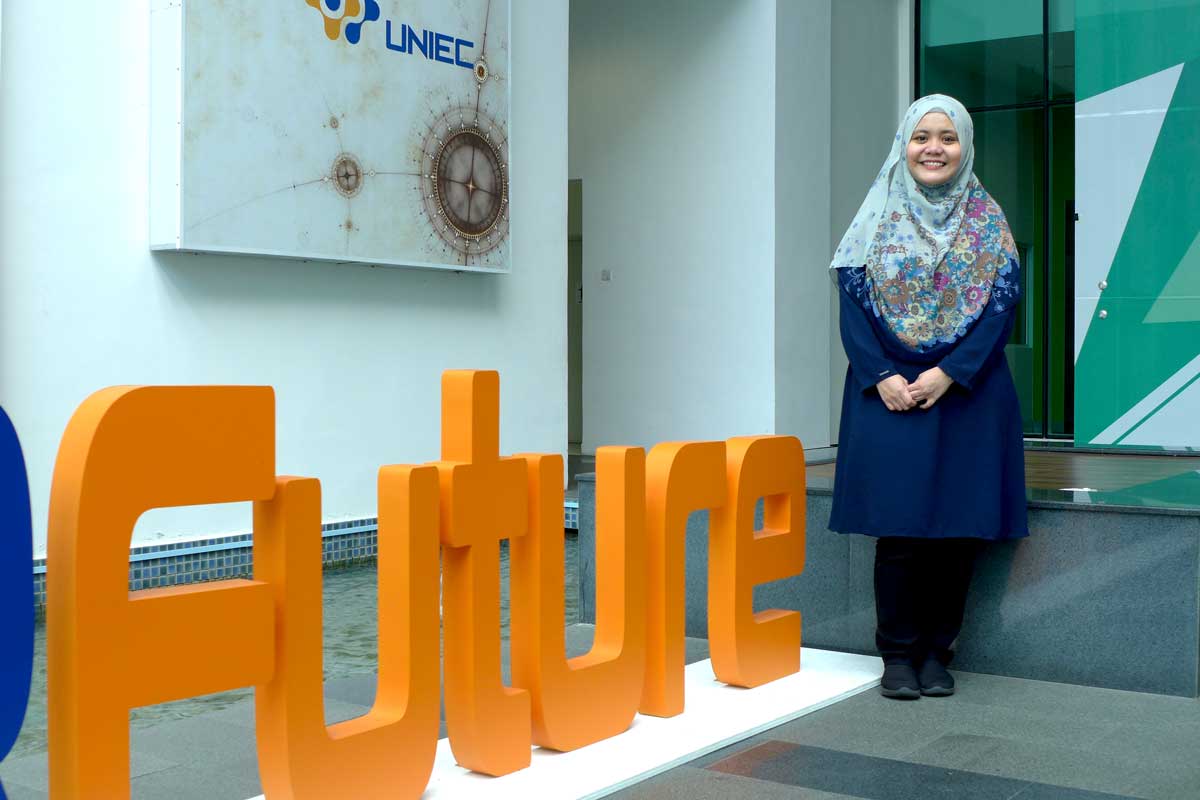 Najwa Latif says that as long as there is demand for her, she will continue to sing. 
As you move beyond Malaysian borders, do you feel like you have to represent more than the singer? 
Najwa: Yes. Even in Malaysia, my family constantly reminds me that wherever I go I don't only bring my name, but my family's name, my friends and teachers' names. I don't really feel burdened by that, though. It is just that I have to realise that I cannot think only about myself. Everything that I do I am always reminded by my family and how I am also representing the family name. It is a good practice for me not to be selfish and to be more responsible so that I don't do silly things. It keeps me grounded. 
I do however get feedback from conservative Malaysians telling me that since I am garbed in a long hijab, I should not be singing publicly. Yet, I believe that if my intention is good, then my action will reflect that. 
Do you think your songs can promote greater integration between the nations? 
Najwa: When I compose songs with my sister, we rarely picture anything bigger than the song itself. We just want a song that people can relate to. So, if it turns out good, we would definitely welcome the positive response. But if the feedback is not that great, we will go back to the drawing board.
My sister and I want to share the positive side of life. Earlier in my singing career, my sister and I received many negative comments that made us nervous about sharing songs with people. But now, some local singers have even requested for us to write songs for them. 
How important is ASEAN to you?
Najwa: ASEAN is very important to me. The beauty of ASEAN is its many cultures and traditions. And the food across the ASEAN region is amazing. Travelling across ASEAN countries is easy, which makes for many job opportunities. To me, ASEAN provides many opportunities for many people. 
I share this importance in class discussions I frequently conduct. As a singer, I would use music to instil the importance of ASEAN to my fans. In turn, through the language I use, I can then teach my ASEAN fans about our Malaysian language and beautiful culture.
Related articles:
ASEAN continues to work on quality tourism against all odds