There are 38 heritage sites in Southeast Asia that have been gazetted by the United Nations Educational, Scientific and Cultural Organisation (UNESCO) as World Heritage Sites (WHS). The WHS is a collection of buildings, landmarks and locations that have been preserved for their special cultural or physical significance. 
The program has a unique global reach, showcasing culturally rich and ancient sites as well as heritage towns and natural parks for the world to admire. To be named a WHS, countries must first sign the World Heritage Convention before they can pledge their respective natural and cultural heritage sites for inclusion in the UNESCO WHS list. The sites will initially be added to a tentative list for review and approval, before submission for eventual nomination.
Tentative list
It is a highly competitive and time-consuming process to achieve UNESCO WHS status. Currently, there are at least 83 sites in ASEAN sitting on the UNESCO tentative list. The waiting period can be long. Thailand has been waiting since 2004 for the nomination of its Phimai Historical Park. The Plain of Jars and Vientiane in Lao have been on the tentative list since 1992.
Indonesia's Bogor Botanical Gardens made it to the UNESCO tentative list a month ago. Located in West Java, the site is known for its vast plant collection and historical value of its buildings and landscape. Indonesia currently has 20 sites on the UNESCO tentative list. 
Malaysia now has five sites on the UNESCO tentative list, with the most recent addition being the Sungai Buloh Leprosarium in 2019. Built in 1930, the centre was a self-contained settlement, with huge farmlands at the hill slope, for patients to cultivate vegetables, fruits and farm poultry on a larger scale.
From the tentative list, only 44 destinations around the globe were nominated for inclusion on the UNESCO World Heritage list this year. Among them is Sawahlunto in West Sumatra, which was proposed as a WHS four years ago. According to West Sumatra Tourism, Youth and Sports Agency head Efriyanto, Sawahlunto, it is the "oldest coal mining town in Southeast Asia." The site landmarks include preserved cultural heritage items, though other attractions were added to boost the city's tourism potential.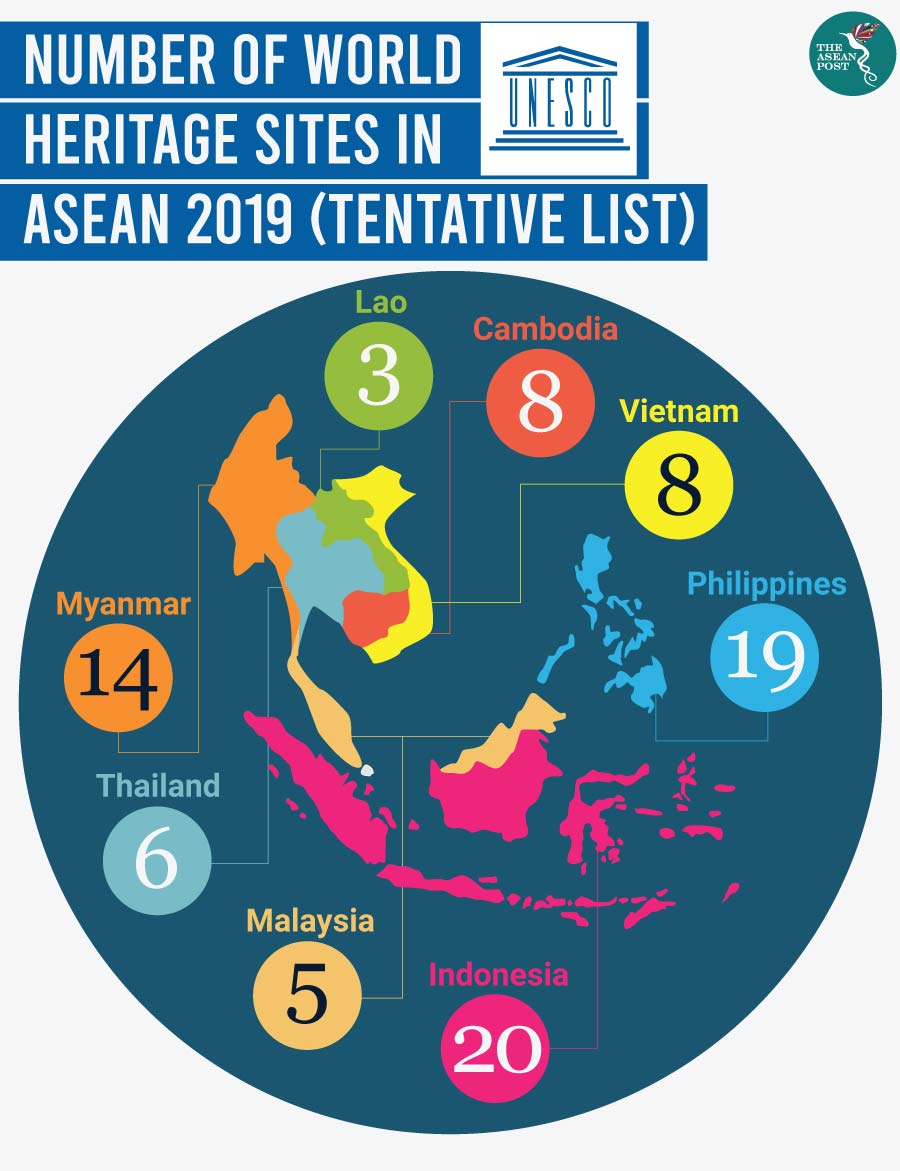 Source: UNESCO, World Heritage Tentative List, 2019
Nations in the region want this prestigious recognition because they can use it to promote a unique cultural attraction. This in turn will drive the country's tourism sector which is an integral part of the economy. Some historic and ancient sites will also get the much-needed funding to protect and conserve the existing building or structure. 
῾UNESCO-cide᾽
WHS are most vulnerable to climate-related damage, especially from extreme rainfall and heatwaves. Climate fluctuations inside buildings – the effect of higher temperatures and humidity – can cause mould, rot and insect infestations. However, there is another threat to WHS from the increase in budget airlines and the rise of the affluent middle classes. 
World Heritage Sites are supposed to inspire the importance of art, cultural heritage and natural beauty. Even UNESCO's initial aim was to have nations of the world come together to save each other's sites. But "now it's entirely about political and economic gain," claims Stanford anthropologist, Professor Lynn Meskell. In her book, 'A Future in Ruins: UNESCO, World Heritage and the Dream of Peace,' she says that "UNESCO's utopian goal of changing the minds of men through education and cultural exchange" has shifted to become "just a tool in a larger arsenal of nation-state politics."
While being on the WHS list encourages tourism, mass tourism can destroy the unique cultural value of a site, as well as damage the built forms. Some countries have taken action by either controlling the flow of visitors or closing off popular destinations to allow for environmental healing.
Vietnam's coastal town of Hoi An is a WHS, listed for its original pre-war architecture and cultural practices. According to Vietnam Tourism, 3.22 million people visited it in 2017, which was an increase of 22 percent from the previous year. Many of the buildings there have turned into shops, cafes and guesthouses to serve tourists, changing the culture of Hoi An from a trading coastal community into a tourism town.
A ticketing system was introduced in Cambodia to control visitors wanting to visit the Angkor Wat. Yet, another challenge in preservation arises as tourists touch and walk on the ancient footpaths. 
Marco d'Eramo, a writer on urban development says that "recognised sites tend to die out, becoming the stuff of taxidermy, a mausoleum with dormitory suburbs attached." He has called this phenomenon "UNESCO-cide".
Perhaps, a broader implication of increased visitation may not have been considered by the program. According to Ploysri Porananond, in his article titled Cultural Tourism in Southeast Asia which appeared in the 2019 ISEAS - Yusof Ishak Institute publication, ASEAN Focus, "education and awareness programmes to highlight respect for cultural heritage and traditions should also become a feature for both policy planners and tourism agencies." Involvement is crucial and must come from all levels if WHS are to be carefully managed. 
Related articles:
World Heritage Sites under threat