In March 2019, the International Criminal Police Organization (Interpol) revealed that nine people had been arrested in Thailand, Australia and the United States (US) after investigators took down an online paedophilia ring. More arrests had been expected as police in nearly 60 countries pursued investigations stemming from an Interpol operation launched two years ago into a hidden "dark web" site with 63,000 users worldwide.
It was not a surprise that out of the 60 countries, there were a number of ASEAN member states involved. Several of the countries in the region are known to be suffering in terms of combating child sexual abuse and paedophilia.
The first arrests came in early 2018, when the site's main administrator, Montri Salangam, was detained in his home country of Thailand, and another administrator, Ruecha Tokputza, was captured in Australia.
The good news is that 50 children were rescued following these arrests. Unfortunately, there are still many more children that need rescuing and police are trying to identify an additional 100 children in images that had been shared on the internet's uncharted corners.
Interpol said "Operation Blackwrist" was started after it found material that could be traced back to a subscription-based site on the dark web. Interpol enlisted help from national agencies worldwide, with the US Homeland Security Investigations (HSI) department eventually tracking the site's IP address, where new photos and videos were posted weekly.
Thailand's Child Prostitutes
Since 1960, prostitution in Thailand has been illegal. Nevertheless, it was estimated to be worth US$6.4 billion a year in revenue (2015), accounting for a significant portion of the nation's gross domestic product (GDP), according to black market research company, Havocscope.
As for child-prostitutes, the exact number is not known and most immediately available estimates were made over a decade ago. This is perhaps due to the nature of the dark trade.
According to US-based research institute "Protection Project", estimates of the number of children involved in prostitution living in Thailand ranges from 12,000 to the hundreds of thousands (ECPAT International). The government, university researchers, and NGOs estimate that there are as many as 30,000 to 40,000 prostitutes under the age of 18, not including foreign migrants. Thailand's Health System Research Institute estimates that children in prostitution made up 40 percent of all prostitutes in Thailand back in 2007.
Regardless of current numbers and statistics, it goes without saying that Thailand has a big problem.
Roots Of The Problem
Sexual abuse and exploitation of children are multifaceted problems with roots at the individual, personal relationship, community and societal levels.
Poverty, poor parenting practices, dysfunctional families, association with delinquent peers, inadequate social protection and poor governance only worsen one of society's greatest ills. In addition, poorly-trained staff in the education, medical and social services sectors are factors which lead to a lack of reporting of sexual offences – and the meagre data on the prevalence of child exploitation. And after abuses have been reported, legal loopholes, red-tape, difficulties in collecting testimonies from victims and a lack of cooperation amongst government agencies contribute to the low-conviction rates for such cases.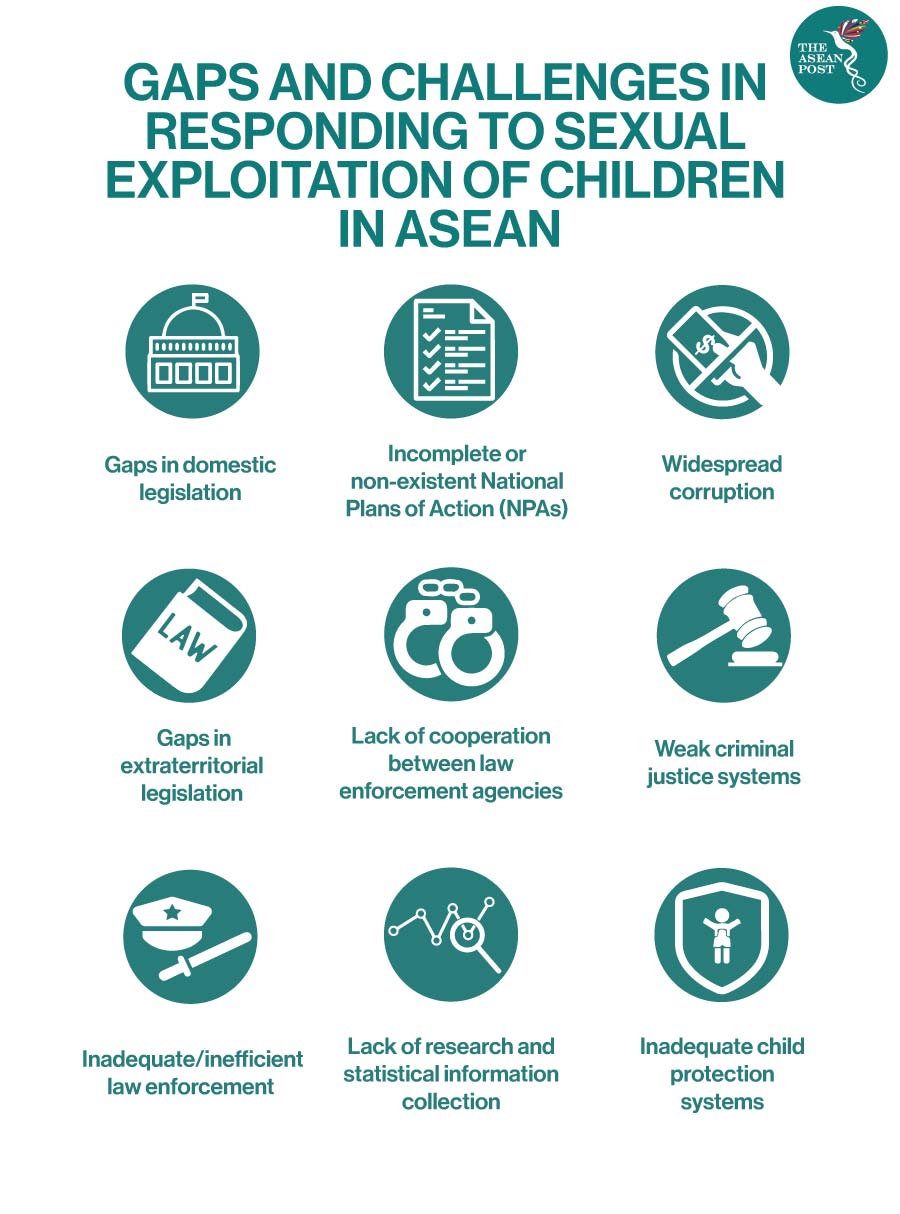 A report released in 2017 by ECPAT International identified outdated laws and weak legal enforcement as increasing the risk of sexual exploitation of children across Southeast Asia, with the issue growing in recent years due to a lack of awareness. Increased tourism and internet penetration are other factors that have contributed to a rise in sexual exploitation of children in the region.
This is not to say that governments have been sitting idly without batting their eyelids. In Thailand, to discourage child sex tourism, the government there reported it denied entry to 74 known foreign sex offenders in 2017. The Thai government has also developed and launched a video to be shown on flights entering Thailand discouraging sex tourism. The Ministry of Tourism distributed more than 315,000 brochures discouraging sex tourism to businesses and tourism professionals and has organised training programs for 800 local government officials, tourism sector workers, students, youths, and civil society organisations on the prevention of child sexual exploitation in the tourism industry. These are only some of the measures the Thai government has taken.
The fact of the matter is that a lot more must be done, especially in Southeast Asia. Considering the fact that child sexual abuse including child trafficking often involves multiple countries within the region, it is more than likely that a concerted effort from all ASEAN member states will be needed in order to tackle the problem effectively. Interpol's current operations give hope to a slightly better future for ASEAN's disenfranchised children. Let's hope the region can finally cleanse itself of this scourge in this new decade. 
Articles selected as Top Stories of 2020 are those that were the most popular among readers of The ASEAN Post for the month in question.
Related Articles:
ASEAN's Paedophiles Are Tech Savvy