ASEAN's Strategic Plan for Culture 2016-2025 is to facilitate intercultural dialogue among the peoples of ASEAN through the engagement of various stakeholders to raise awareness and appreciation for the culture and arts sector. This sector is generally divided into 11 areas such as tangible cultural heritage, architecture, creative industry, exhibition, intangible cultural heritage, library, literature, museum, performing arts, contemporary arts and policy.
According to the ASEAN Culture Fund for 2008-2018, the percentage share of contemporary arts is only one percent. But ASEAN's various ethnic groups, languages and dynamic diverse cultures are setting up the region for a growing art scene. While the contemporary art scene in Southeast Asia is relatively new, the region has already found a footing in the global art market.
Burgeoning art scene 
Contemporary art can be defined as the "art of today", a reaction to preceding modern art movements, produced in the second half of the 20th and 21st century. ASEAN cities are hosting galleries to promote talents where many of these galleries hold themed exhibitions throughout the year. Although more developed scenes can be found in cosmopolitan cities such as Singapore, Bangkok, Jakarta and Kuala Lumpur, many smaller cities in ASEAN are catching up fast to produce new talents with newer perspectives. 
When ASEAN celebrated its 50th anniversary in 2017, an art exhibition was held in the Philippines to feature the regions' growing cultural landscape through selected works of contemporary arts. The exhibition, 'Ties of History: Art in Southeast Asia' was curated by Patrick D. Flores and featured 10 contemporary artists representing each ASEAN member state.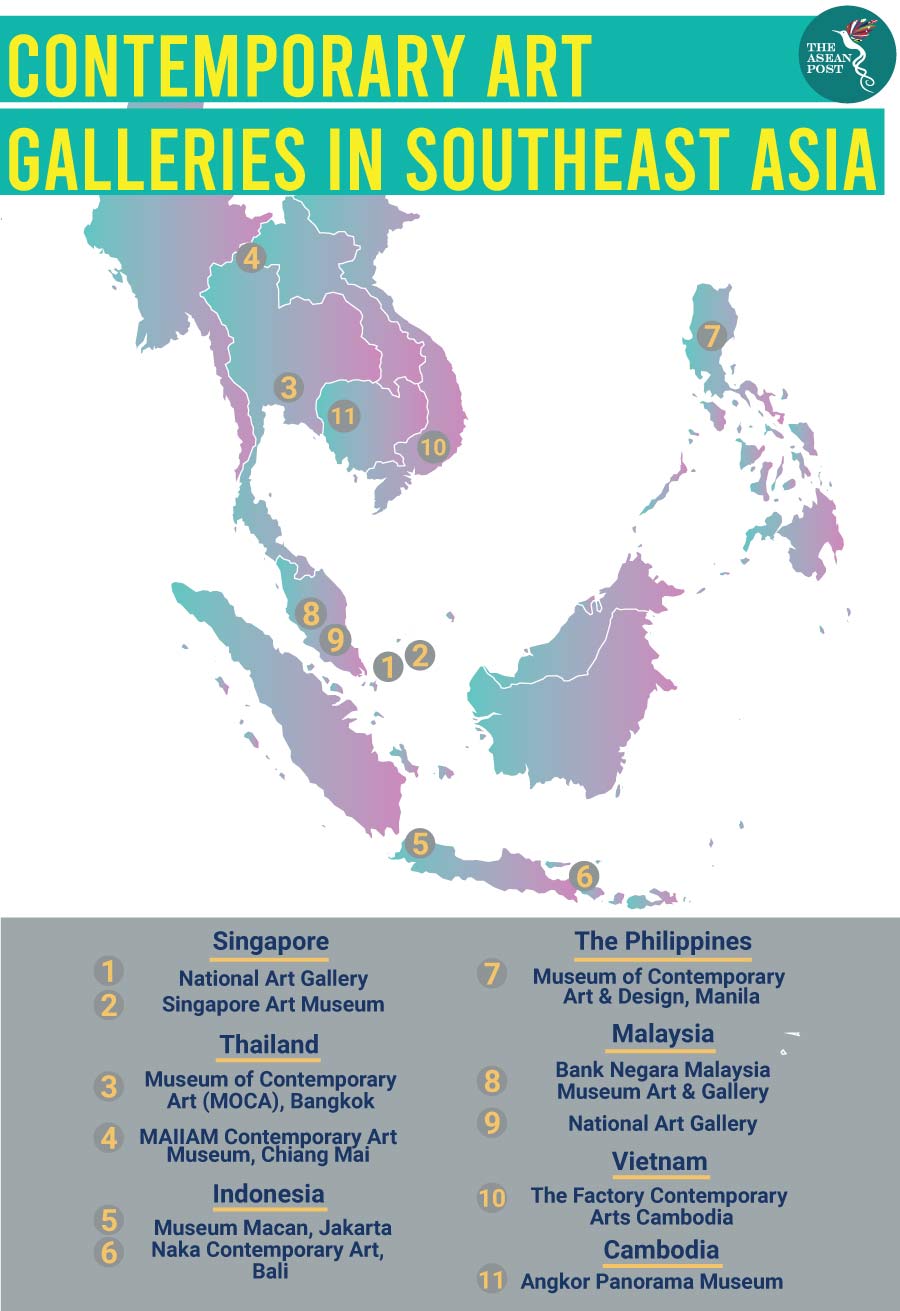 Source: Various
Senator Loren Legarda, the Philippines leading cultural advocate, expressed her pride on the recent developments of the country's contemporary art scene, "Support for Philippine contemporary art is at its peak with our participation at the Venice Biennale (an art exhibition based in Venice) for four consecutive years after a 51-year absence." 
The art scene in Singapore has been building its reputation over past decades, evident by the endless contemporary art galleries there. The Minister for Culture, Community and Youth, Grace Fu, recently commended the strong spirit of Singapore's art sector at the 2019 S.E.A. Focus, an inaugural fair to help Singapore's artists and galleries build capabilities and position. The country's government funding and art-focused schemes are also inspiring. 
Thailand has since found feet within the global art landscape, opening several new private museums in the country. Early this year, Prime Minister Prayut Chan-o-cha launched the ASEAN Cultural Year as part of the country's soft power push to boost economic and political solidarity. 
It was Thailand's former Culture Minister, Apinan Poshayanand who merged the idea of a creative economy with the culture and tourism sectors by inaugurating the Bangkok Biennale, that is the country's first international festival of contemporary art. The festival generated several million baht in revenue and put Bangkok in the spotlight as a regional art hub.                                          
Art appreciation
ASEAN is emerging as an important pillar in the global art market. The region's economic growth is also influencing the dynamic contemporary art scene, earning local and international attention. The art community in the region may be small in comparison to the well-established European and North American communities, but ASEAN still has the advantage of diverse culture and traditions. And art has vital roles in creating movements, shaping cultures and emancipating peoples.
ASEAN's proposed actions are to increase appreciation for the region's histories, cultures, arts, traditions and values. To generate a culturally aware society in ASEAN, member states should implement cultural activities for their societies to engage more with contemporary arts. Government support is also important for the art community to thrive. Developing an appreciation of the arts requires time, but it's without a doubt that appreciation of the arts is on the rise in Southeast Asia. 
As the region's art collector base shifts from domestic to international acquisitions, the increasing number of contemporary artists in ASEAN will continue to work in a globally influenced, culturally diverse, and technologically advancing world.
Related articles:
Celebrating Indonesia's cultural heritage, batik 
Weaving their way out of poverty 
Here's Your Chance to See Picasso, Andy Warhol, Gauguin and More Famous Works in Asia Now