The Malaysian government's decision to revisit the US$34 billion Bandar Malaysia project earlier this month after a two-year stall is the latest infrastructure project to be renegotiated or revived with an eye on appeasing China.
The newly-elected Alliance of Hope (Pakatan Harapan) ruling coalition embarked on a series of cost-cutting measures after coming to power last May, suspending a series of Chinese-financed projects as it sought to improve the government's finances and reduce reliance on Chinese debt. 
While Bandar Malaysia, the single largest property development project in Malaysia's capital, was put on hold by the previous government in May 2017, it was also a costly part of China's massive Belt and Road Initiative (BRI) global infrastructure programme – along with other Malaysian projects such as the Kuala Lumpur-Singapore High Speed Rail (HSR) and East Coast Rail Link (ECRL).
With the HSR postponed and the ECRL's hefty costs renegotiated after initial calls for it to be cancelled, Bandar Malaysia has now been resurrected in a bid to retain Chinese investment in Malaysia and mend ties with the global superpower.
"Like the ECRL, the Bandar Malaysia project should be viewed within the larger context of fostering and cementing long-term bilateral relations between Malaysia and China while ensuring that such projects add maximum economic value to the country," said a statement from Prime Minister Mahathir Mohamad's office on 19 April.
"These two major projects will also be a significant contribution to the Belt and Road Initiative which Malaysia expects to be able to tap on and exploit its multiplier effects along the value chain."
Those comments are in stark contrast to August, when during a four-day state visit to China, Mahathir warned of "a new version of colonialism" in an apparent dig at China's rising geopolitical and economic influence in the region.
Mahathir's latest trip to China could not have been more different. 
In Beijing for the Second Belt and Road Forum, the 93-year-old witnessed the signing of a framework agreement between the Ministry of Finance – who own 40 percent of the Bandar Malaysia project – and the developers, a joint-venture between Malaysia's Iskandar Waterfront Holdings and the China Railway Engineering Corp (IWH-CREC), to reinstate the project last Thursday.
Despite his advancing age, Mahathir remains a powerful negotiator and still managed to come away from the trip with a measure of success – returning from Beijing with a memorandum of understanding which will see China buy an additional 1.9 million tonnes of Malaysian palm oil worth US$1.1 billion in the next five years.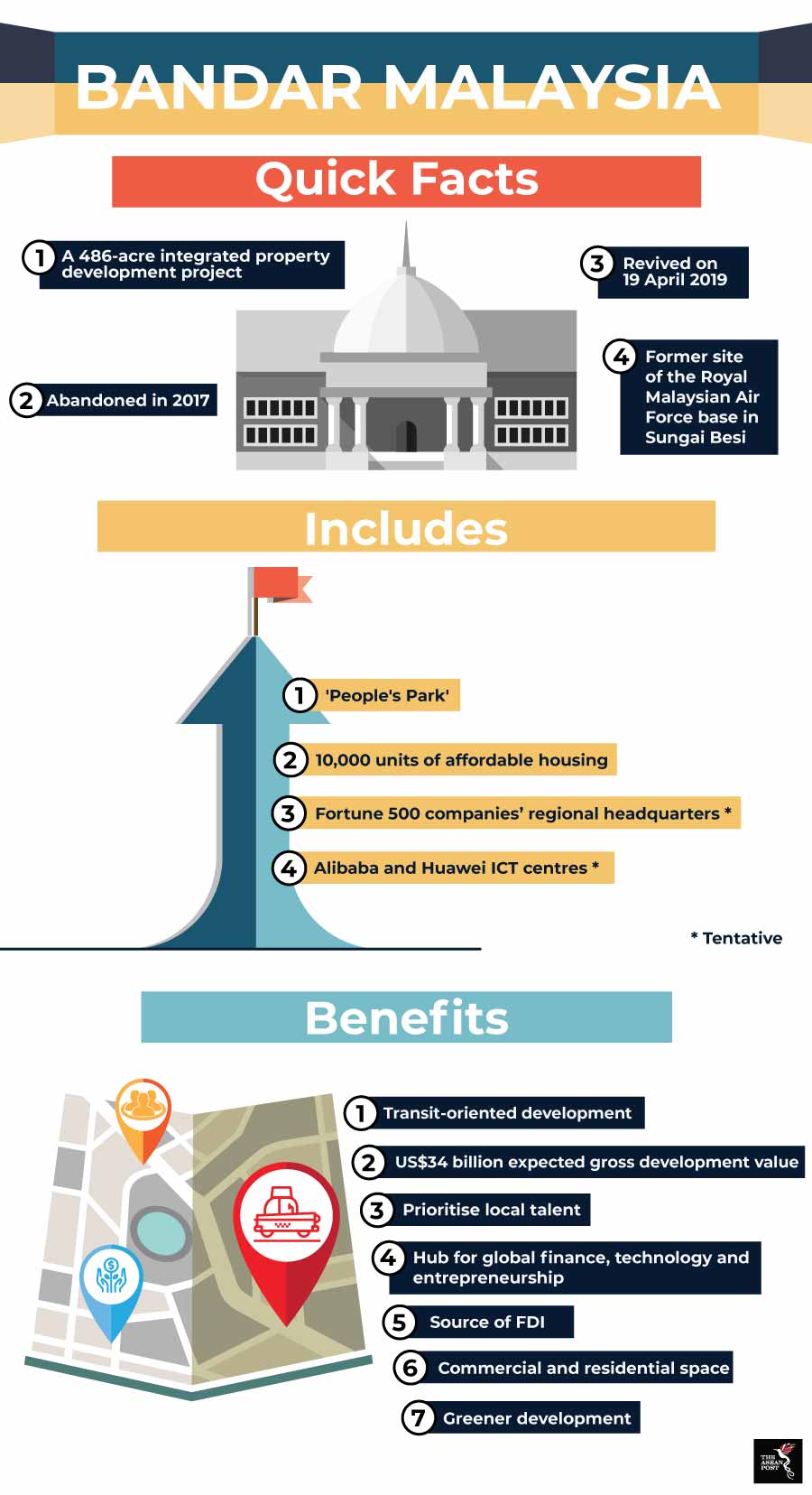 Source: Various
Concerns
Originally announced in 2011, the massive 486-acre Bandar Malaysia integrated property development project located at a former air-base in Sungai Besi, Kuala Lumpur, was put on hold in May 2017 by former premier Najib Razak.
While Mahathir said the project will have significant impact on the country's economy and will serve as a global hub to further attract high impact global finance, technology and entrepreneurial firms, it remains to be seen how he plans to address the challenges that lie ahead.
The prime minister expects Bandar Malaysia to attract major international financial institutions, multi-national corporations (MNCs) and Fortune 500 Companies. In addition, tech giants such as Alibaba and Huawei have also expressed an interest in establishing their ICT centres in the urban development project.
And while the 10,000 units of affordable housing and a People's Park have also been touted as ways to make Bandar Malaysia a project that will benefit the general public, the current oversupply in the residential, commercial, office and retail segments means the project will be a hard sell – especially with another mixed-use development, the 70-acre Tun Razak Exchange (TRX), just five kilometres away.
Malaysian analysts and researchers say that the HSR is central to reviving the Bandar Malaysia project as it would increase its appeal – and consequent value – as a transit hub, which was its main selling point when the project was envisioned eight years ago.
Worryingly, there also seems to be no guarantee that the IWH-CREC will be able to deliver on the deposit of US$300 million within 60 days from the date the project was officially reinstated. After all, it was for that very same reason that former prime minister Najib Razak called off the proposed deal to sell a 60 percent stake to the same consortium after they failed to fulfil payment obligations.
For now, though, Mahathir will be pleased that he has done his part to ensure the BRI train is still steaming along at full speed in Malaysia.
Related articles:
Mahathir's surprise return to test ringgit traders' resolve
China says don't fear Belt and Road