In November 2018, Indonesian President Joko "Jokowi" Widodo's running mate Ma'ruf Amin - who is also the chief of the country's top Islamic clerical body, the Indonesian Council of Ulama (MUI) - revealed plans to make halal (permissible or lawful in traditional Islamic law) certification mandatory by this year. Most recently he has reiterated that call. 
While the move is seen as being political in nature, there is no doubt that it also makes a lot of sense considering Indonesia's ambition to become a global halal hub.
In fact, a local law - the Halal Product Guarantee Law - had been introduced just prior to former president Susilo Bambang Yudhoyono stepping down in 2014. However, the law was never passed as discussions on how to implement it have been ongoing ever since Jokowi took office.
Halal certification, although not compulsory in many countries, is very important to a large majority of Muslims as it informs them that the product in question (usually food) is safe to use or consume. This is because non-halal products are considered unclean in most schools of the Islamic faith. Compulsory halal certification would naturally make it easier to export products to other Muslim markets as well.
Big business
The halal industry is booming. According to the 2017/2018 Global Islamic Economy Report by Thomson Reuters in collaboration with DinarStandard, globally, Muslim consumers spent US$1.2 trillion on food and beverage in 2016. By 2022, this figure is expected to reach US$1.9 trillion.
According to the report, Muslim countries with the highest spend on food and beverage in 2016 were Indonesia (US$169.7 billion), Turkey (US$121.1 billion), Pakistan (US$111.8 billion), Egypt (US$80.9 billion), Bangladesh (US$71.1 billion), Iran (US$59 billion) and Saudi Arabia (US$48 billion).
Another report by the International Market Analysis Research and Consulting (IMARC) Group entitled "Halal Food Market: Global Industry Trends, Share, Size, Growth, Opportunity and Forecast 2018-2023" revealed that the global halal food market reached a value of US$1.4 trillion in 2017. The report projected market value to reach US$2.6 trillion by 2023, exhibiting a compound annual growth rate (CAGR) of more than 11 percent during the period between 2018 to 2023.
The Pew Research Centre has estimated that the number of Muslims globally will continue to grow while remaining the second largest religion up till 2050 and reducing the disparity gap between Christianity (the world's largest religion) and Islam every decade. This is especially pertinent to countries like Indonesia as the Asia Pacific region will continue to hold the third largest Muslim population by percentage after the Middle East and sub-Saharan Africa.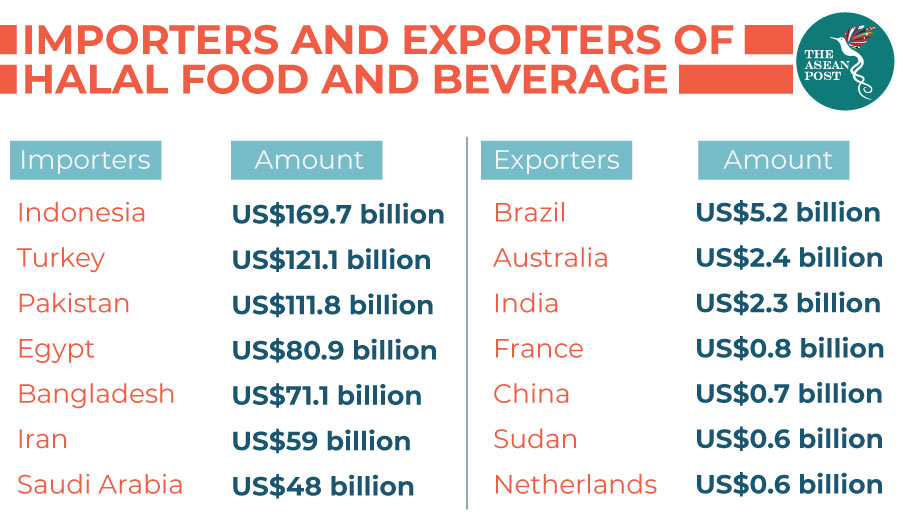 Non-Muslim halal exporters
While there is little doubt that the halal industry is catered to the Muslim market and all of the biggest importers of halal foods and beverages are Muslim-majority countries, ironically, it is non-Muslim countries which are the biggest exporters.
According to 2016 statistics from the Dubai Islamic Economic Development Centre and Thomson Reuters, it was in fact Brazil which exported most of the halal food and beverages in the world at US$5.2 billion, followed by Australia at US$2.4 billion, India at US$2.3 billion, and France at US$0.8 billion. The closest Muslim-majority country, Sudan, came in sixth place at US$0.6 billion.
Paulius Kuncinas, a business analyst and Asia managing editor at the Oxford Business Group, said that the halal market in Europe is growing at an estimated annual rate of 10 to 20 percent depending on the products included. He believes that this demand is driven by a general desire for Syariah compliance among a growing Muslim population.
Kuncinas' assertion is supported by findings from the Pew Research Centre which has forecasted that the Muslim population in Europe is expected to grow from 5.9 percent in 2010, to 6.8 percent in 2020, 7.8 percent in 2030, nine percent in 2040, and 10.2 percent in 2050.
Boasting the largest Muslim population in the world, it would make sense for Indonesia to want a piece of the halal market pie. Since products labelled as halal are so much more appealing to the majority of Muslims, it would also make a lot of sense to make it compulsory for all halal products to be certified. However, chasing the industry does have its potential dangers and the hope is that Indonesia will be able to come up with a comprehensive plan of action before making halal certification mandatory.
Related articles:
Brunei, a success story from the beginning