Since the COVID-19 outbreak, all eyes are on China and its response to containing the spread of the virus. On 31 December, 2019, the Chinese government reported that it was treating dozens of patients infected with a new virus. Just two weeks later, the first death was reported. 
As of today, more than 114,000 cases have been confirmed, of which 5,800 are classified as serious. More than 110 countries and territories have been affected, with major outbreaks in central China, Italy, South Korea and Iran. A total of 4,026 deaths have been recorded so far. 
China has quarantined millions of people and implemented lockdown measures and restrictions in over 50 cities and four provinces. The goal of course is to stop the deadly coronavirus epidemic from spreading further. 
As China seeks to control the spread of COVID-19, there are much less cars on the road and fewer factories in operation, which in some places has resulted in clearer skies. 
Last week, the National Aeronautics and Space Administration (NASA) reported that air pollution –mainly nitrogen dioxide emitted from burning fossil fuels – had decreased by 30 percent in China over the last month. 
"It is an unprecedentedly dramatic drop in emissions," said Lauri Myllyvirta, lead analyst at the Centre for Research on Energy and Clean Air. "I've definitely spoken to people in Shanghai who said that it's been some of the most pristine blue skies that they remember over the winter."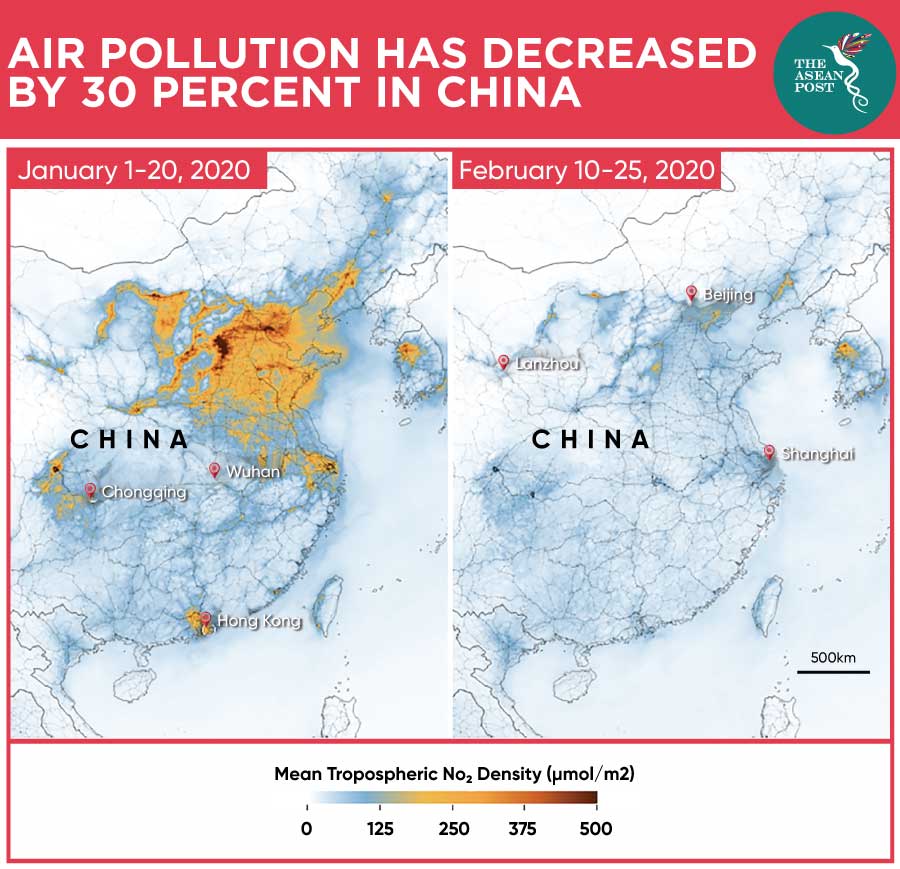 Air pollution is estimated to contribute to more than one million premature deaths in China each year. Fine particle pollution, also known as PM 2.5, can enter the bloodstream through the lungs and has been linked to asthma attacks, heart attacks and respiratory problems.
Another significant contributor to the emissions decrease is the dramatic decline in China's domestic and international air traffic, which account for about 15 percent of global air travel emissions.
Separating growth from carbon
A study published in the Journal of the American Academy of Paediatrics found that outdoor air pollution in China is associated with over 300,000 deaths, 20 million cases of respiratory illness, and a health cost of over 500 billion yuan (US$71 billion) – over three percent of gross domestic product (GDP) annually. 
Pollution is a global health problem. Some 4.5 billion people worldwide are exposed to concentrations of airborne particulate matter (PM), at twice the level the World Health Organisation (WHO) considers safe.
Air pollution is present inside homes and outside and is responsible for the premature death of seven million people each year, including 600,000 children, according to the Special Rapporteur's report submitted to the United Nation's (UN) General Assembly. 
In June 2019, Professor Guojun He and colleagues from the Hong Kong University of Science and Technology (HKUST) conducted a study on the health impacts of pollution and found that residents from areas which are given subsidised coal in China show a particulate pollution rate that is 46 percent higher than other areas. The average life expectancy of its residents is 3.1 years lower than in other areas. 
His study concluded that if the entire country of China complied with its Class 1 standard for PM10 (particulate matter 10 micrometres or less in diameter), it could save 3.7 billion lives worldwide. 
The COVID-19 outbreak has certainly highlighted China's central role in the global system. ASEAN member states are feeling high levels of uncertainty over promised investments from China which at any point could be pulled back to prioritise domestic needs. Corporations worldwide are also experiencing major shortages in materials and stocks with most factories located in China. 
China may not be thinking about carbon emissions at the moment, but global citizens are observing for themselves, the rate in which China has the power to save the planet from overheating.
On the other hand, giant corporations originating from the West, continue to source production in China and at the same time blame it for polluting the earth. 
This slowdown could make companies re-evaluate their dependencies on China or it could encourage companies to invest in developing production tech that utilises clean energy. Either way, it looks as though Southeast Asia could be a viable alternative to spread out production and decrease dependencies on any one country. 
The question of whether ASEAN would have the capacity and determination to protect its citizens from long-term environmental damage by developing frameworks for investments that would integrate clean energy and sustainability remains highly unlikely. 
China must use this opportunity to revamp itself and re-establish confidence among its global partners. An improvement in practices could be the assurance that partners need to continue working with the second largest economy in the world. 
Related articles:
COVID-19: The death blow to wildlife trafficking?