Oil-rich Brunei is facing a problem: an over-dependence on oil and gas for its revenue. According to the BP World Energy Outlook, Brunei's oil reserves are projected to run out by 2035. In addressing this issue, one of the sectors the country is looking at to diversify its economy is tourism.
Under its 2016-2020 Strategic Plan, Brunei's Ministry of Primary Resources and Tourism targets increasing tourist arrivals from 218,000 in 2015 to 450,000 in 2020. But more needs to be done to achieve this target.
Brunei seems to be on track. 70,729 international tourists arrived in the country through the Brunei International Airport in the first quarter of 2018 (Q1 2018), an increase of 4.1 percent compared to the same period of the year in 2017. A considerable part of this number is made up of Chinese tourists who account for 26.2 percent compared to 18.5 percent in Q1 2017. The ministry believes this is due to increased air connectivity from chartered flights following new scheduled flights by the Royal Brunei Airlines to and from Nanning since April 2018.
Banking on ecotourism
The strategy has been to promote ecotourism in Brunei and to bank on nature lovers who would be interested in Brunei's unique scenic beauty. However, Asian Development Bank (ADB) senior economics officer Pilipinas Quising said that while there is potential in ecotourism, Brunei's strict Islamic laws and underdevelopment in retail, transportation and entertainment facilities could hamper the initiative. Brunei implemented hudud (punishments under Islamic law) in May 2014.
"The tourism sector will probably remain small and tourist arrival targets may be quite a challenge," Pilipinas told the media recently.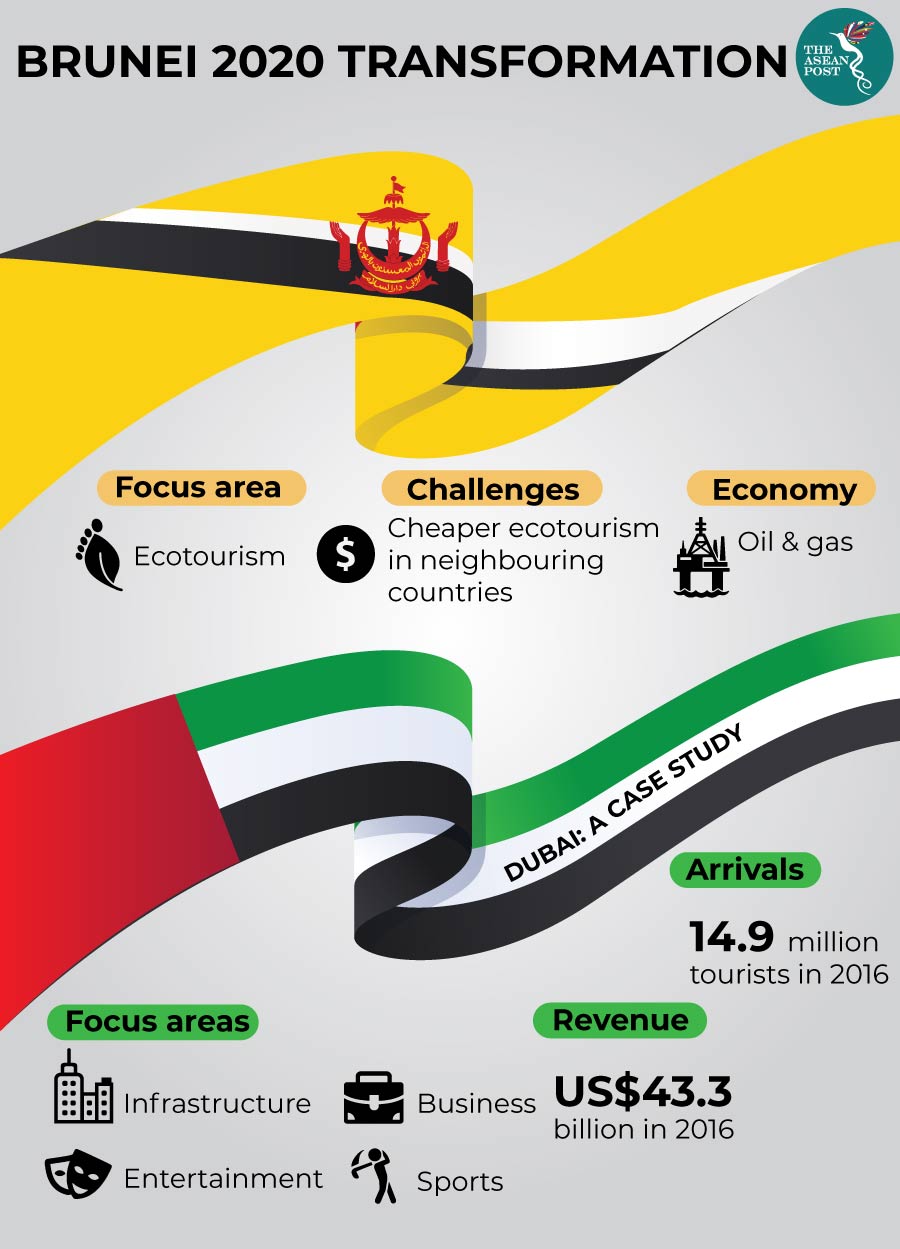 Meanwhile, Brunei also faces stiff competition from neighbouring Malaysia and Indonesia which are also beautiful places to visit and much cheaper too due to the strong Brunei Dollar. However, Brunei just needs to look further abroad for inspiration by emulating another Islamic country that faced similar issues as Brunei when it first started to make a push towards tourism.
Dubai: A case study
If Brunei is indeed serious about tourism then perhaps it may want to look at another once heavily oil-dependent country which has managed to turn itself into a top tourist destination despite being located in the middle of a desert: The United Arab Emirates (UAE).
While there isn't much to do in the capital city of Abu Dhabi, the UAE focused its attentions on another city, Dubai to attract leisure and business travellers.
In 2013, Dubai launched Vision 2020, which involves attracting 20 million visitors to Dubai by 2020. This would double the number of visitors it had in 2012, and potentially triple the annual contribution made by tourism to the city's economy.
According to Dubai Tourism, Dubai received a record 15.8 million tourists in 2017, up from 14.9 million in 2016 as last year's growth rate exceeded the five percent achieved in 2016. The Dubai Chamber expects that tourism in the UAE will grow by 6.5 percent annually between 2011 and 2021.
The UAE has become a regional hub for meetings, incentives, conventions and exhibitions. It has also promoted sporting events including tennis, golf, the Formula 1 grand prix, cricket, rugby, sailing and even sky diving.
Meanwhile, Dubai has already seen hotels opening up to accommodate the growing number of visitors, including The Conrad, Shaikh Zayed Road, The Oberoi Dubai, and Novotel Al Barsha, among others. In September 2013, UAE's Department of Tourism and Commerce Marketing announced an initiative to incentivise the hotel industry to develop more 3- and 4-star hotels in Dubai by waiving the 10 percent municipality fee.
Today, Dubai is recognised as an entertainment hub known for its shopping malls and attractions. Other initiatives it has taken includes beefing up its roster of events and developing new attractions. The emirate is also marketing itself as a family destination with the opening of a number of theme parks, including the Marvel-inspired IMG World of Adventures and Dubai Parks and Resorts.
Dubai presents an interesting case study for Brunei. The Southeast Asian country is more naturally scenic than Dubai and based on the International Monetary Fund's (IMF) October 2017 data, Brunei is the fourth richest country in the world, making financial concerns for its plans negligible.
If Brunei can couple its ecotourism initiative with upgrades for its tourism-friendly facilities, it is likely that it won't be long before it achieves its goal. The only question remaining is how serious is Brunei in wanting to up its tourism game.
Related articles:
Tourism could boost Indonesia's economy
Tourism to boost growth in Lao PDR