To the outside world, Brunei, the tiny Southeast Asian monarchy, looks like a Shangri La. The country, with a population of less than half a million, has one of the highest gross domestic product (GDP) levels per capita in the world. The benevolent Sultan, once the richest man in the world, has ensured free health and education and highly subsidised food and housing for his subjects.
However, the International Monetary Fund (IMF) 2019 country report, indicating that Brunei has the highest youth unemployment rate among ASEAN nations has raised some troubling questions regarding the economic health of the country and its dependence on the oil and gas sector.
The IMF report says that unemployment has increased to 9.3 percent in 2017 from 6.9 percent in 2014 when the Labour Force Survey was last conducted. The youth unemployment rate increased from 25.3 percent to 28.9 percent, the highest among ASEAN member states.  
According to the Global Least and Stressful Cities Ranking, the capital Bandar Seri Begawan has the second-highest unemployment (6.74 percent) rate among Asian cities. 
Dr Abdul Haq, an Indian doctor, who has worked in Brunei for more than 10 years, says this is the result of a combination of multiple factors.
"Somewhere, the government subsidy is also responsible for it. When you're assured of certain things, then you don't look at other avenues of employment. In Brunei, everybody wants a government job, which is a sort of guarantee of a secured future.  This is the reason why Bruneian youth don't prefer the private sector because salaries and perks are not as attractive as what is offered in the public sector. Besides, work in the private sector is more demanding," Dr Haq said.
Mr Dean, a fitness instructor, says that "while the numbers are definitely against us because it's based on per capita, there are definitely issues regarding mismatched skills and irrelevant qualifications. Efforts by the government to encourage self-sustainability has fallen on plenty of deaf ears."
He said people are still waiting for government positions. The mentality of graduates, for example, is still "there are no jobs for me after this" which clearly indicates how many feel that their education entitles them to job security. "Those who do go into the private sector, see it as a mere stepping stone or temporary solution until a government vacancy appears. And this isn't always a graduate problem," he added.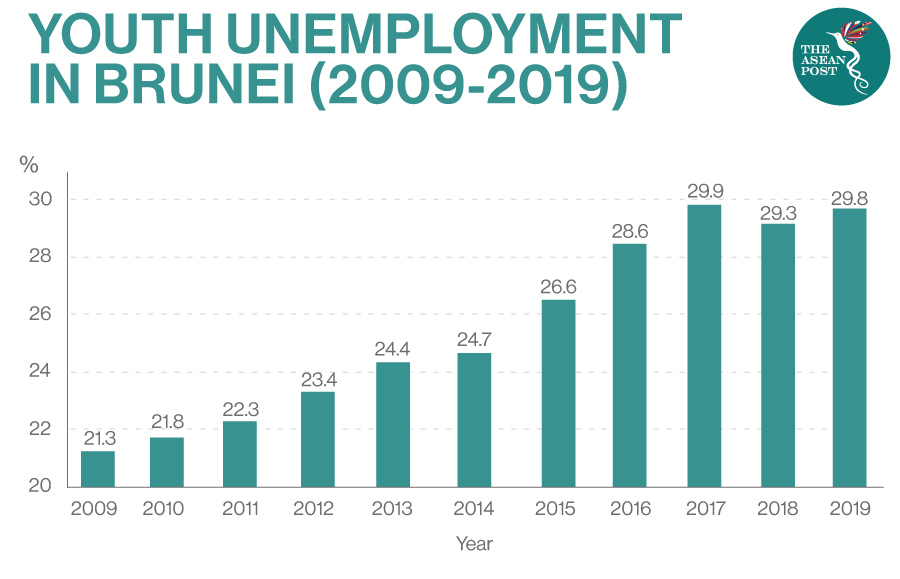 Hafiz Jawawi, an entrepreneur, blaming this mindset in his Facebook post says parents are also a part of the problem as they think a real job or 'work' is when you work for Shell or the government.
However, a former journalist, who doesn't want to be named, has a contrarian view and blames over-reliance on the hydrocarbon sector. 
"The economy is just broken and is too skewed in one direction. Too much emphasis on the hydrocarbon sector has not only shrunk the job market but also made different clusters of the economy stagnant," she said, adding that "outside of oil and gas, what do we have? What job opportunities are there?"
Siti Fatimahwati and Dr Siti Rozaidah of Universiti Brunei Darussalam (UBD) in their seminal work 'Addressing issues of unemployment in Brunei: The mismatch between employers' expectations and employees' aspirations', write that the majority of young people seek prestigious jobs and there seems to be a risk-aversion attitude among them. Most young people aspire to jobs that are in the professional, managerial or technical sector, and they have less preference for manual work. 
"High income, job security and prestige are the most common characteristics of jobs aspired to by the young people in Brunei. This is a reflection of the social and cultural norms of a rentier state whereby a job of high income and prestige is preferred over a job that can lead to personal, career development and progression," explained Siti Fatimahwati and Dr Siti Rozaidah.
They say this mindset of relying on government jobs is responsible for a lower preference for jobs in the private sector and other sectors, such as construction and farming, which are considered demeaning and usually done by foreign workers.
They say too much reliance on government jobs has created a culture of risk aversion towards employability among youth. A study by Low et al. (2013) on the mindset of young Bruneians towards entrepreneurship revealed that in a survey of 1,051 youths, only 19 percent wanted to become entrepreneurs whereas 67 percent preferred to work as government employees.
The minuscule private sector and youth lacking employability skills has further aggravated the situation. 
A large proportion of employers say that they had difficulties with recruitment due to the shortage of candidates with the right skills and the shortage of skilful employees in a given field, write Siti Fatimahwati and Dr Siti Rozaidah.
Cognisant of the issue of unemployment, the Sultan of Brunei announced numerous steps towards resolving the problem.
In his New Year's Eve speech, the Sultan announced the establishment of the Manpower Planning and Employment Council (MPEC) for promoting cooperation between industries and educational institutions, to ensure that local graduates from universities and institutes of technical education are employable.
He also touched on the issue of the youth mindset by cautioning jobseekers against being too particular about employment in industries or private companies, and also advised local entrepreneurs to avoid the practice of letting foreigners run their businesses.
A social media consultant commented that in the good old days when oil was hitting more than US$140 per barrel everything was hunky-dory.
"The continuous slump in oil prices has created new challenges for the government. Brunei needs to rethink its policy of reliance on the oil and gas sector, which accounts for more than 60 percent of its GDP and over 90 percent of total exports," he said. 
While the government has been talking about diversifying the economy for the longest time, promoting tourism and inviting Foreign Direct Investment (FDI), it has remained confined to speeches. Nothing concrete has been done on the ground, he added. 
"Being very small in terms of population and size of the economy, Brunei has always feared that if it opens its door to FDI and a foreign workforce it might get overwhelmed," he said, adding that Brunei should learn from Gulf countries, which through diversification have reduced their dependence on the oil and gas sector. Even a country like Saudi Arabia has started diversifying its economy.
Now the time has come for Brunei to introduce major reforms as the IMF has already warned that growth alone may not solve the problem and has recommended a structural labour market reform.
"The notion that Brunei is a utopia that is shielded from turbulent economic and natural forces no longer exists today," he added.
This article was first published on 4 April, 2020. 
Related articles:
The unemployment mess in Malaysia