The latest United Nations (UN) Economic and Social Commission for Asia and the Pacific (ESCAP) progress report on ASEAN SDG Baseline highlights that ASEAN member states are already lagging behind on the sustainable development goals (SDGs). The report shows that five goals have deteriorated: (1) SDG 2- Zero Hunger (2) SDG 8 - Decent Work and Equitable Economic Growth (3) SDG 10 – Reduced Inequality (4) SDG 11 – Sustainable Cities and Communities and (5) SDG 15 – Life on Land.
The current COVID-19 economic stimulus packages pose a threat that might further slowdown or even derail efforts in achieving the SDG goals. But with a strategic post-pandemic stimulus package, do we have a chance to get up to speed and catch up with the 2030 goals?
The recent ASEAN Special Summit proposed a resolution to reallocate available funds for cooperation against COVID-19, including the proposed establishment of the COVID-19 ASEAN Response Fund. And ASEAN member states have already released COVID economic stimulus packages to tackle acute health concerns and long-term economic slowdown crisis.
These stimulus packages have both, the opportunity to widen the gap or act as a bridge towards a more sustainable future. Will they be part of the 'build back better' solution?
Do ASEAN Stimulus Packages Align To SDG Priorities?
Using data from the Centre for Strategic and International Studies, Southeast Asia COVID-19 Tracker, we compared how stimulus packages from ASEAN countries align with crucial SDG priorities. We found that many middle- and high-income ASEAN countries, like Singapore and Malaysia, are spending a large proportion of their gross domestic product (GDP) on stimulus. The broad base of the stimulus packages (e.g. support for the health sector and for wider economic recovery of jobs, businesses and industries) is also aligned to responsible fiscal measures to respond to the looming global economic downturn forecasts.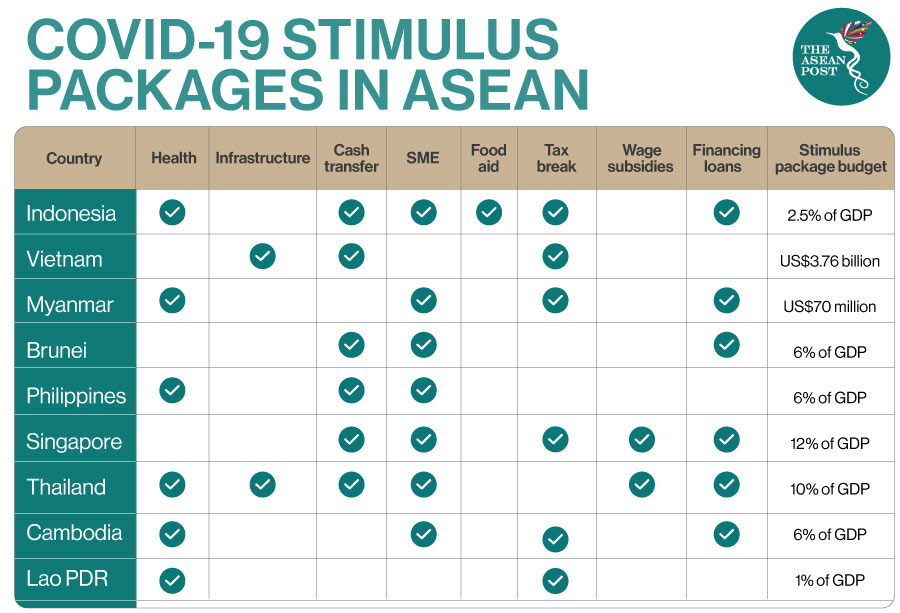 The least developed countries, however, are struggling to match the funding amount (as percentage of GDP), and the breadth of the stimulus package (e.g. Lao and Cambodia are focused on acute health concerns). Highlighting inequalities even more, richer countries are creating broad range stimulus packages, while poorer countries make do with acute health challenges.
In addition, ASEAN member states have a diversified economic structure that mixes formal business with more traditional informal sectors. However, most of the stimulus incentives are for formal work sectors such as registered businesses, employees, etc.; not taking into account the vast majority of informal workers who are most vulnerable.
Very few countries in ASEAN have crafted their stimulus packages with the 2030 Goals in mind. This can result in a short-term economic boost but will most likely fail at securing inclusive and sustainable development.
The International Monetary Fund (IMF) is predicting that at least 10 percent of global GDP will be invested in economic stimulus packages. Failing to use these large fiscal resources to do double duty of stimulating economies in the short-term, but also helping them transition to a sustainable future would be a huge missed opportunity.
Economic Stimulus Incentives
ASEAN counties need to focus current government expenditure and multi-lateral stimulus packages to get 'double the value' for each Baht, Kip, Rupiah, etc. invested. By maintaining current economic structures and traditional support services, space for transformation and innovation is limited and the concept of 'building back better' is impossible. The focus needs to be on the delivery of effective economic stimulus while attaining SDG goals.
Some countries might be on track with their stimulus packages, where incentives can deliver fiscal enhancement while keeping tabs on SDG goals for poverty reduction, health, economic and infrastructure growth and food security. These initiatives could bring in 'double the bang for buck' or better benefits in the long-term.
For example, cash and food aid in the Philippines, Indonesia and Singapore focus on reducing poverty by supporting individuals and households through the COVID-induced economic downturn, targeting SDG 1 – reducing poverty.
Meanwhile, some aspects of ASEAN stimulus packages are more as a direct response to the COVID-19 health crisis. The Lao PDR and Thailand governments, for example, supported the health sector by providing monetary assistance and medical equipment. These incentives have a double benefit by addressing SDG 3 on health and human wellbeing as well.
There are also incentives for economic and infrastructure growth, including training for workers in impacted industries and job support schemes in Malaysia and Singapore. There are also financing schemes for small and medium enterprises (SMEs) in countries like Indonesia and Vietnam, and loans restructuring in Lao PDR, Thailand and the Philippines. This is a clear build back better approach supporting SMEs to achieve decent work and economic growth as per SDG 8. 
Challenges In Implementation
Implementation of any incentive is challenging more so when there is a dual purpose: economic growth and SDGs. But, learning from past economic downturns, we can predict three hurdles for ASEAN.
First, incentives need to be delivered to formal and informal sectors. The true attainment of the SDGs would require both, formal and informal economic sectors to be included in all economic incentives and support. For example, targeting SME's is only effective when formal and informal sector SME's are incentivised to stay in business.
Second, all economic transitions are an opportunity to make a change. Current stimulus packages are a chance to support transitioning economic structures to deliver on multiple SDGs. This is an opportunity to focus on sustainable consumption, green energy supply, and lowering inequality. There is no need to support current industries and practices when transition to newer, more sustainable options is possible. Besides, transition is happening anyway.
Lastly, delivering human-centric stimulus packages that ensure risk assessments are in place (e.g. human risk, environmental risk, financial risk, etc.). This delivers transparency of data and packages to support governments in their long-term delivery of better services, benefits and support to their citizens.
Governments are in the business of long-term growth across ASEAN – all have agreed that this can only be achieved by delivering on the SDGs. So, in this time of change lets focus on 'building back better' as in the end we all need a strong ASEAN after COVID-19.
Related articles: 
ASEAN Not On Track For SDG Goals