Smart cities, while not dominating discussions at the Association of Southeast Asian Nations (ASEAN) Foreign Ministers' Retreat in Singapore earlier this month, was nevertheless talked about. Singapore, which chairs ASEAN for 2018 under the theme of innovation and resilience has been a strong advocate of a network of ASEAN smart cities to be formed as part of its chairmanship goals.
"The Ministers agreed on the need for ASEAN Member States to make use of innovation and technology to improve the lives of our people. In this regard, the Ministers expressed their support for Singapore's proposal to create an ASEAN Smart Cities Network," Singapore Foreign Minister, Vivien Balakrishnan said in his post-retreat statement.
Landscape of smart cities in the region
What makes a city smart?
According to The Economist Intelligence Unit (EIU), what constitutes a smart city is vague. However, it is commonly held that smart cities represent a "drive for efficiency." The rapid speed of urbanisation has led governments to think how to utilise resources more efficiently as citizen demand more of everything. Hence, they turn to more sustainable approaches to development, resulting in the eventual birth of smart cities.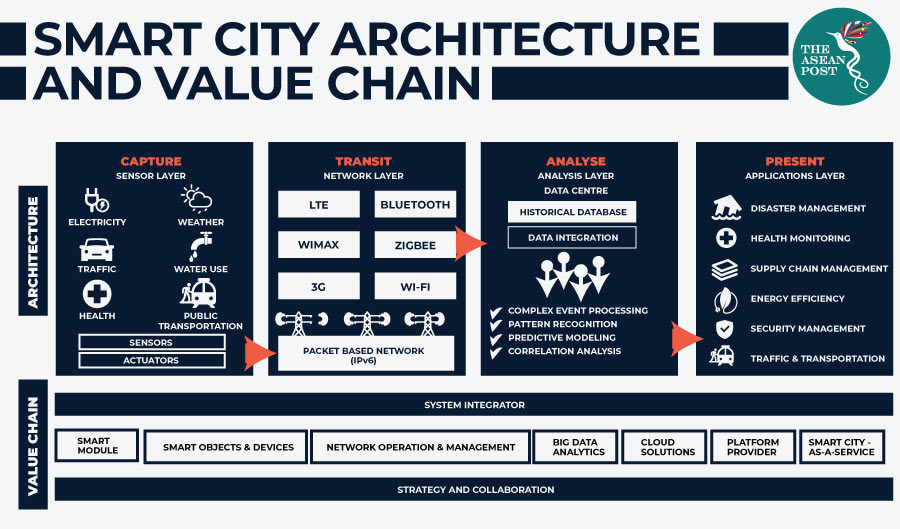 So far, leading the smart city pack are Singapore and Malaysia. Under the Smart Nation initiative, Singapore aims to harness the use of digital and smart technologies to become a more economically competitive and liveable global city. The Smart Nation plan outlines several key enablers like an e-payment gateway, smart urban mobility and a national digital identification system which would help it fulfil its ambitions.
Besides that, the government has been paying emphasis on incorporating Internet of Things (IoT) technology into the daily lives of its citizens. It has also bundled together government services for delivery via an e-platform as part of its digitalisation of the government initiative. To bolster such programs, the government relies heavily on big data analytics to understand its citizens better and to fine tune these projects so that they better serve their constituents.
Malaysia, on the other hand, has turned to artificial intelligence to solve its urban congestion woes and to herald a new era of smart city development in the country. In a joint effort with Chinese tech giant, Alibaba, the country launched the Malaysia City Brain project in January 2018.
The project will essentially give authorities "eyes in the sky" as they leverage on Alibaba's data mining and video and image recognition capabilities to track and optimise traffic flows. It is scheduled to be first launched in the country's capital, Kuala Lumpur.
In the first phase of the project, data will be integrated from over 500 traffic surveillance cameras which will provide real time tracking and analysis of traffic patterns for authorities to use in order to improve traffic efficiency. The next phase will focus on integrating more data from different sources. Leveraging on Malaysia City Brain's open platform concept, telecommunications companies and even ride hailing firms can feed their own data to the system which will only make it even more intelligent.
Smart city potential in ASEAN
The remainder ASEAN countries are not to be left behind in the smart city race. Indonesia, which aims to be the largest digital economy in the region is working to develop Jakarta into a smart city. Among the initiatives launched is the Jakarta One Card, a rubbish truck tracker and a smart street lighting system.
Thailand, in collaboration with tech giants Dell and Intel are combatting the problem of an ageing population via the Saensuk Smart City project. The country has a prevailing ageing demography and through innovations in healthcare is looking to derive solutions from this pilot venture.
Davao City in the Philippines alongside prominent tech player, IBM has implemented IBM's Intelligent Operations Centre (IOC) to support public safety and security. It allows real time monitoring of city operations which improves the efficiency of emergency response.
The coastal town of Danang in Vietnam hopes to be the country's inaugural smart city by 2025. It is currently in talks with IBM to leverage on the IBM Smarter Cities initiative. Areas of cooperation include the development of smart city infrastructure, efficient waste management and air quality control.
ASEAN is one of the fastest growing regions in the world, and with such rapid urbanisation, smart city solutions are a welcome proposition. Singapore, under its chairmanship of ASEAN has identified this immense potential. This could very well translate to ASEAN leading the smart city charge into the future.