Recently, Cambodia's National Committee for Counter-Trafficking (NCCT) identified the nation's capital and three provinces as locations where children are the most vulnerable to attacks from paedophiles entering the country as tourists. The vice chairwoman of the NCCT, Chou Bun Eng urged authorities in the nation's capital, Kampot, Siem Reap and Preah Sihanouk to be extra vigilant and protect children from such predators. 
Speaking at a workshop on the prevention of sexual exploitation of children in travel and tourism held in the capital, Bun Eng, who is also an Interior Ministry secretary of state, noted that the NCCT and other relevant partners, such as Action Pour Les Enfants (APLE), are also concerned over the exploitation of children through social media.
"We notice that the use of information technology, especially social media, is becoming more and more common and there are unscrupulous people who misuse it to commit crimes, including sexual exploitation of children. We urge service providers to monitor internet content to protect children from being lured by paedophiles," the local media quoted her as saying.
A few months ago, on 18 May, international news agency Agence France-Presse (AFP) reported that Southeast Asia was in the grip of a fresh surge of paedophile activity where predators orchestrated and watched abuse on live-streaming sites and via webcams, and paid for it with near-untraceable cryptocurrency.
The report acknowledged that tougher policing and greater awareness had managed to deter some offenders. However, technology had also enabled the shifting of patterns of abuse in a region with growing access to broadband internet and encrypted technology.
"Paedophiles can now use an array of mobile and online tools – including social networks, video-sharing sites, and the dark web – to direct and watch child rape and sexual abuse with anonymity, experts warn," AFP wrote in its report.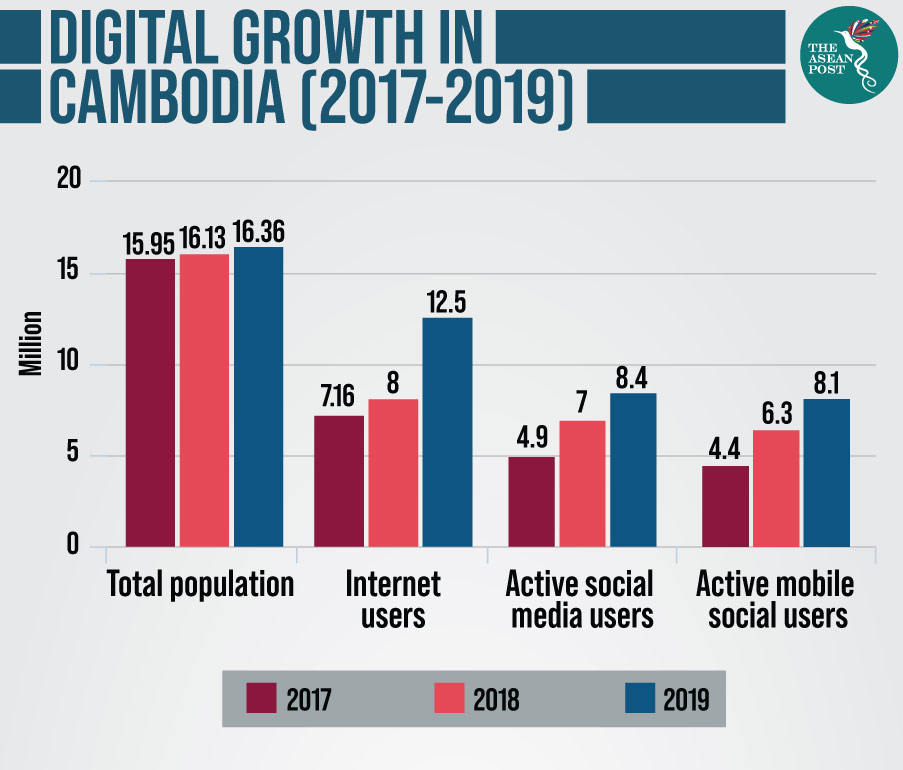 Source: We Are Social
Online growth
While Cambodia's numbers in terms of internet and social media penetration may not be as good as some other ASEAN countries, that number continues to grow at an acceptable rate. In January 2017, only 45 percent of Cambodia's total population were internet users, and only 31 percent were active social media users. As of January 2019, however, the Kingdom's internet penetration rate grew to 76 percent, while the penetration for active social media users grew to 51 percent.
While the growth in internet and social media penetration has numerous benefits, it does not come without its challenges; one of which is to protect Cambodian children in the face of tech-savvy paedophiles.
At the workshop mentioned in the beginning of this article, Samleang Seila, APLE executive director, was also quoted by the media as saying that children and youths are increasingly using the internet to source for information. He added that, unfortunately, predators were also using the same technology to distribute child pornography, harass children and lure them into child trafficking.
"If we cannot stop these activities, we will face many challenges in the future," he said.
In response to the NCCT's troubling findings, Bun Eng revealed that the Interior Ministry has set up an anti-cybercrimes department. She has also urged parents and guardians to monitor their children's use of the internet to make sure they do not fall prey to predators, adding that all relevant institutions and development partners should join the NCCT's efforts to eliminate child exploitation.
Meanwhile, the United States (US) Department of State has already made several recommendations for Cambodia to eliminate human trafficking in its 2019 Trafficking in Persons Report. Among the recommendations was for the Cambodian government to: (1) Vigorously investigate and prosecute trafficking offenses and convict and adequately penalize sex and labour traffickers, including complicit officials, with significant prison sentences. (2) Strengthen efforts to incorporate NGO input into the policy for formally transferring custody of child victims.
Southeast Asia is one of the fastest growing regions when it comes to internet penetration. At the same time, it has long had to deal with the problem of human trafficking as well as child prostitution. If Cambodia, which does not even have the highest internet penetration among the 10-member bloc, is already worrying about the complications that the internet adds to child exploitation, then one shudders to think what this could mean for the rest of ASEAN.
Related articles:
ASEAN's paedophiles are tech savvy