The retail industry has undergone multiple transformations during the past century, with those who adapt and innovate continuing to survive. It also helps if one is exceptionally unique. 
It seems that the world's consumers have gotten a little tired from having to explore multiple shopping locations to find what they want or need. But the opportunity for companies to display their branding and sway customers to buy more than they need was once considered a ground breaking idea.
In the United States (US), before 1916, customers would pass their grocery list to a clerk, who would then put items together for shoppers in one bag. That all changed when Piggly Wiggly opened over 100 years ago – allowing customers to instead browse the store and collect the items by themselves in a basket. 
Now once again, we are placing our shopping items in a basket – a digital basket – but from various sources which are then delivered to our doorsteps.
A study by digital marketing company, Wunderman Thompson, anticipates that the new era of retail requires a complex understanding of the digital market. The days of "old school" storefronts densely packed with merchandise may be coming to an end. 
Stores no longer stand alone; there is an almost infinite interconnectedness between brands and stores with digital interaction points to interactive mirror technologies which large international retail brands such as Burberry are testing. 
Amazon is leading the world in online shopping, where almost anything you could want is just a click away. The online retail giant offers a wide variety of choices for consumers – from different brands, and price ranges to availability and location – all on one page for easy browsing. 
Here in Southeast Asia, popular e-commerce company, Lazada is just eight years old but already has a net worth of US$4 billion.
The online shopping business has been experiencing a boom for some time now. However, to simply create an online platform to sell one's wares may not be enough to survive in the near future. 
AI in retail
A study conducted by Microsoft Asia and International Data Corporation (IDC) Asia/Pacific titled, Future Ready Business: Assessing Asia-Pacific's Retail Sector with AI, revealed that retail businesses in the region expect artificial intelligence (AI) to drive improvements in five key areas; customer engagement, business intelligence, profit margins, competitiveness and innovation.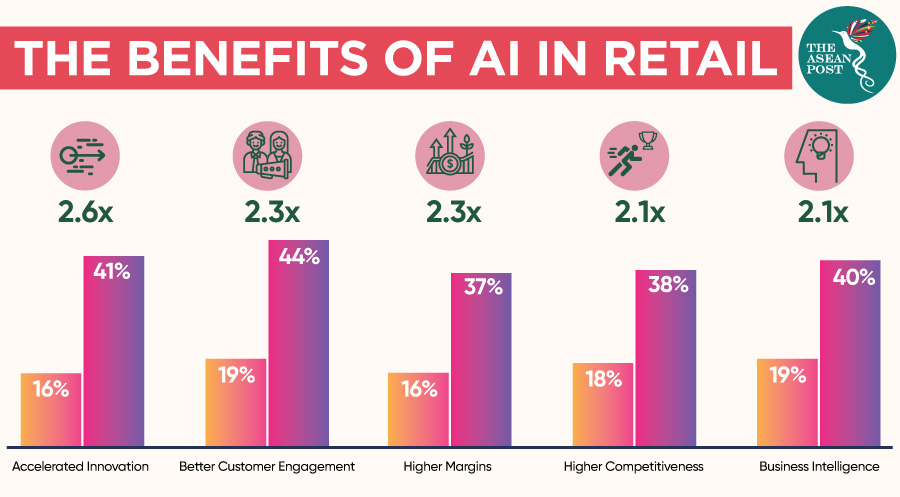 The study found that companies which have already adopted AI are seeing an average 16 to 29 percent improvement in the mentioned areas and are projected to see a further 37 to 44 percent improvement by as early as 2021. 
"To stay competitive, a shift to intelligent retail is required to add ease, convenience, customisation and automation – across business processes and operations, customer experiences, and the very products and services offered," said Raj Raguneethan, Regional Business Lead, Retail and Consumer Goods, Microsoft Asia. "This can be done by turning to cloud and AI tools as the underlying, connective tissue for digitisation and business transformation." 
Singapore-based video and technology start-up, Trakomatic, has invested in AI solutions – taking personalised marketing to a whole new level. A customer that has signed up with Trakomatic will be recognised as soon as they enter a mall, thanks to AI and facial recognition technologies.
The solution then sends customers a personalised text message, for example recommending a pair of trainers if they are sports enthusiasts. Along the way, the mall's digital signage knows when the person is near and changes its content to reinforce the sent text. When the person arrives at the store, the system alerts service staff via their devices, who can then engage with the customer and offer a personalised experience – or additional discounts.
"Even as e-commerce is growing, consumers still want to touch and feel products. Merchants are therefore looking to marry the physical and digital to reduce their stores' footprint, engage omnichannel consumers and grow their sales at the same time," said Shaun Kwan, Co-founder and COO at Trakomatic. "Through the years, we have developed technology to securely collect and anonymise shopper data streams and have partnered with Microsoft to bring to life capabilities that are integrating digital and offline retail experiences."
Shopping trends across the globe are an extremely volatile phenomenon, and businesses in different regions are experimenting with different aspects of technology with its respective benefits.
Online shopping in ASEAN is worth over US$14.8 billion, yet traditional retail continues to flourish. Malls now offer an enhanced experience for shoppers by adding attractions such as indoor sports centres, green spaces, and food outlets to differentiate themselves from online shopping platforms. 
The full potential of AI if integrated well with shopping malls may give brick and mortar malls a significant boost to remain relevant amidst the exponential boom that online shopping is enjoying.
Related articles: