Over the past decade, the Philippines has rapidly developed into one of the region's economic powerhouses. Now regarded as one of the Tiger Cub economies in Southeast Asia, along with Indonesia, Malaysia, Thailand and Vietnam, the Philippines looks set to outpace its ASEAN neighbours in this respect. This is underscored by a World Bank Global Economic Prospects report released in January, where it ranked the Philippines as one of the fastest-growing economies regionally.
These positive economic prospects are reflected in near-future projections as well, with the Asian Development Bank (ADB) upgrading its gross domestic product (GDP) growth forecast for the Philippines to 6.8 percent. ADB points out that its forecast for 2018 "…assumes that growth in the government's infrastructure program will accelerate, supported by improvements in budget execution, with more large investment projects underway."
DuterteNomics to the fore
The government's large infrastructure program is a part of "DuterteNomics," a term coined in reference to President Rodrigo Duterte's socioeconomic policies for the country. Part of DuterteNomics is the "Build! Build! Build!" infrastructure programme which Duterte proclaimed would usher in the Philippines' "golden age of infrastructure" while speaking at a DuterteNomics forum last year.
Duterte's Build! Build! Build! initiative is estimated to cost US$180 billion, with 75 projects planned. These projects include a new Manila airport terminal, Manila's first subway system, a 102-kilometre railway in Mindanao and more. Most of the infrastructure planned relate to transport, which Duterte hopes will help enhance mobility and connectivity in the country.
The Build! Build! Build! programme has been positively received by economists citing its potential to boost growth in the country, with the government anticipating up to eight percent growth for the economy this year, according to Socioeconomic Planning Secretary Ernest M Pernia in a December 2017 press conference.
Pernia added that GDP for the country is expected to increase 1.4 percent annually due to new infrastructure projects created by the programme. Meanwhile, the Asian Development Bank has supported the project with a US$100 million loan for the Infrastructure Preparation and Innovation Facility (IPIF). The Asian Development Bank estimates that projects under the IPIF will add as much as US$10 billion to the country's GDP between 2019 to 2024.
Philippine Budget Secretary Benjamin Diokno has also reiterated the economic benefits of Duterte's infrastructure programme. In a statement, Diokno said that Build! Build! Build! is expected to generate an average of 1.1 million jobs annually.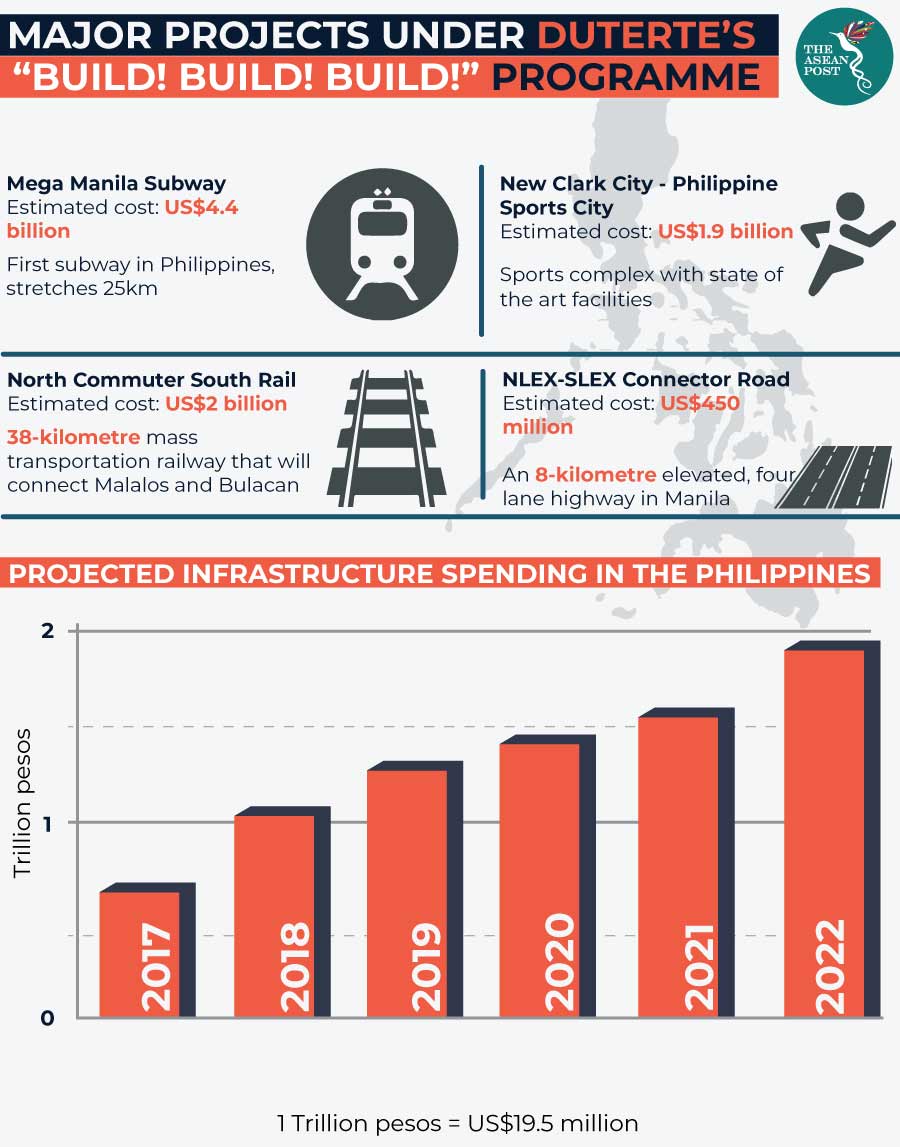 Funding the future
While Filipinos are optimistic about the prospect of better infrastructure and its associated economic benefits, some are worried whether the country can afford to take on such an ambitious project. The National Economic and Development Authority of the Philippines stated that 66% of the project will be funded by the government, with the remaining funding sourced through public-private partnerships and overseas loans.
Local media reported that the government is slated to borrow US$17 billion in 2018 alone to fund these projects. This has stirred up fear in some quarters with regard to increasing government debt, which would have adverse effects on the country in the long run.
In addition, March reports indicate that the Philippines chose to accept Chinese loans, which are up to 100 times more expensive than equivalent terms offered by Japan, to fund some of its infrastructure plans. This has raised concerns that the Philippines might borrow its way into a debt trap similar to the one currently being experienced by Sri Lanka.
In December last year, Sri Lanka formally handed over its strategic port of Hambantota to China on a 99-year lease after failing to pay its own debts to Chinese firms. China has tried to allay these concerns by stating that its financing came with no "strings attached".
The Philippine Department of Finance has also tried to play down fears of a debt crisis in the country via a statement claiming that economic expansion from Duterte's programme would outpace the growth of debt.
While this might sound well and good, the idea of growth outpacing debt hinges on the Build! Build! Build! initiative going smoothly. The World Bank warned the Philippines back in October last year that "…the pace of economic growth could be slower if the government is unable to timely deliver on its planned infrastructure program."
As the Philippine government looks to borrow more and spend taxpayer money to fund its infrastructure projects, it needs to ensure that the implementation of these projects goes through smoothly. Failure to ensure the swift and efficient running of these projects could impact the people of the Philippines and burden them with unnecessary hardship.