As of 30 March, Indonesia reported 1,414 COVID-19 cases and a total of 122 related deaths – the highest reported in Southeast Asia. Even at the early stage of the outbreak, there was international scepticism surrounding Indonesia's response and reporting of its COVID-19 cases.
In mid-February, Marc Lipsitch, professor of epidemiology at the Harvard T. H. Chan School of Public Health, "analysed air traffic out of the Chinese city at the centre of the outbreak in China and suggested in a report that Indonesia might have missed cases" of COVID-19. Health experts were concerned that the country was failing to identify the transmission of the virus – a crucial process in curbing the spread.
For instance, in early February, experts found it difficult to believe that Indonesia had yet to announce a single case despite receiving about 5,000 Chinese tourists a day in Bali at the time. According to Indonesia's statistics bureau, in 2019 Bali received 1.2 million tourists from mainland China – which has a direct flight from Wuhan – the epicentre of the outbreak.
By early March, Ahmad Utomo from the Stem Cell and Cancer Research Institute told local media that "it's statistically impossible that we only have two cases."
Just weeks later, Indonesia reported the highest number of fatalities among ASEAN countries, with a relatively low rate of infections compared to Malaysia, the Philippines and Thailand. While these nations have all imposed Movement Control Orders (MCO) and partial lockdowns, on Thursday president Joko "Jokowi" Widodo rejected calls for such measures.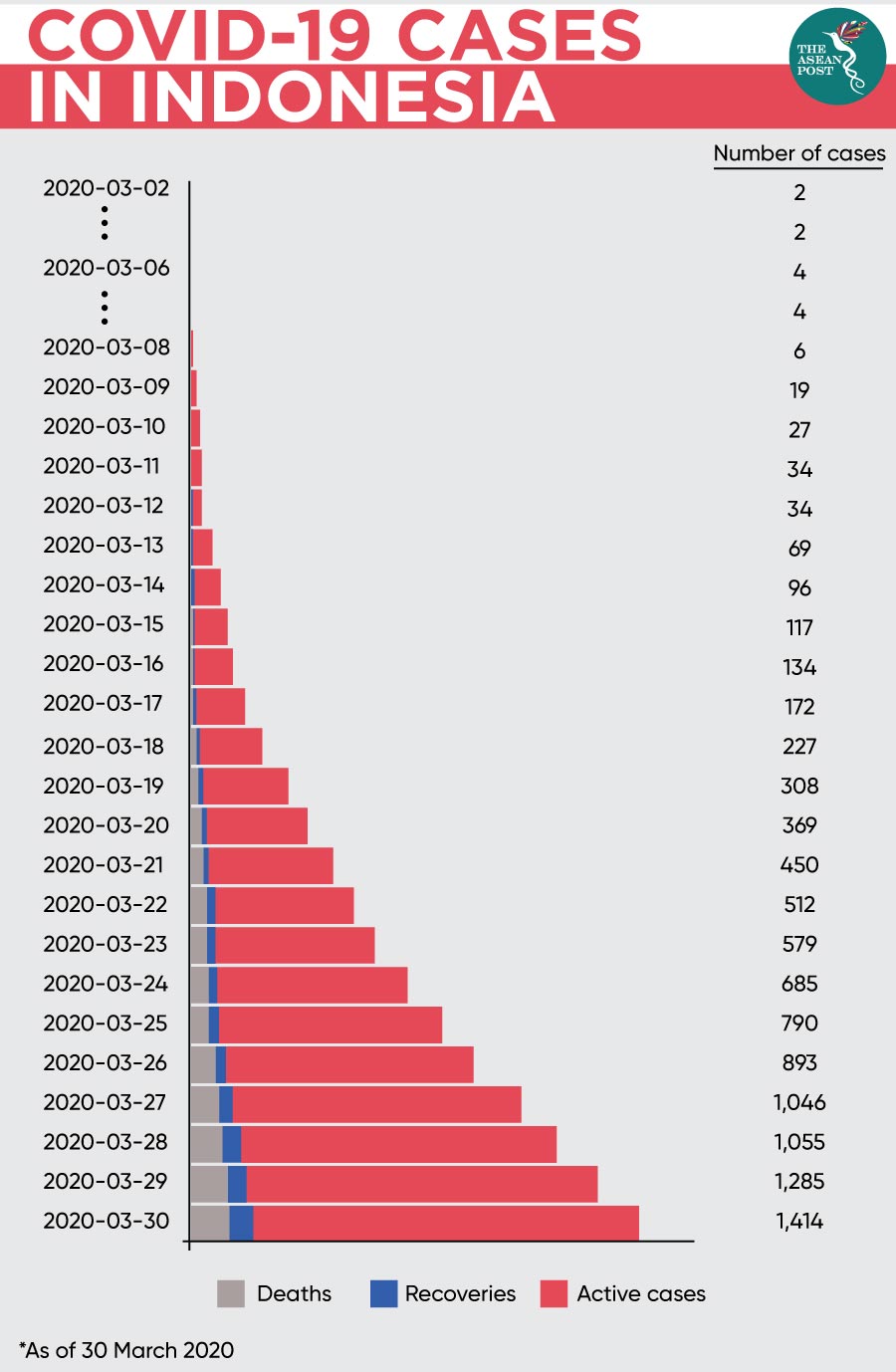 "The COVID-19 situation in Indonesia is very serious and getting worse quickly," the Canadian embassy in Jakarta said Thursday, urgently advising its citizens to leave the country.
On Saturday, Indonesia finally extended its state of emergency as the number of COVID-19 cases surged across the country.
While the government's task force estimated that 700,000 people in the country were at risk, the rate of testing is low compared with many other countries – with only 2,300 tests conducted before the government stopped announcing nationwide figures.
How Will Indonesia Cope?
According to World Health Organisation (WHO) data from 2017, Indonesia had fewer than four doctors for every 10,000 people. In comparison, Malaysia had about 15 doctors for every 10,000 people while Australia had 35. 
A study in the Critical Care Medicine journal released in January compared intensive care beds for adults in Asian countries using data from 2017 as well. The study found that Indonesia had 2.7 critical care beds per 100,000 people, which is among the lowest in the region.
With a significant shortage of hospital beds, medical staff and intensive care facilities, these factors increase the risks of Indonesia becoming a new epicentre for the COVID-19 pandemic. On 23 March, the London-based Centre for Mathematical Modelling of Infectious Diseases released estimates that only two percent of Indonesia's coronavirus infections have been reported. That would bring the true number to as many as 70,700 – placing Indonesia right below China and above Germany for number of infections. 
The government of Indonesia has undoubtedly received heavy criticism over its handling of the outbreak in addition to the lack of economic efforts to reduce the burden on working citizens as well as corporations in the country. 
At least seven doctors in Indonesia have died from the virus, according to official figures. "You were infected as you actively served people. Many health workers have been infected and left. The limited amount of protective equipment is hard to forgive," wrote Pandu Riono, a University of Indonesia public health expert.
It is clear that large-scale testing and identification of transmissions need to be ramped up immediately.  The Indonesian government has pledged to boost testing to upwards of one million checks as extra equipment and test kits are flown in from China. The Chinese government has been flying out urgent medical supplies including test kits, N95 masks, surgical masks, protective gear and portable ventilators. 
While the situation in Indonesia is extremely critical, the additional help of resources could quicken the government's response to the situation and against all odds, contain the pandemic before it spirals beyond the government's control.
Related Articles: