Southeast Asia is a region that's vast developing. It has evolved from an agricultural society to one of the fastest growing regions in the world within the span of a century. One of the main drivers of such growth was due to Southeast Asia's position as a low-manufacturing hub. This combined with cheap exports, provided the region with the necessary income to develop. However, in the past two decades, the world has seen the meteoric rise of China's manufacturing industry. Nowadays, you would be hard pressed to find any goods that aren't made in China. 
Perhaps to retain its position as "factory to the world", Southeast Asia needs to look at the digital technologies of Industry 4.0. Industry 4.0 or the Fourth Industrial Revolution refers to the current industrial era we are living in. The technology associated with it often includes artificial intelligence (AI), blockchain, quantum computing, biotechnology, robotics and more. 
In a report by McKinsey & Company titled "Industry 4.0: Reinvigorating ASEAN Manufacturing for the Future", it highlighted that Southeast Asia needs to embrace Industry 4.0 to unlock its potential in manufacturing. It claims that the disruptive technology of Industry 4.0 would be able to drive productivity up the same way that the introduction of the steam engine did during the first Industrial Revolution. Globally, if digital technologies associated with Industry 4.0 were embraced and integrated, it is forecasted to deliver between US$1.2 trillion and US$3.7 trillion in gains. Meanwhile in ASEAN, the impact Industry 4.0 could see productivity gains between US$216 billion to US$627 billion.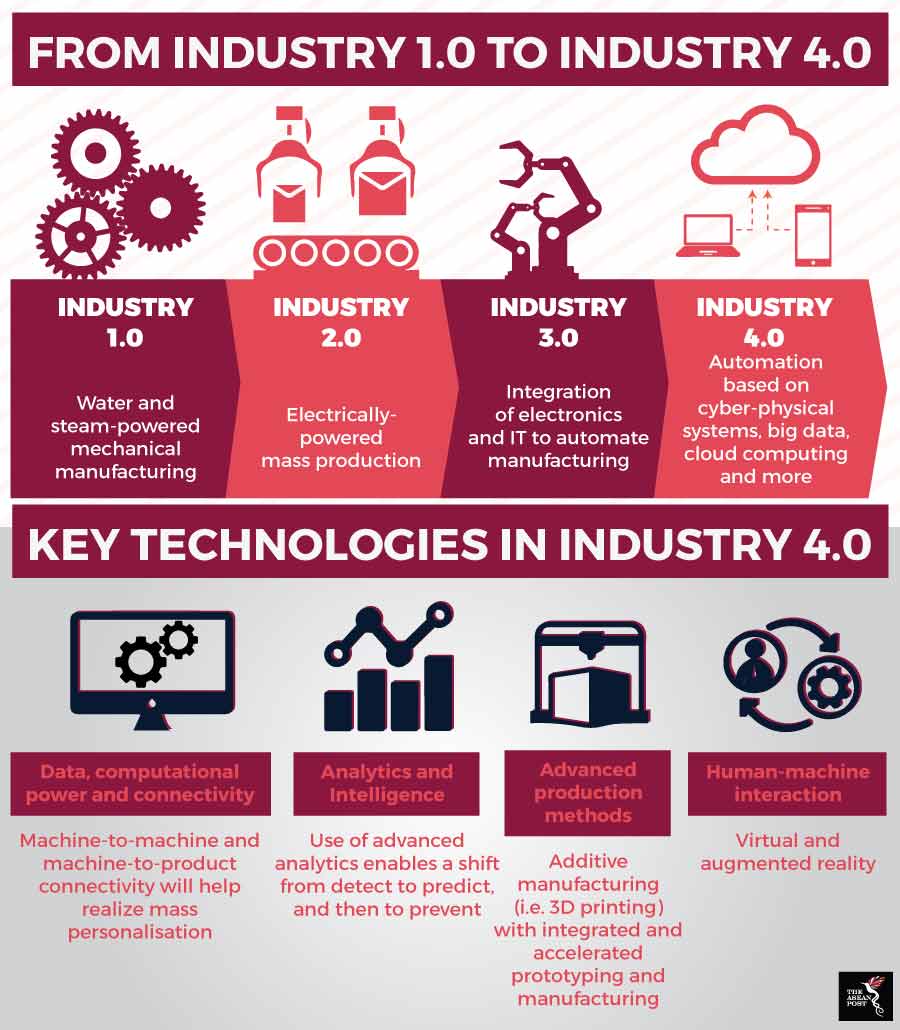 Source: Various
The pull of productivity
One of the main reasons for this is that digital technologies allow individual countries to increase their productivity. Furthermore, it would allow ASEAN countries to overcome their respective productivity gaps. The productivity gap is the gap between cost of paying an employee and the employee's productivity. Barring, Singapore, ASEAN's productivity gap prevents the manufacturing industry from reaching its maximum potential. On average, the labour costs in ASEAN are much lower than China's. However, this advantage is negated by low productivity in the region.
Southeast Asia's main selling point cannot be its low wages alone. Implementation of new technologies could help close the productivity gap. For example, factories could integrate technologies such as robotics to maximise productivity, minimise human failure and prevent work accidents. Aside from that, companies could integrate AI and data analytics to make automation more intelligent and improve efficiency. According to a report by Accenture, by 2035 AI will have the potential to increase productivity by 40 percent.
Some ASEAN companies are already beginning to adopt Industry 4.0 technology. For example, Infineon Technologies, a semiconductor company, plans to invest more than US$84 million in a smart factory in Singapore to test new Industry 4.0 technologies. The company expects to cut cycle times in half, increase productivity by 10 percent, and save US$1 million a year in energy costs through the initiative. Apart from that, Malaysian energy conglomerate PETRONAS and Indonesian mining equipment manufacturer PT Trakindo Utama have launched efforts to digitise their operations and customer offerings.
Expensive undertaking
While these technologies could be key to unlocking larger profits for companies, there is resistance because a lot of money is required to invest in them. So far, there are no signs that being early adopters could be hugely beneficial to a company. It is very likely that the majority of companies are waiting for certain technologies to become mainstream and affordable before taking a risk on them. 
There are also the dangers that new technologies could eliminate the existing workforce. The International Labour Organisation (ILO) stated in a 2017 report that half of the salaried workers – approximately 137 million – in Cambodia, Indonesia, Vietnam, the Philippines and Thailand might lose their jobs in the next 20 years. 
The potential that can be unlocked by Industry 4.0 is huge and countries in Southeast Asia need to be aware of that. They also need to be aware of the pitfalls surrounding it. Maybe the step forward would be for ASEAN as a bloc to formulate a proper approach to this initiative. After all, this is in line with ASEAN's push for a more resilient and innovative region.  
Related articles:
Manufacturing is driving the region forward