Eased visa requirements for citizens from six countries are the latest in a string of visa relaxation policies that Myanmar has rolled out in a bid to boost tourism amidst fall-out from the ongoing Rohingya crisis.
Visitors from Australia, Germany, Italy, Russia, Spain and Switzerland can now apply for visas on arrival in Myanmar, where they will have to pay a US$50 visa fee at the country's three international airports during a one-year trial period which will start on 1 October as stated by Myanmar's Ministry of Hotels and Tourism last month.
With visitors from Hong Kong, Japan, Macau and South Korea currently enjoying visa exemptions during a similar one-year trial period which started last October, and Indian and mainland Chinese tourists only having to apply for visas on arrival, Myanmar is hoping its less restrictive regulations will counter the drop in tourist arrivals which happened immediately after news of the Rohingya crisis broke in 2017.
UNESCO listing, American alliance
Despite the subsequent boycotts and tour cancellations, there have been a few bright spots in Myanmar's tourism sector.
Myanmar's ancient capital of Bagan was just named a United Nations Educational, Scientific and Cultural Organisation (UNESCO) World Heritage Site on Saturday. Bagan's vast array of temples, stupas, monasteries and other religious artefacts reflects the religious devotion of an early Buddhist empire which was at its peak between the 11th and 13th centuries.
Myanmar Tourism Marketing, the government body tasked with promoting tourism overseas, signed a Memorandum of Understanding (MoU) with the American Society of Travel Advisors in Yangon last month – providing American travel advisors with the  information they need to sell Myanmar as a travel destination.
While the Rohingya crisis may have dented the country's appeal as a tourism destination, data from Myanmar's Ministry of Hotels and Tourism show that tourist numbers have been on the rise. Myanmar welcomed 1.84 million visitors in the first five months of 2019 according to the ministry's website, putting the country on course to better its 2018 total of 3.55 million visitors.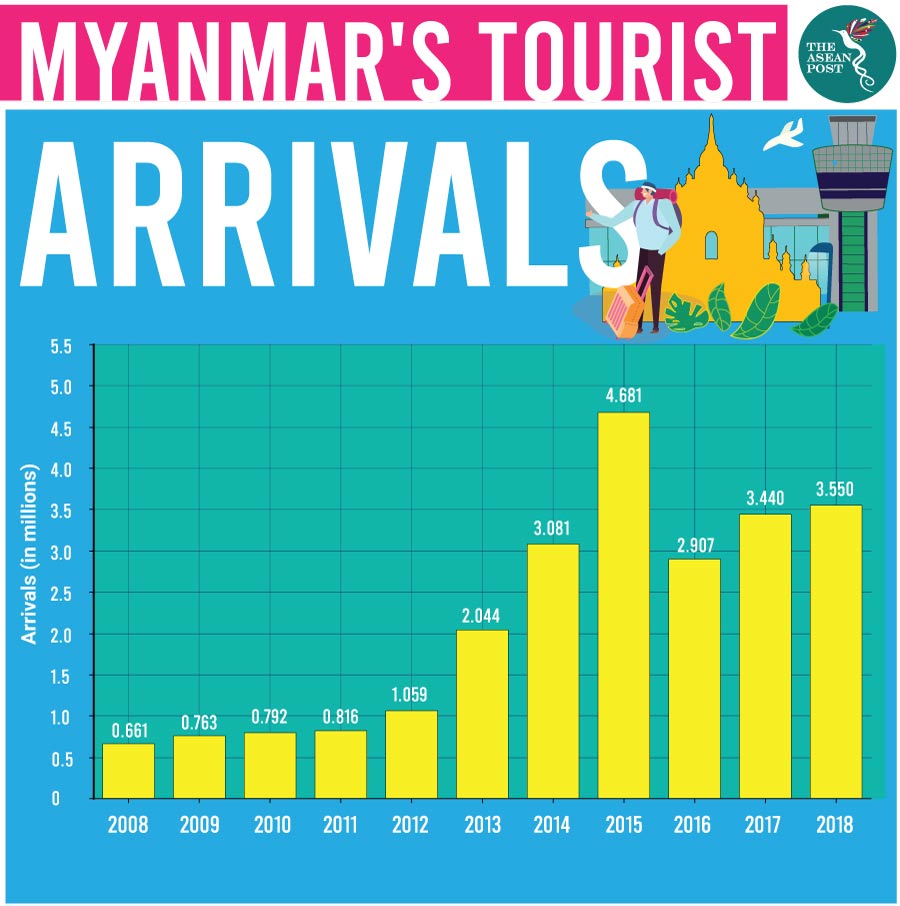 Source: ASEAN Secretariat, Ministry of Hotels and Tourism (Myanmar)
China (137 percent), South Korea (85 percent) and Japan (24 percent) recorded the biggest growth in terms of tourist arrival numbers in the first five months of 2019 compared to the same period in 2018, with a notable decrease in visitors from Europe in general.
Rohingya crisis, zero-dollar tourism 
But with Myanmar's tourism infrastructure still developing and the Rohingya crisis gaining global headlines on a regular basis, it is difficult to see how eased visa requirements will help boost tourist numbers in European countries – which have traditionally placed greater emphasis on human rights – targeted in the latest ruling.
Just last week Yanghee Lee, the United Nations' Special Rapporteur on the situation of human rights in Myanmar, implored the UN's Human Rights Council to maintain pressure on Myanmar's government amid concerns about possible war crimes in Rakhine State – warning that the international community is "beginning to overlook" the plight of the more than 700,000 ethnic Rohingya who fled the country amid violence described as ethnic cleansing.
Apart from the fall-out from the Rohingya crisis, Myanmar's tourism officials also have their hands full dealing with zero-dollar tourism – the term used to define the practice of tourists going on tour packages in which the hotels, restaurants and other places of interest are all linked to the tourists' home country, offering little benefit to the local economy.
In Myanmar, this practice was in the spotlight when eased visa requirements allowed Chinese nationals to get visas on arrival for a period of one year starting last October. Myanmar welcomed around 650,000 Chinese visitors in the first four months of 2019, an increase of 30 percent for the same period last year according to the Ministry of Hotels and Tourism.
Although there is no publicly available data on the subject, Chinese digital payment platforms such as Ali Pay and WeChat Pay facilitate transactions between Chinese tourists and the Chinese-owned companies they come across during their stay in Myanmar – leading to loss in valuable tax revenue for the Myanmar government.
Despite their best efforts to weed out practices such as zero-dollar tourism or improve its hospitality sector, officials in Myanmar's tourism industry will find that the Rohingya crisis will remain the biggest challenge when it comes to attracting tourists.
Related articles:
Myanmar's tourism dreams pierced by Rohingya crisis