Today, the world celebrates World Wildlife Day with the theme of "Sustaining all life on Earth". According to the United Nations (UN), 'All life on earth' encompasses all wild animal and plant species as a component of biodiversity, as well as the livelihoods of people, especially those who live closest to nature. It was reported that the Empire State Building in New York, United States (US) is to be lit in blue-green-gold in conjunction with World Wildlife Day. 
However, mother earth is currently in crisis as "we are losing species at a rate 1,000 times greater than at any other time in recorded human history", according to the United Nations Environment Programme (UNEP). The UN also stated that nearly one million species are now on the verge of extinction.
With declining wildlife numbers and frequent reports of forest fires in Southeast Asia – and the disastrous Amazon fire of 2019 – is there anything for us to celebrate today?
Death of wildlife in ASEAN
Last January, in the southern state of Johor in Malaysia, it was reported that three tapirs were found dead in a span of just one month due to roadkill. According to Malaysia's Department of Wildlife and National Parks (Perhilitan), in 2017, a total of 25 tapirs died after being hit by vehicles. Statistics from Perhilitan shows that 2,444 wild animals have died from roadkill from 2012 to 2017 despite signboards placed at areas known for wildlife crossings. 
The Tapir is not the only wild animal in Malaysia that has made the news. In 2019, the death of the last Sumatran rhino in Malaysia sparked a public outcry as the mammal is now extinct in the country. Malaysia has faced criticism for its poor conservation efforts. Wildlife expert Benoit Goosens acknowledged that the country's attempts to preserve the animal had not seen much progress over the last 30 years. The Sumatran rhinoceros is down to around 80 individuals, all living in Indonesia.
Lao's infamous deforestation and illegal logging have caused numerous deaths of indigenous wild elephants. It was reported that Lao only has about 40 percent forest coverage as of 2018 – down from 70 percent in the 1950s. Other than that, elephants in captivity are fed unhealthy diets and forced to work in poor conditions at elephant tourism camps. 
In another ASEAN member state, Thailand, the death of baby dugong Mariam last year is still mourned by people today. In 2019, 21 dugongs were found dead in Thai waters, mostly around the provinces of Trang and Krabi. Mariam's autopsy report revealed a shocking amount of plastic in the marine mammal's stomach. Other than plastic waste, The Department of National Parks Wildlife and Conservation (DNP) estimates that about 80 percent of Thai dugong deaths are due to entanglement in fishing nets.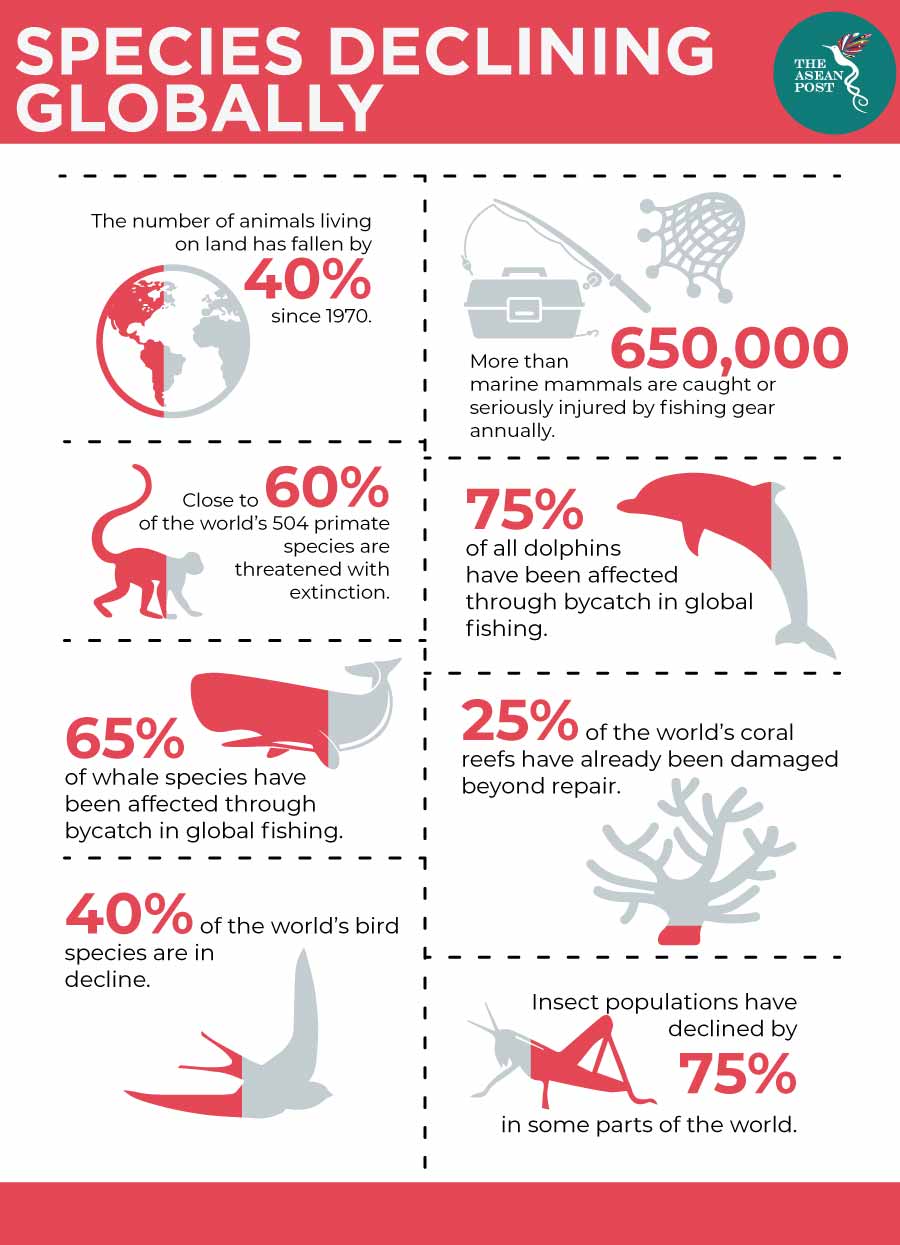 Protecting biodiversity in the ASEAN region is essential for sustainable economic development, a healthy environment and food security. However, as all nations are facing shrinking biodiversity, effective and fast action at the regional level is required. In 2005, the ASEAN Centre for Biodiversity (ACB) was established in the Philippines to collect and manage information and knowledge about the conservation and sustainable use of biodiversity. The ACB's mandate is also to harmonise at regional level and refine the varying political approaches adopted by ASEAN nations.
Is it us?
Today, there are over seven billion people living on the planet. As this number continues to grow, the need for water, food, land, and energy will also increase. According to media reports, the climate is one of the Earth's fundamental life support systems which determines if the planet is habitable or not. Rapid development in many countries, deforestation for agriculture, ever-growing cities, mining and industries have all contributed to a drastic change in the earth's climate. 
Simply put, human activities have damaged the planet. 
2020 has been called the "biodiversity super year" which marks a critical turning point in global action to conserve nature and the planet's biological diversity. In January, the environment was heavily discussed at the World Economic Forum (WEF) in Davos. For ASEAN, this March - Malaysia, in collaboration with the ACB will be hosting the biggest biodiversity event in the region, the Third ASEAN Conference on Biodiversity or ACB 2020. 
Conferences and discussions among world leaders are held frequently to form strategies and plans to halt the loss of biodiversity. But are we fighting a losing battle? 
Related articles:
Southeast Asia's dugongs may disappear soon