Southeast Asia's rapid urbanisation and increasing affluence has led to concerns about the growth of consumerism and its impact on sustainability. Consumerism is the constant purchasing of goods and services not termed as needs such as food, water, clothing and shelter and follows changing trends and fashion. Driving market forces, consumerism has become a way of life in many countries and is almost a hallmark of developed nations. 
ASEAN's rising economy, spending power and consumerism culture that has come with it has mirrored that which the United States (US), Europe and emerging markets such as China, India, Brazil and South Korea have experienced over the past few decades. However, it has taken an irreparable toll on the natural resources required to produce these goods and services. Increased demand for goods and services leads to an increase in production, which in turn leads to more pollution, plastic waste, deforestation and climate change. Consumerism can also contribute to potential health issues, and globally, there are two billion people who are either overweight or obese according to the United Nations (UN).
Shift in mindset
Should the global population reach 9.6 billion by 2050 as expected, the UN estimates that the equivalent of almost three planets could be required to provide the natural resources needed to sustain current lifestyles. Forum of the Future, an international sustainability non-profit, is optimistic about the economic growth, emerging start-up ecosystems and innovation in the region. However, Ariel Muller, Forum of the Future's Managing Director for Asia Pacific, warns of the unintended consequences of unchecked consumerism in the region.
"Economic growth needs to be guided based on smart principles that will ensure the long-term well-being of the region and not just the short-term economic return," Muller told The ASEAN Post. "When thinking about our economies, what should be at the forefront of our minds is what can we do to make sure humanity can thrive on planet Earth in years to come," Muller added.
There are promising signs of a push-back against rampant consumerism and a deeper shift in mindsets around our consumption. Many millennials in the region are exploring new patterns of consumption and playing with the sharing economy, valuing quality over quantity, access over ownership, and experience over possession, noted Muller. New and disruptive business models in the sharing and circular economy, enabled by tech and logistical advances, are emerging in Asia – and many younger generation leaders are investing in more sustainable products and services.
Changing consumerism in Asia is one of seven critical issues which are expected to shape our 2020s and beyond as outlined in the Forum of the Future's annual report released this week. Key to the Forum of the Future's initiative to create a more sustainable future is its Circular Leap Asia project which aims to help companies provide consumers with products that are produced with no or minimal amount of waste, and therefore do not bear a hefty environmental price-tag.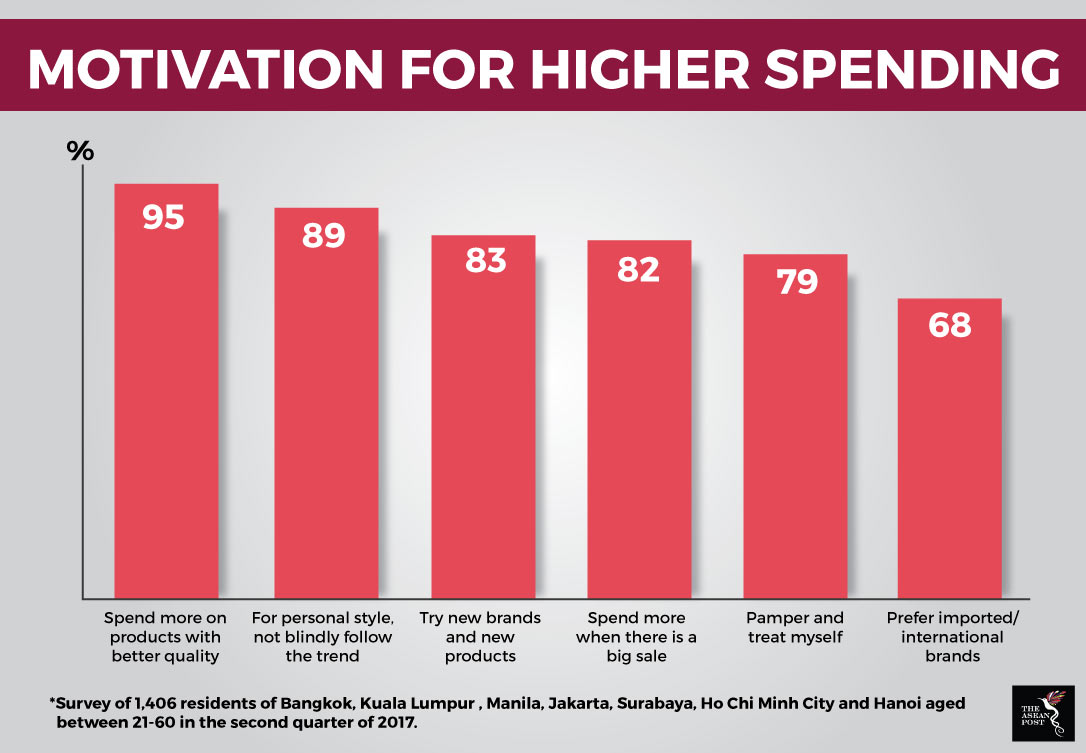 Source: Hong Kong Trade Development Council 
ASEAN's growing middle class
Southeast Asia's environmental woes – Indonesia, the Philippines, Thailand, and Vietnam are among the world's worst plastic waste polluters – has risen in tandem with its economic growth and that of its middle class. The region's gross domestic product (GDP) has more than quadrupled in the past two decades from US$577 billion in 1999 to US$2.8 trillion in 2017, and it is predicted ASEAN will be the world's fourth largest economy by 2030 after the US, China, and the European Union (EU).
Led by a growing educated and young workforce, ASEAN's middle class is estimated to be two-thirds of its overall population by 2030, a huge jump from the 29 percent in 2010.  Consulting firm McKinsey expects the number of middle-class households in ASEAN to reach 120 million by 2025, roughly double the number in 2010. Meanwhile, HSBC forecasts that per-capita GDP across the 10-member ASEAN bloc will experience a threefold increase from about US$3,000 in 2010 to more than US$9,000 in 2030.
With sustainable consumption and production as one of the 17 Sustainable Development Goals (SDGs) set out by the UN, greater awareness of the negative effect consumerism has on the environment will go a long way in changing consumption patterns – especially with the next generation of consumers. Children need to be taught the value of their consumption decisions and how these decisions will affect their communities, countries, the region and the world.
"We instil the consumption habits of tomorrow in how we behave around our children today, and it is important that we begin by talking with our children – who are naturally curious and open to learning – about how our choices connect to the world around us," said Muller.
Related articles:
Bangkok schools shut as AQI hits 171
Indonesia's plastic waste problem