News reports from several different ASEAN member countries have shown an obvious decline in tourism. This is in relation to the novel coronavirus outbreak which began in China and has since been declared a global emergency by the World Health Organization (WHO).
It was reported that the Bali Tourism Agency in Indonesia had organised a mass prayer on Friday amid the fast-spreading novel coronavirus outbreak originating from China, which has taken a toll on the famous resort island's tourism industry. Officials from the agency alongside those working in the tourism sector held the prayer at Pura Candi Narmada, a Hindu temple in Kuta, Badung regency.
Similarly, it was reported that the Singapore Tourism Board had unveiled initial steps as part of a wider set of measures to help tourism businesses mitigate the immediate impact of the novel coronavirus, saying that it will waive licence fees for hotels, travel agents and tourist guides, and defray enhanced cleaning costs of hotels that provided accommodation to tourists that are confirmed or suspected of having the novel coronavirus.
It was also noted that the tourism sector there had already been directly affected by the novel coronavirus, due to a decline in visitor arrivals, especially from China.
Lao's Information, Culture and Tourism Department head, Somkhit Vongpanya had reportedly said that the number of Chinese tourists crossing the border into Bokeo province had slowed following the novel coronavirus outbreak.
Admittedly, some ASEAN countries have become more closed off especially with regard to flights coming in and out of Wuhan, where the virus originated. This would have undoubtedly affected tourist arrivals. 
ASEAN, like much of the rest of the world, has been enjoying a surge of Chinese tourist arrivals for several years now. Some observers believe this is part or – at least – a by-product of China's ambitious Belt and Road Initiative (BRI).
But becoming more closed off has not been an easy decision for any of ASEAN's members to make. One ASEAN country which has been very careful in handling the matter is Thailand.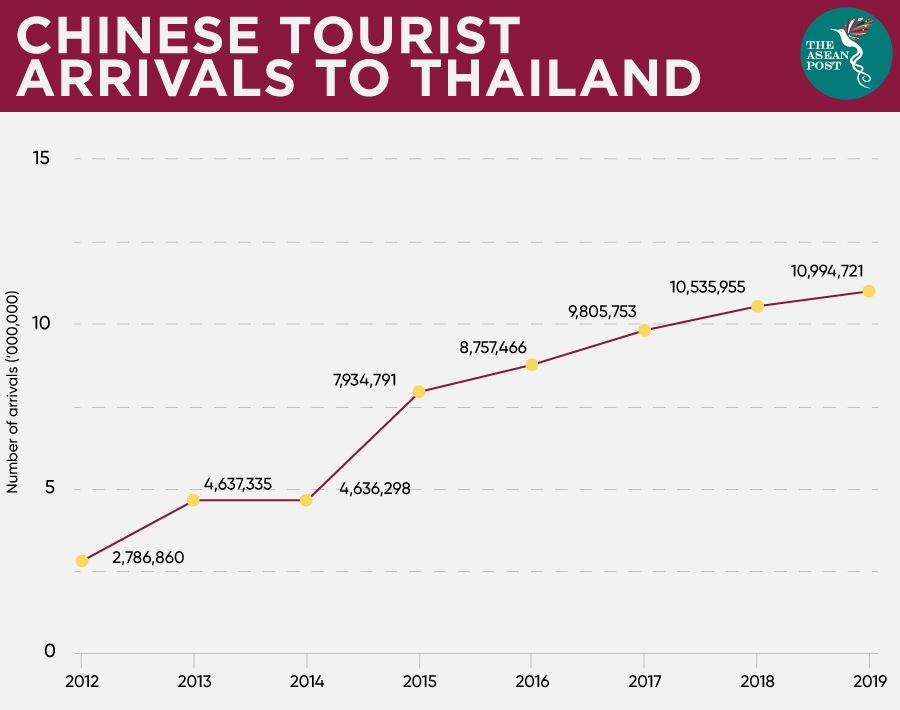 China money
Last week, the Thai government declined to take up a request by the Ministry of Public Health to stop issuing visas on arrival to Chinese visitors in order to combat the novel coronavirus. According to news reports, the proposal was untouched during the Thai Cabinet economy team meeting on Friday despite health minister, Anutin Charnvirakul's pledge the previous day to push for the measure. 
Based on official data, approximately 10.9 million tourists from mainland China visited Thailand throughout 2019, ranking first among tourists from any other country. Chinese tourists also accounted for at least 426 billion baht (US$13.6 billion) in tourism revenue. Meanwhile, that figure contributed to about 20 percent of the country's total gross domestic product (GDP).
With numbers like that, it's no wonder that Thailand is reluctant to see less Chinese tourists coming into the country. Aside from this, the question of whether more needs to be done also arises.
The governor of the Tourism Authority of Thailand (TAT), Yuthasak Supasorn, was recently reported as saying that the novel coronavirus had dealt a "severe blow" to the Thai tourism industry. Chinese arrivals are estimated to drop by as much as 80 percent in the first four months of the year. Yuthasak said the drop could cause an estimated 98 billion baht (US$3.1 billion) in revenue loss.
The drop comes after China imposed travel restrictions on group tours, a move made to control the spread of the novel coronavirus.
Nevertheless, it is important to note that as of 12.15pm on 3 February, Thailand had reported more confirmed cases (19 cases) than any other ASEAN country. Globally, this only falls behind Japan (20 cases) and China (17,328 cases). As such, where should the Thai government draw the line in ensuring, on the one hand, that its economy isn't drastically affected and on the other, that its people remain safe?
The novel coronavirus and its effect on tourism brings another important matter worth considering to the fore: ASEAN states must ensure that they don't bank too much of their respective economies on just one foreign country.
Related articles:
WHO declares global virus emergency