While vote counting continues for Indonesia's recently concluded election, reports have come out that incumbent, Joko "Jokowi" Widodo already enjoys a comfortable lead over former general and rival, Prabowo Subianto, at least according to the unofficial results. 
The official results are only due sometime next month, but a series of so-called "quick counts" by pollsters have shown that Jokowi has managed to garner as much as a 11 percentage points lead over his rival. 
Prabowo, however, remains unconvinced.
"We will not use illegal tactics because we have won. For those who defended (my rivals), I'm still going to defend you. I'm the president of all Indonesians," the 67-year-old was reported as saying when he warned of street protests and legal challenges if he lost.
Prabowo's defiance is more than just reminiscent of what occurred five years ago when he and Jokowi first locked horns for the presidency.
Following that election on 9 July 2014, Jokowi announced his victory based on quick counts of votes from several zones. Most of the independent pollsters at the time indicated a victory for Jokowi with between 52 to 53 percent of the votes compared to Prabowo's 46 to 48 percent. Prabowo, however, also claimed victory, citing other polls. 
As the official count continued, Indonesia's General Elections Commission (KPU) released scans of the tally forms from each polling station on its official website, allowing downloads of the official data. In the lead up to the announcement of the official results by the KPU, Prabowo pushed to delay the announcement by two weeks, allowing his party to investigate claimed manipulations of the voting process. This request was denied.
On 22 July 2014, the KPU announced Jokowi's victory. But the Prabowo camp – which included his then vice president Hatta Rajasa – continued to reject the KPU's results.  
Prabowo made an appeal against the election result in the Constitutional Court of Indonesia, alleging "structured, systematic and massive" violations. He also claimed that up to 24.1 million votes were "troubled". 
The first hearing was held on 6 August, 2014 and hundreds of supporters were present outside the court. On 21 August 2014, the court delivered a unanimous 9-0 verdict in favour of rejecting all aspects of the appeal. A spokesperson for Prabowo stated that his team did not consider the ruling fair, but that they would accept the court's judgement.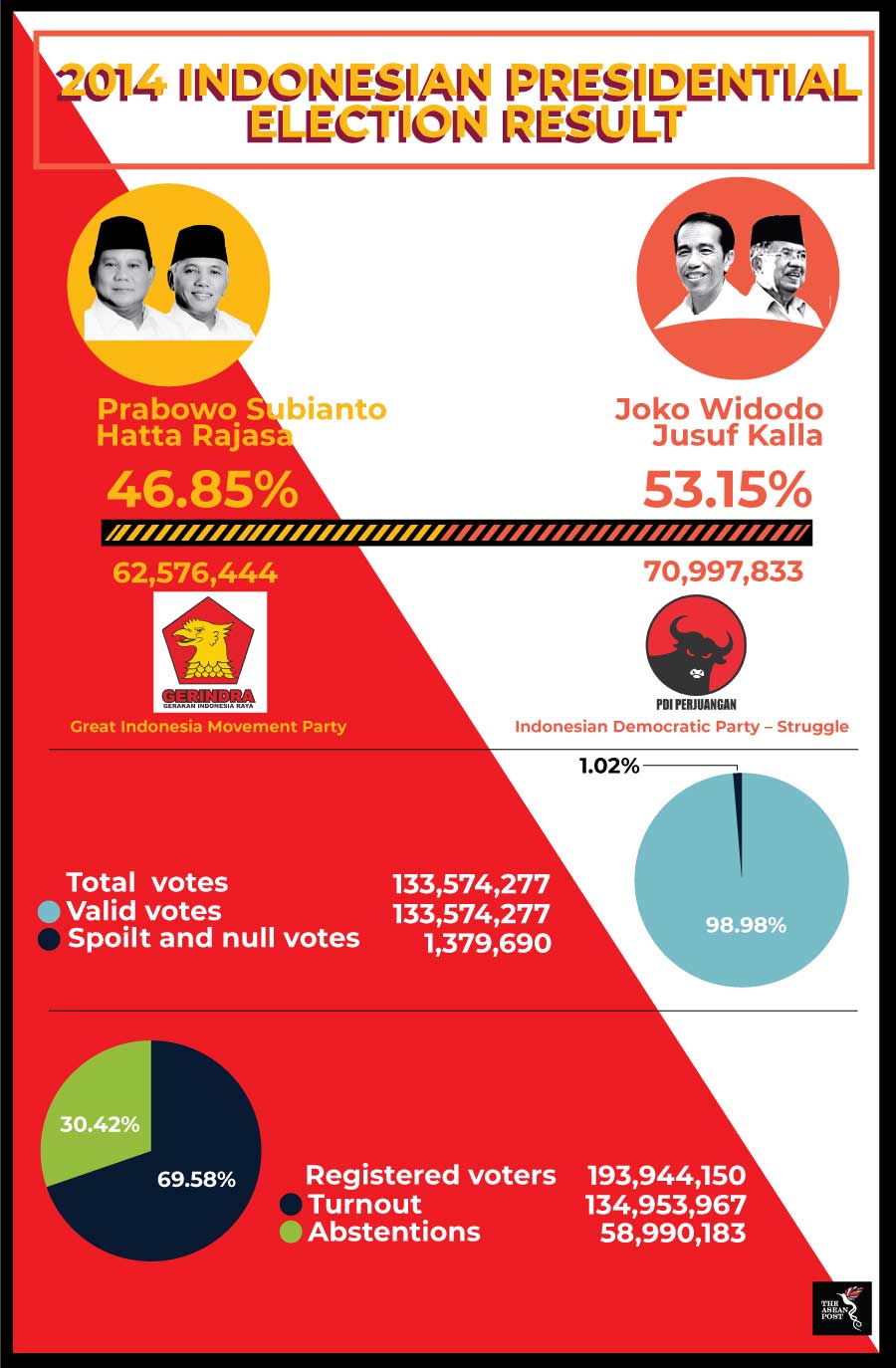 Source: Indonesia's General Elections Commission
Keeping calm
Several news reports coming out of Indonesia are urging voters to keep calm and to welcome the new president whoever it may be. The question is why are public figures like Irwan Prayitno, the Governor of West Sumatra; Jokowi, and even Prabowo urging Indonesians to remain calm as if there is a likelihood that the country would erupt once the eventual winner is officially announced?
Back in August 2014, thousands of Prabowo's supporters had gathered near the Constitutional Court of Indonesia. Police were forced to fire tear gas and water cannons to disperse those who tried to break through security barriers shortly after the court began its session.
Witnesses said protesters rammed four trucks into the barriers, a move which sparked a response from the police. A few people were injured and four others were arrested. According to Indonesian authorities, about 50,000 police and military personnel were on standby around the capital city in case of violence.
Despite the commotion, the protest – or gathering - may have been considered largely peaceful compared to other riots in Indonesia's recent history.
Going back to May 1997, on the last day of the election campaign for the Indonesian legislative election, as many as 137 people were killed in the infamous Banarmasin riot.
In strongly Islamic Banjarmasin, supporters of the PPP were aggrieved by perceived abuses of power by the ruling Golkar party. After Friday prayers, thousands of people attacked supporters heading to a Golkar rally. The ensuing violence resulted in the killing of several Golkar supporters, as well as attacks on the interests of big businesses, Christians, and the Chinese.
A Batak Protestant Church, close to a large mosque, and its neighbouring Chinese-owned houses were burned, as well as the Catholic Saint Mary's Cathedral, two other Catholic churches, several Catholic schools, and a home for the elderly. In addition, eight shopping malls, the Lima Cahaya department store (the largest in the area at the time), Chinese-owned businesses, and churches of seven denominations, a Buddhist temple, two hotels, 21 cars, 130 houses, and four government buildings were damaged or destroyed.
Despite the quick counts, the winner of this year's election has yet to be decided. If it truly does end up becoming a repeat of 2014, then Prabowo would do well to avoid going down in the history books as a sore loser. Meanwhile, it is hoped that Indonesians all over the country will heed the advice to remain calm and to accept whoever becomes their new president.
Related articles:
Prabowo refuses to accept defeat