From the air we breathe, the wood we use, to being home to most of the Earth's terrestrial biodiversity – forests are essential to every living creature. The World Wide Fund For Nature (WWF) describe forests as the "lifeblood of our economies and our health." 
Forests cover nearly one-third of the global land area and are the source of 75 percent of the world's freshwater. Other than wildlife, it has been reported that over a billion people live in and around forests. 
Nevertheless, despite its significance to our existence, forests today are in deep crisis as they are devastated by fires, converted and degraded for agriculture, fuel and timber, stated the WWF. Deforestation and forest degradation continue to take place at alarming rates, which contribute significantly to the ongoing loss of biodiversity.
According to the Food and Agriculture Organization (FAO), since 1990, it is estimated that 420 million hectares of forest have been lost through conversion to other land uses. In its "State of The World's Forests 2020" report, the FAO noted that large-scale commercial agriculture – primarily cattle ranching and cultivation of soya bean and oil palm – accounted for 40 percent of tropical deforestation between 2000 and 2010, and another 33 percent for local subsistence agriculture.
Borneo's Rainforests
The WWF recently released a research which provides an in-depth analysis of deforestation hotspots. In the "Deforestation fronts: Drivers and responses in a changing world" report, these hotspots are referred to as deforestation fronts, and are the remaining parts of large forests of global importance that are under threat.
Most forest loss is clustered in 24 deforestation fronts across Latin America, sub-Saharan Africa, Southeast Asia and Oceania. Over 43 million hectares were lost in the deforestation fronts between 2004 and 2017, an area roughly twice the size of the United Kingdom (UK). Among these 24 hotspots include the Mekong in Cambodia, Lao PDR, and Myanmar, Sumatra in Indonesia, and Borneo. 
To note, the numbers attributed to Borneo in the report represent the summation of forest loss in both, tropical Indonesia Borneo and tropical Malaysia Borneo – Sabah and Sarawak – in East Malaysia.
In terms of plant and animal species, the Bornean rainforests are the riches terrestrial ecosystem in the world, according to Borneo Futures, a Brunei-based scientific consultancy firm. It also said that deforestation in the region started to accelerate with industrialisation between 1980 to 2000, with more round wood harvested from Borneo than from Africa and Amazon combined. Moreover, Borneo has lost forest cover twice as fast as the rest of the world's humid tropical forests.
Logging, land-clearing and conversion activities are considered to be the greatest threats to Borneo's rainforests.
In Malaysia, more than half of the country is forested, which amounts to 18.2 million hectares of forest cover. Of this, Borneo Malaysia accounts for 12.5 million hectares representing 68.4 percent of Malaysia's remaining forest cover. 
For Borneo Malaysia, the WWF recorded a forest loss of 1.9 million hectares between 2004 to 2017. This is 33 percent out of the 5.9 million hectares of forest loss identified for the whole of Borneo over the same period. 
"We are deeply concerned with forest loss in Malaysia," said Dr Henry Chan, Conservation Director of WWF Malaysia. "It is a matter of grave concern. We are working with the government and relevant stakeholders to mitigate our forest loss, and to replenish what is lost from nature by forest restoration," he stressed.
This is not the first time that deforestation in Malaysia has brought concerns to conservationists and activists. Back in 2013, it was reported that Malaysia had the world's highest rate of forest loss between 2000 and 2012 – amounting to 14.4 percent of its year 2000 forest cover. The loss translated to 47,278 square kilometres; an area larger than Denmark. 
Echoing the FAO's report, the WWF cited commercial agriculture to be the leading cause of deforestation globally. In the case of Malaysia, large-scale agriculture is a major cause, with forested areas cleared to create space for livestock and to grow crops.
In Indonesia, the timber industry has been on the decline, and observers have seen many logging concessions in the Bornean provinces of East and North Kalimantan pausing or stopping timber extraction. However, an environment-focused news agency reported recently that a programme to phase-out diesel in Indonesia for an alternative made from palm oil could spur massive deforestation for palm plantations.
The government in the archipelago also announced that it will need to establish new palm oil plantations a fifth the size of Borneo in order to supply its biodiesel transition programme. Arifin Tasrif, the Minister for Energy and Mines said that the programme will require 15 million hectares of new oil palm plantations.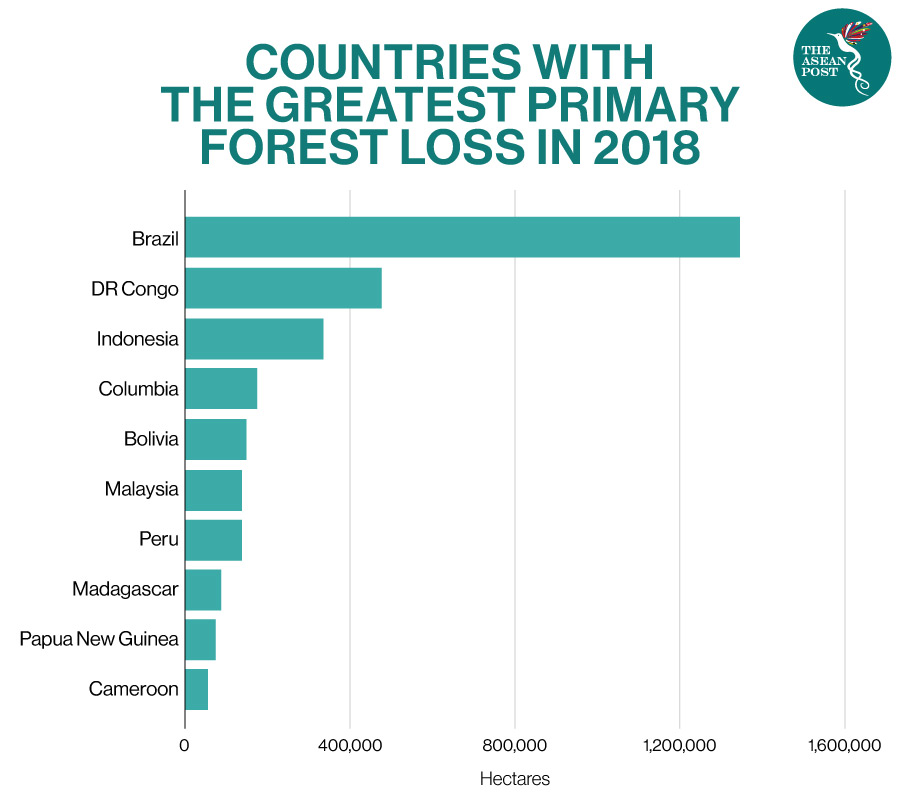 Diseases Like COVID-19
"The COVID-19 crisis is believed to have opened the door for radical changes that are essential to safeguard our forests and help prevent the next pandemic," said the WWF.
So, what is the link between forests and diseases?
The SARS-CoV-2 virus, the coronavirus that causes COVID-19, is believed to have been passed on from animals to humans with prime suspects include bats and pangolins.
According to a study by Stanford University, deforestation could lead to a rise in the occurrence of diseases like the coronavirus. The team of researchers suggest that when forests are cleared for agricultural use, the chances for transmission of zoonotic, or animal-to-human diseases, will increase.
When people venture into forested areas for resources, and when animals venture out of their habitats to raid crops, the chances increase for transmission of zoonotic diseases. An example given by the World Economic Forum (WEF) is HIV, which is caused by a virus that jumped from wild primates to humans via infected bodily fluids.
"We humans go to these animals. We are forcing the interaction through transformation of the land," stated the WEF.
Therefore, as governments create policies to address the economic and social impacts of the health crisis, there is also a need to address the issues of over-consumption and to place greater value on health and nature. 
Related Articles:
Indonesia Forest Fires Stoke Global Warming Fears