A year has passed since the coronavirus outbreak spread from Wuhan in China to Southeast Asia and the rest of the world. Yet, we are still in a ferocious battle with the deadly pandemic. As COVID-19 vaccines are being rolled out in some parts of the world, a number of countries have reported new waves and have resorted to fresh lockdowns. 
New coronavirus variants have been identified in Britain and South Africa – which are said to be even more contagious – and spreading fast. At the time of writing, over 101 million people have been infected with the deadly virus and more than two million have succumbed to it.
However, amid the current health crisis, another disease that has long haunted the people of Southeast Asia is still infecting people and continuing to claim more lives. Dengue, is unfortunately, not uncommon in the region. In 2019 to 2020, a dengue fever epidemic hit several countries in Asia which included the Philippines, Malaysia, Vietnam, Bangladesh, Thailand, Pakistan, and Lao PDR.
An estimated 390 million infections of dengue occur every year. The Centers for Disease Control and Prevention (CDC) in the United States (US) said that 40 percent of the world's population live in areas at risk of dengue, including those of us in ASEAN member states.
As of December 2020, in Cambodia, a total of 10,464 dengue cases with 15 deaths were reported. In Malaysia, during the 48th week of 2020 alone, a total of 824 dengue cases were reported, bringing the cumulative number of reported cases by the end of November to a whopping 86,406 cases. Despite the high number of dengue cases, the numbers actually reveal a decrease in infections compared to the same period in 2019 when nearly 120,000 cases were reported. 
Other ASEAN member states such as Singapore, Lao PDR, and Vietnam also reported dengue infections in 2020.
The mosquito-borne viral disease is transmitted to humans through the bites of female mosquitoes, mainly of the species Aedes aegypti and, to a lesser extent, Ae. albopictus. Aedes mosquitoes are identified by the black and white stripes on their bodies. According to the World Health Organisation (WHO), these mosquitoes are vectors of chikungunya, yellow fever and Zika viruses. Severe dengue can cause bleeding that leads to organ impairment or plasma leakage and eventual death.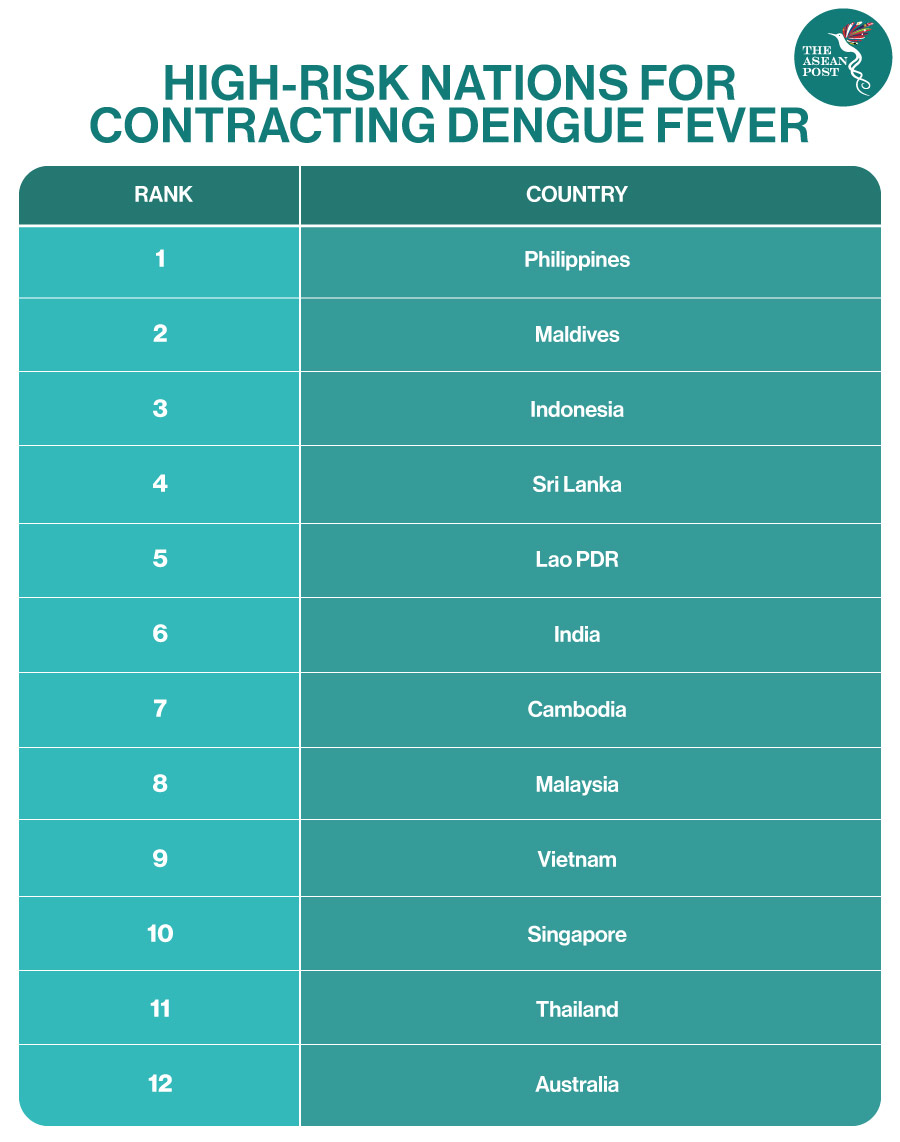 Most At Risk Of Dengue
Singapore-based consumer information provider, ValueChampion conducted a study across 12 countries in Southeast Asia and found that the Philippines is the nation most at risk from dengue in the region. In 2019, the Philippines Department of Health declared a national dengue epidemic after 271,480 dengue cases were reported between January and August, 2019. By November 2019, more than 400,000 people were infected with the virus with over 1,000 deaths recorded. Local media in the country dubbed it the worst dengue outbreak since 2012. 
Data from the WHO stated that the Philippines reported 76,432 dengue cases and 299 deaths from 1 January to 14 November, 2020.
Indonesia is the second ASEAN member state most at risk of catching the disease after the Philippines. At least 110,000 cases of dengue were recorded in 2019 in the country, mostly affecting those in Java, Bali and Sumatra, according to the International Association for Medical Assistance to Travellers (IAMAT). 
The archipelago, which has the highest number of COVID-19 infections in the region at more than one million cases has also struggled with dengue fever in 2020. In the first six months of 2020, Indonesia reported about 68,000 cases of the mosquito-borne viral infection, with at least 349 fatal cases, said Siti Nadia Tarmizi, director of vector-transmission and zoonotic disease prevention and control at Indonesia's Ministry of Health.
"As of June...we can still see 100 to 500 cases of dengue fever a day," Tarmizi explained at a press conference in Jakarta last year. "We don't know why there has been something different this year."
Lao PDR ranks fifth among countries at risk of dengue, according to the ValueChampion study, and third among ASEAN member states. The IAMAT discovered that the dengue epidemic in Lao peaks during warmer and wetter months, typically from May to October, every year. 
Other ASEAN member states such as Cambodia, Malaysia, Vietnam, and Singapore were also in ValueChampion's top 10 list of nations most at risk of contracting the disease. 
According to the WHO, despite the numbers reported, "a vast majority of cases are asymptomatic and hence the actual number of dengue cases go underreported and many cases are misclassified." Typical symptoms of dengue include nausea, vomiting, rashes and joint pains – whereas a severe attack of dengue could cause someone to bleed from the nose and gums. 
Dengue-carrying mosquitoes breed in clean, stagnant water typically found in homes. The best solution to prevent the reproduction of aedes mosquitoes and the subsequent spread of dengue fever is by frequently checking and removing stagnant water in premises.
Related Articles:
Mosquito Trials Raise Hopes Of Defeating Dengue