On 8 February, an armed gunman entered the Terminal 21 shopping mall in Nakhon Ratchasima (popularly known as Korat), and began shooting indiscriminately and taking hostages.
Sergeant Major Jakrapanth Thomma embarked on a rampage that lasted 18 hours and resulted in the killing of 30 people. The shooter himself was later gunned down as he hid in the seven-storey shopping mall. The incident has become Thailand's worst mass shooting in recent memory.
At the time, cable TV and other news channels in Thailand were ordered by the authorities to stop broadcasting and streaming the lockdown and storming of the Terminal 21 shopping centre. Many of the news outlets refused to heed the request and continued to broadcast events as they unfolded. It has now been reported that the errant cable TV and news channels that ignored the official orders "will face consequences".
During perhaps one of the longest days in many Thais' lives, some of the northeast's cable news outlets continued filming with their dynamic, live, visceral style of coverage, which regulators say could have compromised the security operations to rescue hundreds of shoppers and workers trapped inside the mall. Authorities complained that the gunman was able to follow the coverage of the security operations on his phone.
In one case, a reporter continued with detailed reports on the movement of police and military operatives on the ground. The live reports included floor plans from inside the mall, snippets of live streams from online media and quotes from police about the ongoing operations.
"I had to call these channels' executives to ask them to be cooperative because these live broadcasts compromised the security of officers involved in the operation. Even after being asked they didn't completely tone down their coverage," National Broadcasting and Telecommunication Commission (NBTC) secretary-general Takorn Tantasith was quoted by local media as saying.
He did not elaborate on details of the consequences the news channels may face.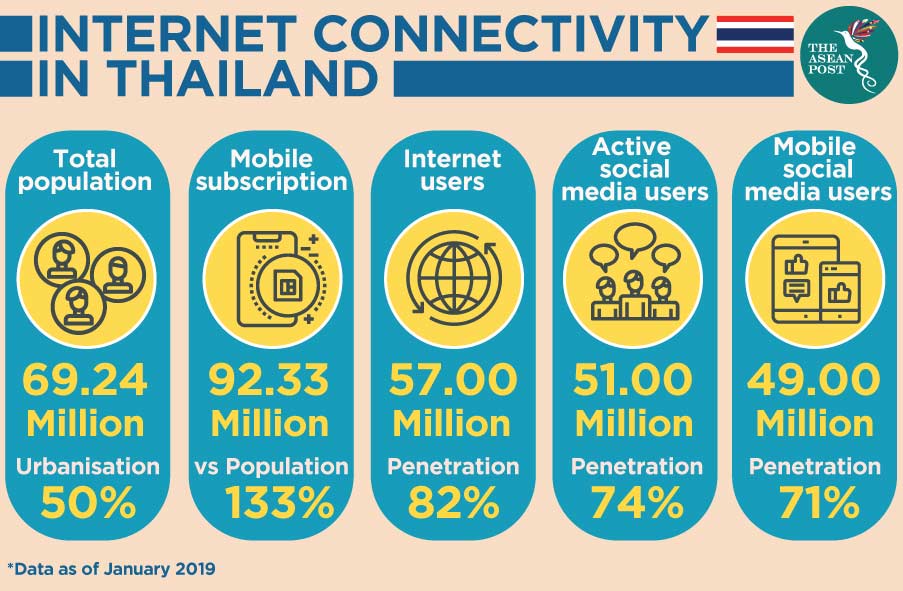 Need to survive
The fact that some cable news outlets were so zealous in their reporting of the tragic incident brings to question whether TV news stations will do anything to improve viewership as they struggle to stay relevant in Thailand.
In November last year, the NBTC unveiled a comprehensive study on Thai media habits which found that half of the population is still likely to watch live TV programmes. Thailand TV's saving grace comes from its large boomer population – a result of high life expectancies and lower birth rates.
Nevertheless, this isn't necessarily good news for TV. In December, Thailand's Digital Economy and Society Minister Buddhipongse Punnakanta was quoted as saying that people aged 60 and above were found to be the greatest source of inaccurate information online – approximately the same age group which have become TV stalwarts. So, are they getting their fake news from TV?
At the same time, however, many more from the younger generation – as well as those earning higher incomes - are moving online for their news. Globally, it's become a fact that online media has disrupted more traditional forms of media – TV included. 
In August 2019, Takorn was quoted as admitting that by the end of that month, seven of Thailand's former array of 22 TV channels in the digital spectrum will have gone dark. He also said that back in 2013 no one could have anticipated the impact of new online platforms on the media landscape.
The NBTC revealed that all traditional media was in decline with radio showing signs of being able to hold its own in the new emerging environment for now but that even this may not be for long as online media platforms intrude further into everyday life particularly in public transport and cars. 
Perhaps the most significant finding was that TV is beginning to face a decline. While it is still the central feature of most large advertising campaigns and media spending but its continued decline will precipitate an even faster exodus to online media.
Could the zealousness in reporting the tragic massacre in Korat be all in the name of survival? Only the cable news outlets involved can truly answer that question. TV – much like everything else that has been disrupted by the internet and Fourth Industrial Revolution – must innovate and get with the times because even if the unabashed reporting of the Korat shooting was done out of desperation, it was clearly not the right way to go about addressing the situation.
Related articles:
The soldier behind Thailand's mass shooting