With a growing internet user base and a digital economy that is said to be worth US$50 billion last year alone by Temasek and Google, it is no wonder digital wallets or e-wallets are taking off in the region. Digital wallets allow users to keep their credit cards and bank accounts electronically safe. An e-wallets allows you to make payments on e-commerce websites and also in real-life through QR codes or near field communication (NFC).
Allied Market Research released a report last January revealing that the mobile payments market is estimated to reach US$3,388 billion by 2022, and the Asia Pacific region is expected to witness the highest growth for this sector during this period. According to a survey carried out by MasterCard in 2016, one in five smartphone users in Asia Pacific shops with a digital wallet.
As the trend of digital wallets in the region increases, Chinese digital wallet companies are looking to expand their market share in Southeast Asia. Last February, the Financial Times reported that China's digital payments industry is worth a whopping US$5.5 trillion, with Alipay and WeChat Pay dominating the market.
The Nikkei Asian Review recently reported that Tencent (the group that owns WeChat Pay) and Alibaba's Alipay are looking to expand their market to Southeast Asia. WeChat Pay, the e-wallet service that comes with their messenger app, WeChat has been cleared for a Malaysian electronic payment license that would allow transactions in ringgit.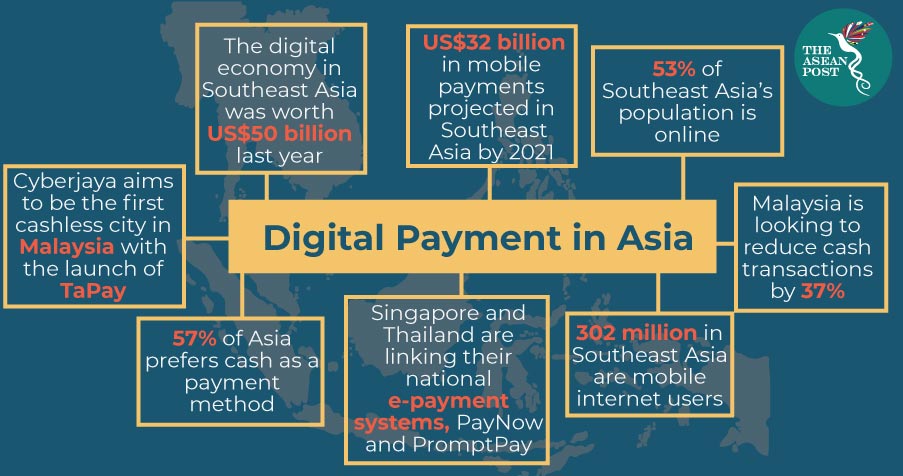 Alipay is also making strides into the region by taking advantage of the large influx of Chinese tourists into Southeast Asia. The Bangkok Post revealed in June last year that out of 8.2 million Chinese tourists who visited Thailand in 2016, 5 million of them used Alipay.
However, Tencent and Alibaba have to compete with a growing number of Southeast Asian based e-wallet companies first if they want market dominance. As British research company Euromonitor revealed last year that we could see US$32 billion in mobile payments by 2021, as more and more companies want a slice of the e-wallet pie.
In Malaysia, local news agency Bernama reported in December last year that the government is helping to develop Malaysia's first community-built e-wallet called TaPay. Treasury secretary-general Mohd Irwan Serigar Abdullah said that the pilot project will be conducted in the Klang Valley before eventually scaling it up to a national level and eventually ASEAN-wide. The initiative is also part of Malaysia's plan to reduce the nation's dependency on cash transactions.
"We hope to reduce dependence on cash transactions by 37% within three years," he said.
Similar to Malaysia, Thailand and Singapore also have government supported e-transaction systems. Thailand and Singapore have developed a system called PayNow and PromptPay respectively, that allow peer-to-peer transfer of funds using only identification numbers and mobile phone numbers.
While not exactly e-wallets per se, Thailand and Singapore are also facilitating their transition to a cashless society. The PromptPay system is part of Thailand's National ePayment plan which seeks to integrate formal financial transactions such as welfare payments and taxation into an electronic system.
Furthermore, Singapore and Thailand are also planning to link their payment systems. A spokesperson from the Monetary Authority of Singapore told Bloomberg in October 2017 that linking would enable faster and more efficient cross-border financial services.
Meanwhile, other e-wallet initiatives from around the region have also been gaining traction. For example, GrabPay was launched in the region last November. In Singapore, Grab are trying to integrate hawker stalls into the GrabPay system. In Indonesia, Go-Jek has also launched Go-Pay. In December last year, Go-Jek bought over three fintech firms in a move to dominate the Indonesian digital payments market.
In Southeast Asia, the response to digital payments from banks and governments are encouraging as opposed to the cold reception cryptocurrency has received. However, cash is still the dominant form of payment in the region with some still sceptical of digital payments. A survey by Nielsen last year found that 75% of Malaysians are concerned about digital payments due to security issues. In the Philippines, The Straits Times mentioned in March last year that despite being the fastest-growing smartphone market in Southeast Asia with 2.5 billion bank payments, only 1% were electronic.