Last June, former Miss Universe Malaysia, Samantha Katie James posted a series of opinions on the Black Lives Matter protests in the United States (US). She wrote a message to "the black people" on her social media platform Instagram, advising them to "Relax, take it as a challenge, makes you stronger." 
"You chose to be born as a 'coloured' person in America for a reason. To learn a certain lesson," she added. 
Her tone-deaf posts sparked outrage on social media and the beauty queen has since been the subject of widespread bashing online. Some Instagram users left hateful and snide comments on her profile – disparaging her intellect, looks and even suggesting that she should be dead, as reported by local media.
Despite disappointment from public figures such as Henry Golding and Harith Iskandar, some reminded the public to refrain from cyberbullying the former Miss Universe, but instead take the opportunity to educate her on the matter.
"As outraged as Malaysians are, some have resorted to cyberbullying Samantha. That is wrong. Call her out, sure. But do not bully, hate or be nasty," said Miss Universe Malaysia 2004 winner Andrea Fonseka.
James has since published an apology for her controversial remarks. 
Bullying is a social problem that continues to hound Malaysia's teenagers, reported a Malaysian media. However, just as the number of social media users have increased over the years – so too has cyber harassment. Cyberbullying is more rampant now as it can be carried out anonymously without the bullies having to face any real consequences. This could drive victims into depression, anxiety and even to suicide. Back in May, a 20-year-old Malaysian woman was believed to have committed suicide after a TikTok video of her and a colleague became the subject of ridicule on social media. 
Although the Pew Research Center classifies Malaysia as one of the world's most morally conservative countries – Malaysians can be ruthless online. A 2018 research by tech review site comparitech.com placed Malaysia in sixth spot among 28 countries in a survey to measure cyberbullying. The ASEAN member state ranked second in Asia. 
Based on a 2019 poll by the United Nations Children's Fund (UNICEF) on violence against children in 30 countries, one in five young people were reported to have skipped school due to cyberbullying and violence. Whereas in Malaysia, it was reported that three in 10 young people are victims of cyberbullying.
A study conducted by market research firm IPSOS titled, 'Malaysian and Global Views on Bullying' found that awareness of cyberbullying is increasing globally, up nine percentage points in 2018 from 2011. The research which was conducted in 28 countries with more than 20,000 interviews revealed that one in four Malaysian parents said that their child had experienced cyberbullying. Although global awareness of the issue is high, a quarter of surveyed adults have still never heard of online bullying.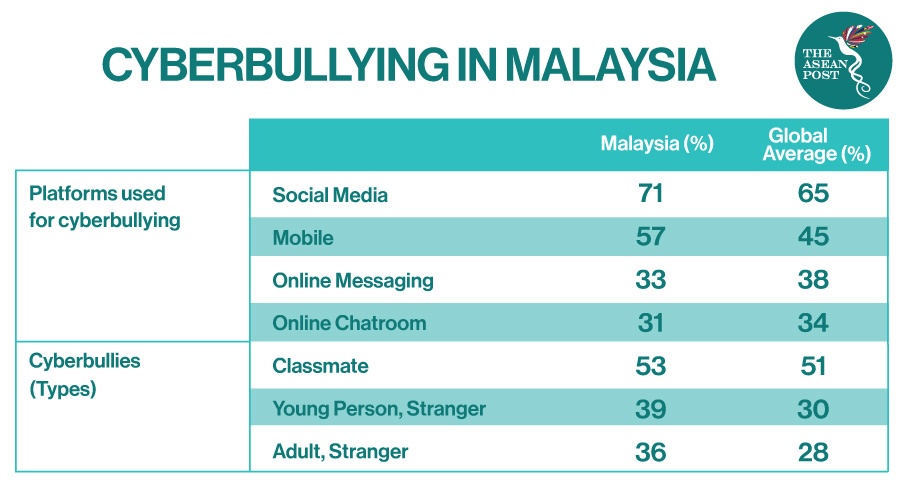 "For digital natives, cyberbullying can be as real as bullying in person. Our youth are growing up in a time where there is little distinction between digital and the physical. Their lives are heavily intertwined with social media, where texting is often the primary mode of communication among their peers. It is good that the awareness of cyberbullying is high is Malaysia, but it is important for parents to help their children recognise the abuse when it happens, and from a very young age," said Arun Menon, Managing Director of IPSOS in Malaysia.
Unreported
Malicious content on the internet, with intent to annoy, provoke, abuse, threaten or harass another person is an offence under Malaysia's Communications and Multimedia Act 1998. 
Under Section 233 (1), it is an offence to create or solicit comments or other forms of communication that is obscene, indecent, false, menacing or offensive to annoy, abuse, threaten or harass another person. If found guilty, a person can be fined up to RM50,000 (US$11,770) or be jailed for up to a year, or both. 
However, observers believe that many cases of cyberbullying go unreported. 
"Most victims do not come forward to lodge a police report as they think cyberbullying is supposed to happen in the virtual world. They feel they cannot complain as they are not being physically bullied," said Supt R Chelvam, the Commercial Crime Deputy Chief in the northern state of Penang in Peninsula Malaysia. "It is actually better to lodge a police report at an early stage to prevent further damage to the victim," he added. 
It was reported last year that the Malaysian Communications and Multimedia Commission (MCMC) will work with the Royal Malaysia Police (PDRM) to see if existing legislation is sufficient to address bullying.  
In a statement, the MCMC stated that they received 3,762 complaints of cyber harassment from 2018 to January 2019. The organisation encourages those who are victims of cyberbullying or come across cyberbullying cases to report them to any of the available channels provided by the MCMC.
Related articles: