Following the growing number of foreigners who come to invest and work in Cambodia, the country's Ministry of Labour said that it will make an announcement soon to ban foreigners from self-employment on 10 types of jobs including driving a taxi, tuk-tuk, or motor taxi; or being a street vendor, barber, delivery man, or other small occupations. The ministry will also prohibit foreigners from taking up positions as human resources managers or employees in private enterprises.
This came in response to a question asked on 15 July as to whether a foreigner could freely work and run businesses in Cambodia. The ministry's spokesman Heng Sour answered the question, saying that a foreigner could invest, run business, and work in the Kingdom by following the investment, immigration, and labour laws.
According to the laws, a foreign investor based in Cambodia will have to pay US$180 per annum for a long-term visa and another US$130 on an employment book or card. For foreigners who come to seek employment in Cambodia, they will have to pay an additional US$50 per annum on foreign employee quota applications. The ministry states that each foreigner either working, investing, or running a business in the Southeast Asian country contributes about US$360 per year to the country's economy.
It is perhaps somewhat safe to assume that most of the worry that stems from foreigners working or running businesses in Cambodia are aimed at one group of people: mainland Chinese.
The histories of Japan, Korea and Vietnam reflects a period of what is termed as "Sinicisation" which is a process whereby non-Chinese societies come under the influence of Chinese culture, particularly Han Chinese culture, language, societal norms, and ethnic identity. Areas of influence include diet, writing, industry, education, language, law, lifestyle, politics, philosophy, religion, science and technology, culture, and value systems. 
Today, Sinicisation is also known as "Chinafication", a term that Cambodians living in and around Sihanoukville know too well.
Sihanoukville, China
Last month, 28 construction workers died following the collapse of a Chinese-owned development. As a result, the government of Cambodia created a task force to check and enforce the permits of those in the region.
Earlier this month, a report from Preah Sihanouk (Sihanoukville) provincial authorities revealed that as much as 90 percent of Sihanoukville businesses are now owned by mainland Chinese. During a meeting in the province, the provincial police chief stated that Sihanoukville had become a hub for Chinese investment, particularly in areas such as hotels, casinos, guesthouses and restaurants.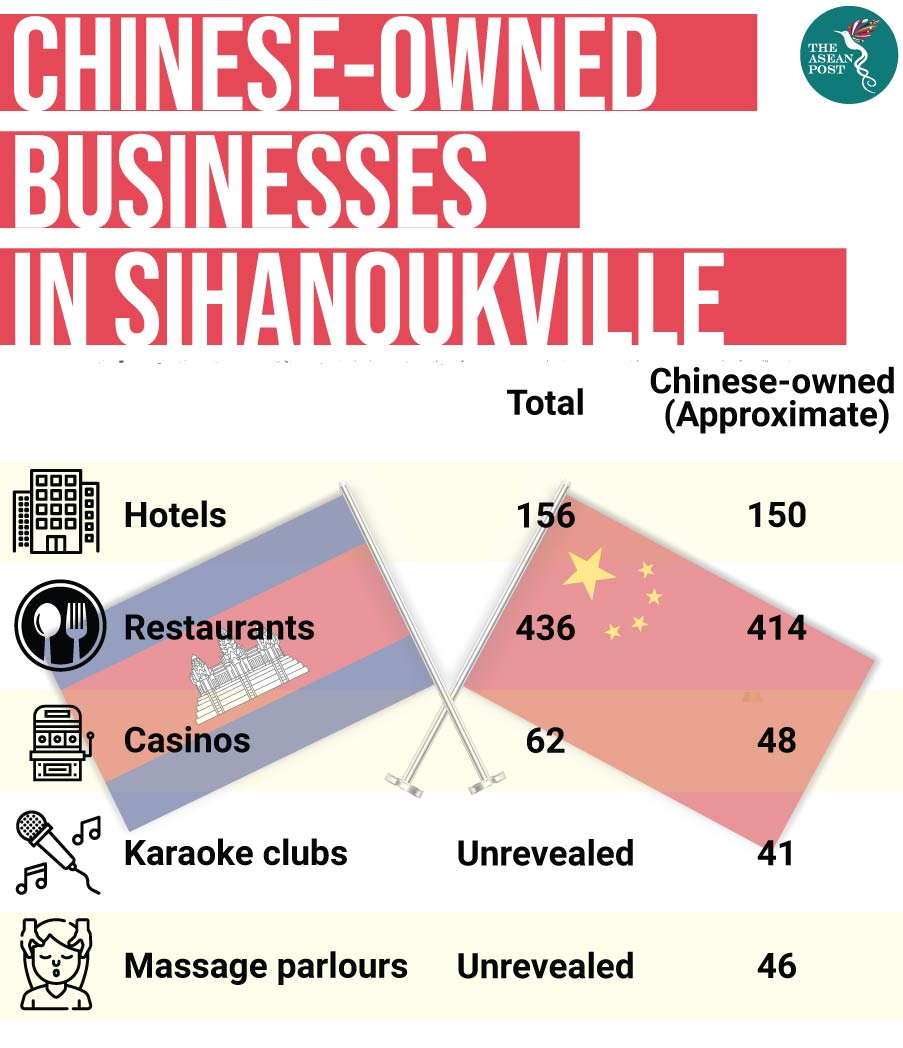 Source: Preah Sihanouk Provincial Authorities
Thourn Sinan, president of the Pacific Asia Travel Association, was quoted as saying that the association had concerns over the large number of Chinese business owners and investors. He said no market should be more than half-invested-in by one single country.
"I believe it is good if investments are multinational. Investors from one country should not exceed 50 percent because balance in development and in the market will be lost. Investors from one country taking control of such large investments will have more negative effects than positive," he said.
Meanwhile, the fact that Sihanoukville has gone through obvious Chinafication has not been lost on Cambodians who visit the province. 
Sim Vireak, strategic adviser to the Asian Vision Institute based in Phnom Penh, was quoted as saying that the lack of "Cambodian-ness" is clearly evident in Sihanoukville.
"The signboards are mostly in red, with some featuring misspelled Khmer characters that shop-owners seemingly took directly from Google Translate," he said.
Good, but for who?
However, Sihanoukville's development might not be all bad. Key Real Estate director Sorn Seap was quoted as saying that the influx of Chinese had caused the economy, and the real estate and construction sectors in Sihanoukville to grow faster than expected.
"Economic strength is dependent on the number of people. When the population is higher, the economy grows accordingly," said Seap.
The large influx of Chinese has also brought many construction projects to Sihanoukville. Nearly 200 projects under construction in the city, mainly built by Chinese. Seap said the construction projects will bring even more Chinese to the Kingdom.
"With the arrival of the Chinese, we can also cooperate with them and jointly invest."
While Sihanoukville might be developing at a magnificent rate, most everyday Cambodians believe that this development is meant for mainland Chinese and not the locals.
Vann Sokheng, president of the Sihanoukville Chamber of Commerce, seems to believe that the development will bring more positives than negatives but even he admitted that the land price in the area where his current office is situated has soared from US$50 to US$3,000 per square metre in just a few years, while leases for office space have skyrocketed. He added that some Cambodian families had to relocate outside of the city or to other provinces because of the high cost of living.
Sokheng may have said that Cambodians living in Sihanoukville are "the luckiest people in the country" because they have a chance to become rich overnight, just by selling or leasing their land to Chinese. This, however, also means that Chinese are willing to pay top dollar for land in Sihanoukville, highlighting fears of Chinafication of the province.
Following last month's tragedy involving the deaths of construction workers, the Cambodian government has taken measures to ensure that rapid Chinafication does not happen or is at the very least controlled. Whether government efforts are enough at this juncture is another story.
Related articles:
The making of new Chinese colonies