Just last week, a 39-year-old man was killed and his wife was seriously injured after their motorcycle was hit by a car driven by a man believed to be intoxicated. He was a father to five young children, while the driver was left unharmed in the accident. And three days ago, another horrendous accident was reported where a suspected drunk driver rammed into a car and three other motorcycles. Four people were injured and one person died at the scene of the unfortunate event. All these drunk driving related accidents happened in Malaysia.  
It seems like every week there is news on a road traffic accident involving a person driving under the influence. It was reported that in 2019, Malaysia had the third highest fatality rate from road traffic accidents in Asia and ASEAN, behind Thailand and Vietnam. And over the recent Chinese New Year holidays, Malaysia saw 138 deaths from road accidents in a span of just nine days.
The rampant drunk-driving accidents in Malaysia have even caught the attention of the country's Finance Minister, Lim Guan Eng. He said that "the government is looking at amending the penalty under Section 41 (of the Road Transport Act 1987) for those who cause accidents leading to death due to driving in a drunken state." The current penalty for offenders is a jail sentence of up to 10 years and a fine of up to RM20,000 (US$4,800). However, with the possible law amendments, the Malaysian government will be increasing the sentence to 20 years and a RM100,000 (US$24,000) fine.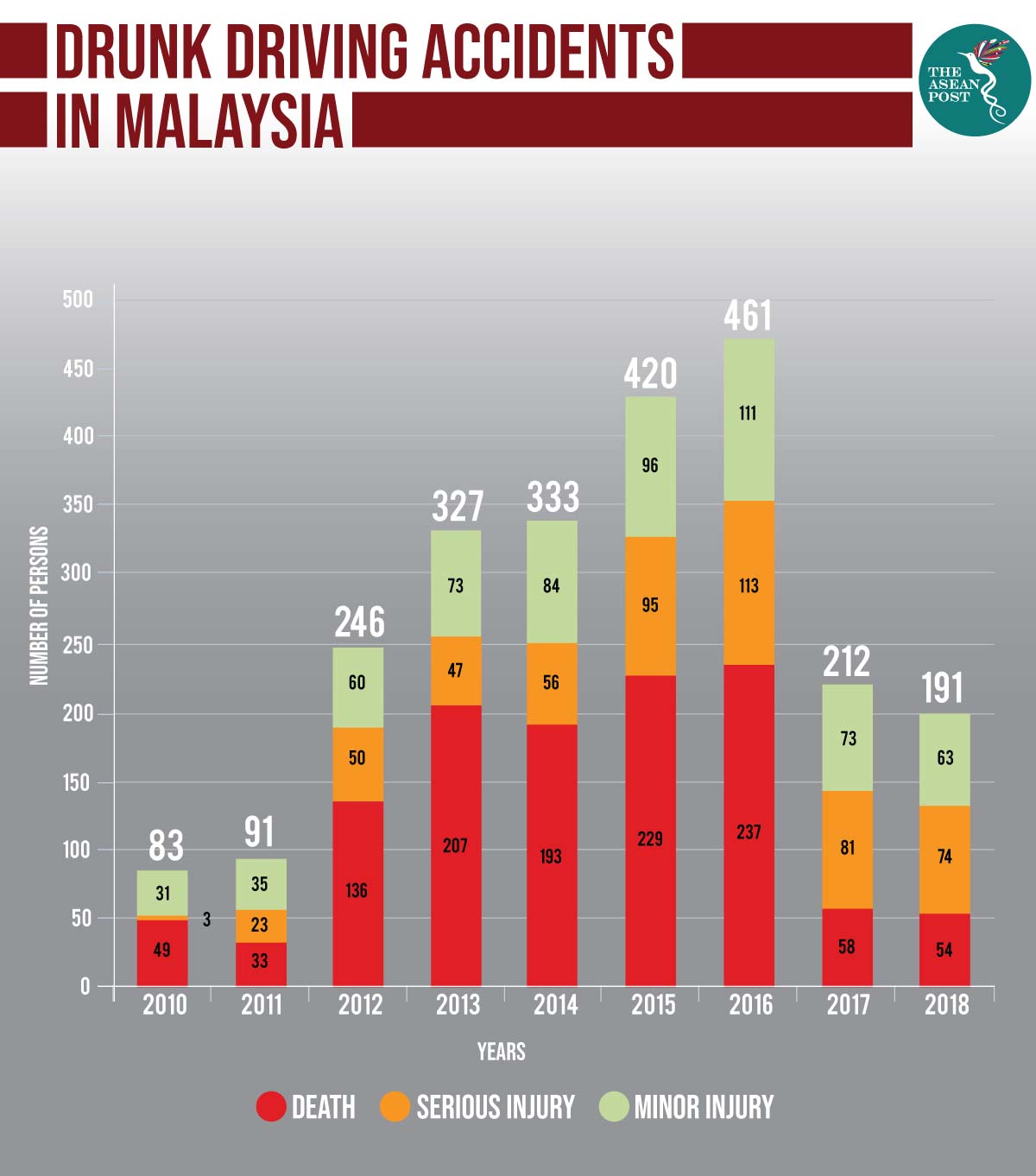 Just recently, fellow ASEAN member state Vietnam introduced a zero-tolerance approach to offenders that caused a 25 percent drop in beer sales. The new laws penalise drivers for even the slightest trace of alcohol, while the maximum fine has doubled to VND8 million (US$345) – on top of a possible suspension of a driver's license for two years. Those caught driving under the influence may face a fine of as much as VND40 million (US$1,700) and a license suspension. Cyclists will also face fines up to US$25 for riding after drinking. Malaysia's laws on drink-driving have been criticised by the media and the public for being "lenient" compared to laws in countries such as Vietnam.
But would enforcing tighter laws curb Malaysia's drink-driving problem?
Some argue that although the long overdue stricter penalty could potentially help decrease drink-driving incidents in Malaysia, many believe that it is not the ultimate solution in addressing the issue. Some are calling for the death penalty on offenders – while some are calling for a total ban of alcohol. 
Understanding alcohol overdose
Research in 2012 by the Malaysian Institute of Road Safety Research (MIROS) showed that a drunk driver is 13 times more likely to cause an accident, compared to a sober person. In Malaysia, the blood alcohol content (BAC) limit is 0.08, which makes the country one of the most tolerable in the world, alongside Singapore and the United States (US). Some countries such as Taiwan and Japan would consider BAC of 0.05 and 0.03 respectively, as legally intoxicated.
Studies have shown that a higher BAC is also associated with decreased reaction time. One study pointed to an average decreased reaction time of 120 milliseconds – just over a tenth of a second –associated with a BAC level of 0.08, the legal limit in Malaysia. So, when cruising at 70 miles per hour, a drunk driver would travel an additional 12 feet before reacting to a roadway hazard. According to US Centers for Disease Control and Prevention (CDC), a BAC of 0.08 percent reduces a person's ability to concentrate, lack of speed control, impaired perception and self-control and sometimes even short-term memory loss.
Addressing the elephant in the room
Some viral posts on social media have created racial tensions among Malaysians claiming that non-Muslims are responsible for most drink-driving accidents. According to a report in 2019, 61 percent of Malaysians are Muslims and alcohol is prohibited for them in Malaysia. Nevertheless, drink-driving is a problem that concerns all as there are a significant number of Malaysian Muslims who drink too. Wong Shu Qi, Member of Parliament for Kluang, a town in the southern state of Johor argues that drunk driving "is not a racial issue" and that matters pertaining to drunk driving should be taken seriously. She also added that anyone who breaks the law should be punished.
Many "Don't Drink and Drive" campaigns are seen in the West – ranging from radio and television advertisements, billboards and even lectures in schools and universities. However, it is rather rare for such campaigns to be conducted in great numbers in Malaysia as the subject of alcohol is typically frowned upon – despite many consuming it across the country.
In a city like Kuala Lumpur in Malaysia where the night scene is comparable to that in major cities around the world, it is understandable for the youth and clubgoers to partake in the vibrant nightlife.  Perhaps Oscar Wilde's famous saying "Everything in moderation, including moderation" should be applied to one's alcohol consumption. With technology advances and apps such as Grab, MyCar and other ride-hailing alternatives, there's really no excuse to drive after a night out. For one's own safety and the wellbeing of others: just don't drink, and drive.
Related articles:
Vietnam's growing alcohol and salt addiction