Southeast Asia is fast becoming one of the most dynamic and industrialised regions in the world.
Contributing to this rapid pace in development is a growing car market driven by an increase in demand for automobiles. Besides that, strategic partnerships are also paving the way for the introduction of new technologies that look to improve the mobility of Southeast Asians.
Sustained demand
It has been reported in the media that vehicle sales in Southeast Asia climbed up six percent in 2018, for the third straight year. The 2018 robust growth in Southeast Asia was great news for automakers, with the aggregate of new car sales in Singapore, Indonesia, Thailand, Vietnam, the Philippines and Malaysia, registering 3.57 million sales.
This sales number is expected to grow to 4.29 million units in 2019, according to HIS Markit forecasts, though analysts expect sales to slow down as a result of the ongoing trade war between the United States (US) and China. Industry groups in Indonesia, Thailand and Malaysia all project flat turnover in 2019, believing demand in the region will suffer if the Chinese economy continues to slow down. 
The Association of Indonesian Automotive Manufacturers (Gaikindo) also attributes Indonesia's flat turnover to high loan interest rates, docile inflation and stagnant purchasing power. Driven by continued strong investment in infrastructure and private construction projects, Indonesia's vehicle sales grew seven percent to 1.15 million units in 2018. But the first quarter of 2019 saw a drop in the country's car sales by 13 percent, compared to the same quarter in 2018. To revive the slowing car sales, Gaikindo will hold its auto exhibition early in July this year in order to meet its year-end sales target of selling 11 million vehicles domestically.
Thailand's car sales grew 12.9 percent in the first two months of 2019 with 160,385 units sold, as reported by Toyota Motor Thailand. Being the second largest automotive market after Indonesia, Thailand is set to account for 29.3 percent of car sales in 2019. The Federation of Thai Industries reported that Thai exports of automotive products stood at 950 billion baht in 2018 and projects the production of 2.15 million cars in 2019. 
Based on data released by the Chamber of Automotive Manufacturers of the Philippines (CAMPI), the first quarter of 2019 saw vehicle sales at 32,173 units, which is an increase of 14 percent from last year. "The double-digit growth during the month of March compared to the same month last year is a strong indication that the automotive industry is well on its way to recovery. We are optimistic that this trend will be sustained in the coming months," said CAMPI president Rommel Gutierrez.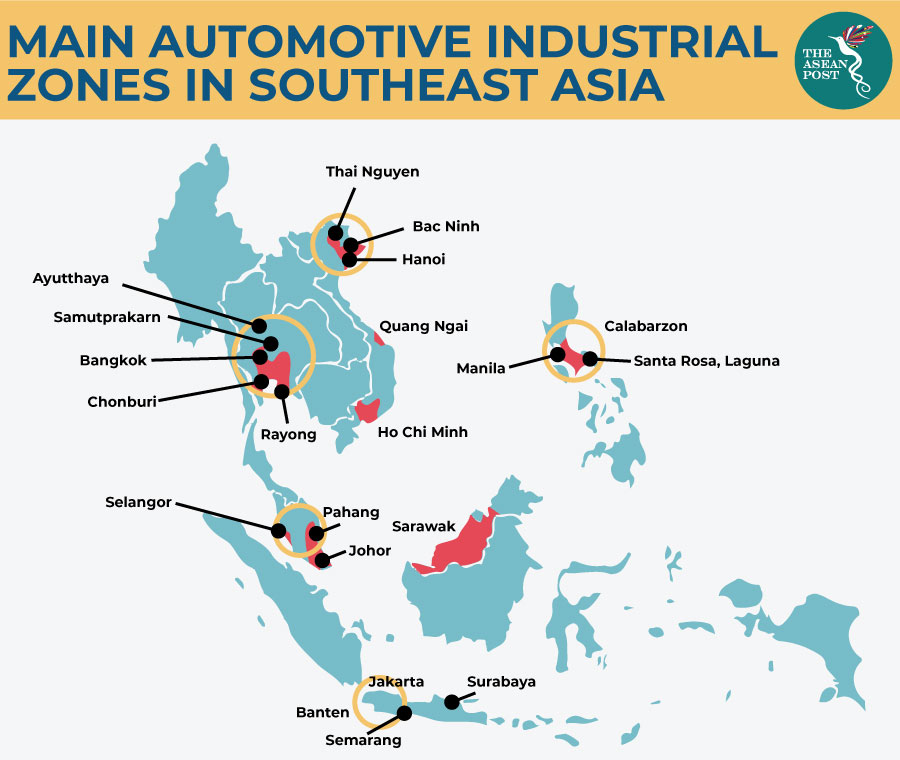 Vietnam car sales surged in March this year to 52.9 percent and is expected to further grow by year end. Malaysia too saw a rise in sales early in the year with an 8.7 percent increase, but saw a 19.4 percent plunge in vehicle production. This number is expected to grow by 3.6 percent by the end of the year, mainly on the back of the new government's political reforms. 
Improving mobility
Innovations in technology and market shifts are changing the automotive industry to deliver the most advanced, safest and most comfortable vehicles out there. Toward 2030, the automotive sector will be grounded on disruptive technology-driven trends such as diverse mobility, autonomous driving, electrification and connectivity.
In November 2018, South Korea's Hyundai Motor Group invested an additional US$250 million on top of US$25 million earlier in January, in Grab's ride-hailing and e-payment platform. The investment is hoped to propel Hyundai's capabilities to lead the future mobility market in Southeast Asia as well as explore potential synergies in the sharing economy.
The Hyundai group is focusing on Singapore to produce a new mobility service platform with Grab that utilises its eco vehicles like the Hyundai Ioniq Electric and Hyundai Kona Electric. The land transport company, ComfortDelGro, also added to its fleet 200 new Hyundai Ioniq hybrids early this year. Singapore has also expanded its network of charging-stations to encourage the use of electric vehicle technology (EV). 
Malaysia plans to have 100,000 EV and 2,000 electric buses on its road by 2030, along with 125,000 charging stations. The popularity of EV cars can lead to an increase in supporting infrastructure, further fuelling EV adoption the ASEAN region, thus helping to reduce carbon emissions. 
In the race towards creating autonomous vehicles, Google is leading with its Waymo One robo-taxi service. Reported by researchers at the University of Cambridge, a network of driverless cars has the potential to improve the flow of traffic by at least 35 percent. However, pedestrian safety is still keeping the autonomous technology in experimental stage. 
As exciting developments continue to unfold, the automotive industry in ASEAN will likely be on the radar of tech geeks and investors alike.
Related articles
Bright prospects for the Southeast Asian automotive industry