The ASEAN Post recently published an article entitled "Empty bellies in Lao" which highlighted the serious and persisting issue of malnutrition among Laotian children. One of the main reasons malnutrition has become an issue in Lao for a long time now is that the country is poor. It is, in fact, one of the poorest countries in Southeast Asia. 
According to the latest available data from the Asian Development Bank's (ADB), in 2015 23.2 percent of Laotians live below the poverty line, giving Lao the second-highest poverty rate in Southeast Asia. Only Myanmar's poverty rate is higher with 32.1 percent of people there living below the poverty line.
There are many factors contributing to Lao's poverty including a lack of freedom, communism and government policy, among others. Heritage Foundation's Business Freedom Index (BFI) places Lao in 111th place out of 182 countries, scoring just 60 out of 100 points.
The BFI is based on 10 indicators, using data from the World Bank's Doing Business study. These indicators are Starting a business - procedures, time, cost, and minimum capital; Obtaining a license - procedures, time, and cost; Closing a business - time, cost, and recovery rate.
Another prominent factor that many believe is a contributing factor to Lao's poverty is its workers' skills. 
In 2017, the Organisation for Economic Cooperation and Development (OECD) noted that low productivity constitutes one of the major challenges in Lao's socio-economic development, which not only affects the quality of jobs but also the investment climate as a whole and the capacity to attract more and better investment. 
The World Bank's Investment Climate Assessment of Lao also noted in 2014 that an inadequately educated workforce has become the main constraint to private sector expansion. The World Economic Forum's (WEF) Global Competitiveness Reports have often supported these findings. 
In the latest WEF Global Competitiveness Report 2018, Lao was ranked 112th out of 140 countries. Among some of its lower scores was under the "skills" indicator.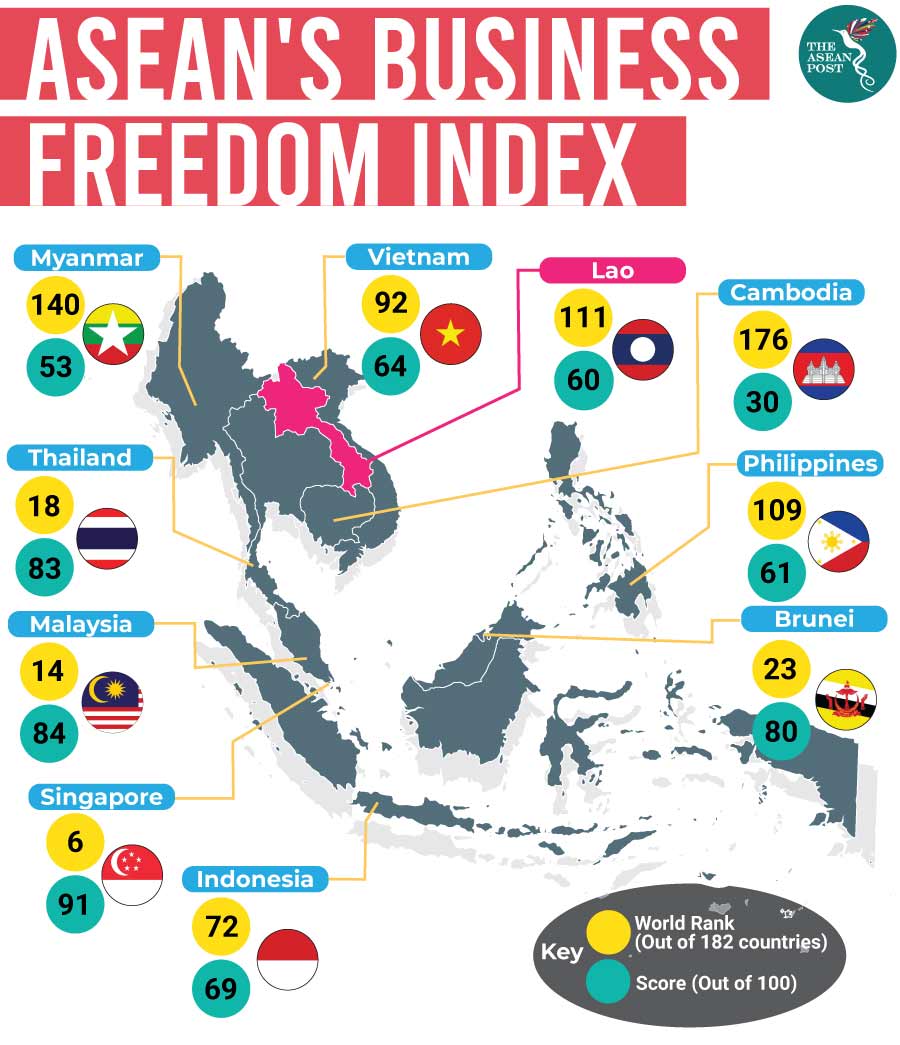 Source: Heritage Foundation
Shiny future
In 2017, Jennifer Faulkner from the Borgen Project – a national campaign that intends to bring political attention to global poverty – noted that despite Lao's current predicament with poverty, there have been improvements.
She pointed out that while the poverty rate in Lao was last recorded at 23.2 percent, nearly a decade ago it was at a staggeringly high 33.5 percent. This shift is due largely in part to economic growth that is expected to continue in the future.
"Lao has one of the fastest-growing economies – not only in the East Asia and Pacific region but also in the world. This growth can be attributed to the fact that Lao is home to a bounty of natural resources that include water, minerals and forests. Additionally, construction and services have expanded and contributed to an increase in tourism and foreign investment," she wrote.
According to the United States' (US) Central Intelligence Agency (CIA), Lao's economy is rapidly growing as a result of decentralised government control and encouragement of private enterprise since 1986. The CIA also notes that currently, Lao ranks amongst the fastest growing economies in the world, averaging eight percent a year in gross domestic product (GDP) growth.
However, the ADB and World Bank believe that Lao's economy has seen remarkable growth over the past decade due to the export of natural resources including mining, rising investment and hydropower output. These institutions have urged Lao to diversify its economy if it wishes to sustain economic growth in the longer term as the export of natural resources will one day be depleted.
Lao policy makers have argued that no country in the world sees success in development without using natural resources as an initial development stimulus, pointing out countries like the US and Canada also used funds from natural resources to develop other sectors, in particular education. They have, however, mentioned that Lao is aware of its use of natural resources and has a policy to boost the development of small and medium size enterprises (SMEs) to sustain longer term economic growth as well as allocating more funding to education in order to develop labour force skills and to meet growing demand.
Therefore, while Lao may have issues that it must contend with such as malnutrition and poverty, it is good to know that the government there is well aware of these issues and is taking proactive measures to address them. Being one of the fastest growing economies in the world, it is hoped that Lao will continue this upward growth trend while eradicating the scourges of malnutrition and poverty.
Related articles: