The news that Malaysia's longest running Malay-language newspaper, Utusan Malaysia, might close tomorrow serves as a reminder to media outlets across the region about the importance of ethical journalism and sound financial management.
Malaysian media has widely reported that the 80-year-old Utusan Malaysia and its sister publication, Kosmo! will cease print and online publications tomorrow due to financial constraints, with news of the closure revealed during a meeting between staff and Malaysia's Ministry of Human Resources yesterday. The news came after 800 staff of Utusan Group – the newspapers' parent company – left under a voluntary separation scheme (VSS) last December in a bid to stem losses which now stand at US$62.6 million as of 30 June. 
Utusan Malaysia has long been accused of being a mouthpiece for the United Malays National Organisation (UMNO) – the largest component party in the National Front (Barisan Nasional) opposition coalition. After enjoying more than six decades in power, the National Front's unexpected defeat in last year's general elections has seen a similar downfall in fortunes for the newspaper – which has reportedly been unable to pay its workers' salaries since June.
Years of loyalty
Utusan Malaysia may be best known for provocative headlines such as "Apa lagi Cina mau?" (What more do the Chinese want?). Published the day after the 2013 general elections to wide public backlash, the headline was scorned for fanning racial and religious tensions. Despite maintaining power, the ruling National Front had just suffered its worst electoral showing and Utusan Malaysia blamed the country's Chinese population for turning their backs on the coalition which had led the nation since the country's Independence.
Founded in 1939 by Yusof Ishak, who would go on to become the first president of Singapore, and Abdul Rahim Kajai, an early champion of Malay journalism, Utusan Malaysia played a key role in shaping public discourse on national issues prior to Independence in 1957 – after which the newspaper would move its headquarters to the nation's capital in Kuala Lumpur.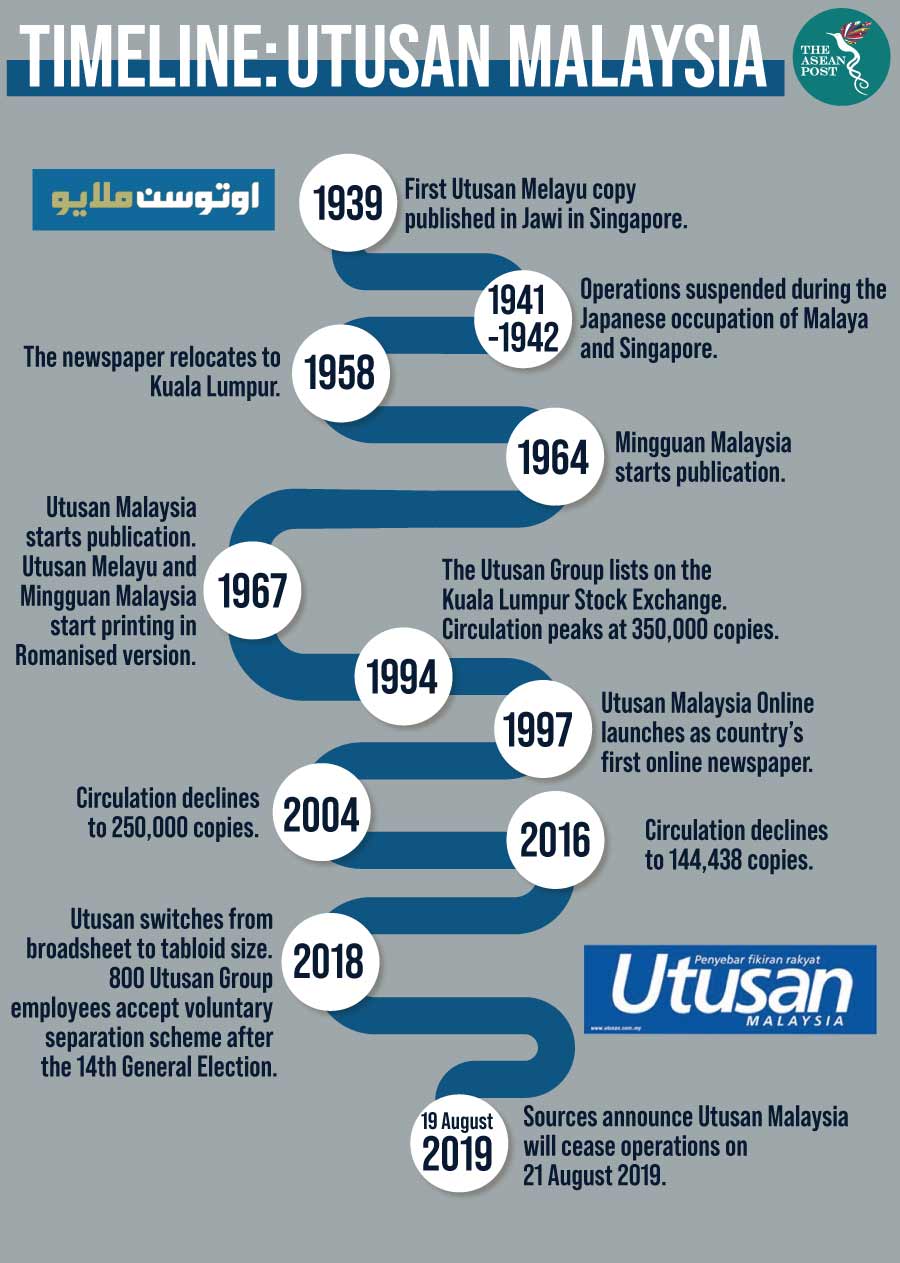 Source: Utusan Group
As John A. Lent noted in his 1978 research paper titled 'Malaysia's National Language Mass Media: History and Present Status', Utusan took critical stands on political matters prior to Independence and was among the first Malay papers not to depend on other presses for information, subscribing to world news agencies instead.
"Utusan was anti-British, sympathetic to UMNO and revolutionary to the extent it indoctrinated the people with socialist ideologies concerning community development," wrote Lent, a former lecturer and coordinator of the Mass Communications programme at the University of Science, Malaysia.
While promoting revolution against the British may have won it readers pre-Independence, professional journalistic values such as – ironically – independence, objectivity and accountability were seemingly discarded in favour of pushing the views of UMNO leaders post-Independence. 
Poor finances
While there is no denying Utusan Malaysia's willingness to be used as an UMNO propaganda tool, the fact it has been in the red since 2012 is just as important when discussing the downfall of this famed national newspaper once used as a teaching tool across the country.
As it is, print journalism faces an onslaught from an increasingly democratised digital media landscape – putting pressure on newspapers' readership and financial health for more than a decade.
Malaysia has not been spared, and the country's oldest newspaper – the 122-year-old Malay Mail – stopped its print edition last year. The country's two largest media groups, Media Prima and Star Media Group, also let go around 1,000 staff in 2018. 
Utusan Group – trading under Utusan Melayu (Malaysia) Bhd – now faces delisting on Bursa Malaysia (Malaysia's stock exchange) after being unable to submit a regularisation plan as required last year under Bursa Malaysia's Practice Notes 17 (PN17) which outlines steps financially unsound companies must undertake to maintain their listing.
"After taking into consideration the losses incurred in the first two quarters of 2019 and cash flow constraints, the Board is of the view that the Group will not be able to meet Bursa's requirements to uplift the PN17 status," the group said in a filing on Bursa Malaysia yesterday.
"The Group is also not able to find any potential investor… to revive the Group, mainly due to its huge liabilities," it added.
Former Malaysian Prime Minister Najib Razak said UMNO would step in and provide assistance if not for its assets being frozen due to the ongoing 1Malaysia Development Bhd (1MDB) investigation after news broke that the company might cease operations tomorrow.
About 100 Utusan staff staged a picket outside the company's headquarters on Monday to demand outstanding salaries and severance payments, and it is these journalists, editors, photographers and graphic artists who have the most to lose from Utusan's closing.
There have been reports of staff having to borrow from loan sharks to feed their young children syrup as a substitute for milk, and the company is now sure to lose even more credibility among average Malaysian citizens.  
While some media observers have termed Utusan Malaysia's downfall as "tragic," perhaps even more heart-breaking is the knowledge that there will be a few more hungry children in Malaysia tomorrow.  
Related articles:
Wall Street Journal ends print editions in Europe, Asia