Every year, 12 million girls are married before the age of 18. That is 23 girls every minute. 
In some Southeast Asia countries, child marriages and teenage pregnancies continue to rise. ASEAN member states Indonesia, Lao PDR and Vietnam, among others have long practiced early unions. Girls Not Brides, an international organisation on a mission to end child marriage worldwide, states that 14 percent of girls are married before 18 in Indonesia, and one percent are married before their 15th birthday. Whereas in Lao and Vietnam, 35 percent and 11 percent of girls are married before they turn 18, respectively.
Some of the main reasons that fuel and sustain the practice of child marriage include poverty, lack of education, cultural practices and security.
When a girl is forced to marry as a child, she faces immediate and lifelong consequences. Her odds of finishing school decrease while her odds of experiencing domestic violence rise, notes the United Nations Children's Fund (UNICEF). There is also a higher risk of perpetuating intergenerational cycles of poverty.
Back in March 2019, ASEAN together with UNICEF, United Nations Fund for Population Activities (UNFPA) and humanitarian organisation Plan International, organised a regional forum to raise awareness on child, early and forced marriage (CEFM) in the region. The forum served as the beginning of an action-oriented dialogue among multiple stakeholders, aimed at accelerating efforts to eliminate child marriage and to make Southeast Asia a CEFM-free region.
A few months following the forum, Indonesia announced that it had revised its marriage law to lift the minimum age at which women can marry by three years to 19. It was a move welcomed by campaigners as a step towards curbing child marriage in the archipelago.
Recently, the Philippines' Senate passed on third and final reading a bill that criminalises child marriage in the country. According to local media, in a unanimous vote, senators approved Senate Bill No. 1373 or the "Girls not Brides Act" which prohibits marriage between minors (persons below 18 years old) or between a minor and an adult.
In addition, those who cause, fix, arrange or officiate a child marriage shall also receive punishment. 
"The issue of child, early and forced marriages is one that is largely invisible to us here in Metro Manila, but it is a tragic reality for scores of young girls who are forced by economic circumstances and cultural expectations to shelve their own dreams, begin families they are not ready for, and raise children even when their own childhoods have not yet ended," said Senator Risa Hontiveros. 
"Today we give our girls a chance to dream, a chance to define their future according to their own terms. We defend their right to declare when they are ready to begin their families. We tell them their health matters to us, their education matters to us. We give them a fighting shot," she added.
According to UNICEF, the Philippines has the 12th highest absolute number of child brides in the world at 726,000. An estimated 15 percent of Filipino girls are married before they turn 18, while two percent are married before the age of 15.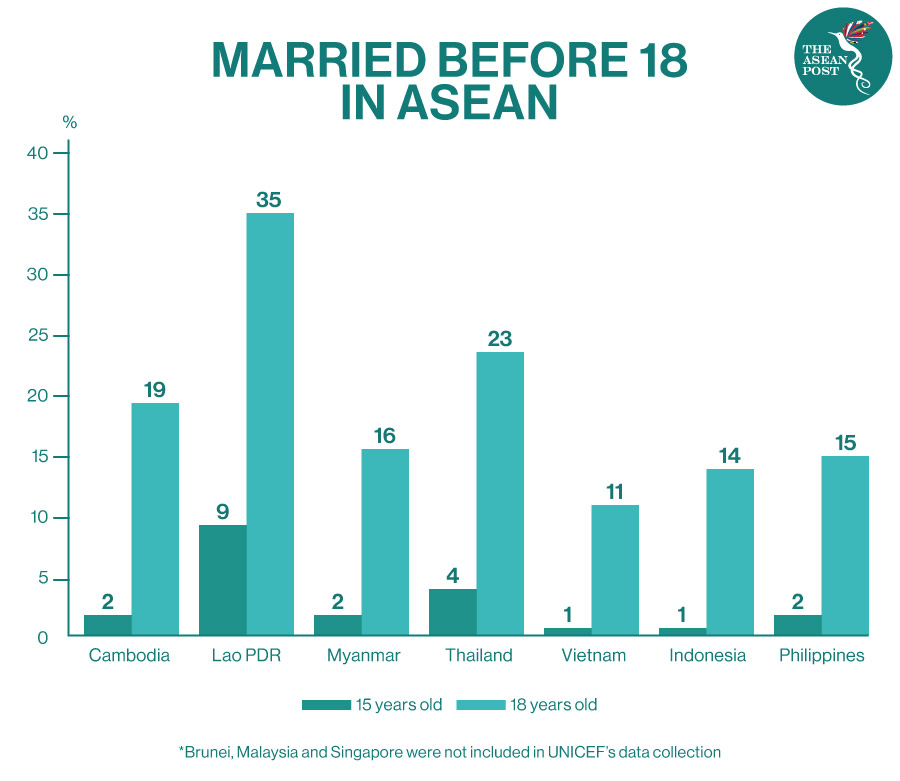 Even before the recent and much celebrated move by the Philippines, the ASEAN member state had already committed to eliminating CEFM by 2030 in line with target 5.3 of the Sustainable Development Goals (SDGs).
The Philippines ratified the Convention on the Rights of the Child in 1990 which sets a minimum age of 18 for marriage. The archipelago has also committed to the ASEAN Declaration on the Elimination of Violence against Women and Violence against Children in 2013, which acknowledges the importance of strengthening the region's efforts to protect children from all forms of violence, including early marriage. Other than that, they also co-sponsored the 2014 United Nations (UN) General Assembly resolution on CEFM, among other efforts to combat the issue.
Pandemic
An analysis by humanitarian organisation for children, Save the Children, revealed that a further 2.5 million girls are at risk of marriage by 2025 because of the COVID-19 pandemic – the greatest surge in child marriage rates in 25 years.
Save the Children also states that as many as one million more girls are at risk of becoming pregnant this year alone – with childbirth the leading cause of death among 15- to 19-year olds.
"When you have any crisis like a conflict, disaster or pandemic – rates of child marriage go up," said Erica Hall from international children charity, World Vision.
Back in July, Iori Kato, UNFPA's representative to the Philippines warned that the country may see a spike in child marriage amid the coronavirus crisis.
"In the Philippines, even before the outbreak of COVID-19, one out of six Filipino girls married before 18," said Kato.
"And because the effects of this pandemic and quarantine measures are disrupting those efforts to end child marriage, we may actually see even a further increase in child marriage," he added.
Hopefully, with the approval of the proposed Girls Not Brides Act in the Philippines, that would not happen in the country.
Related Articles:
Poverty And Underage Marriage In Indonesia