The recently concluded Singapore International Energy Week (SIEW) 2017, now into its tenth edition, had a larger focus on renewable energy as compared to oil and gas, coal or nuclear energy. During the event, which saw the gathering of the region's leading minds and players, Singaporean Deputy Prime Minister Teo Chee Hean revealed Singapore's latest masterplan. The island-nation, according to the deputy prime minister, could potentially generate two-gigawatt (GW) peak of solar energy by 2025, based on the solar roadmaps he has seen.
In an exclusive interview with The ASEAN Post at the side-lines of the Asia Clean Energy Summit (ACES), the Cleantech Executive Director of Singapore's Economic Development Board (EDB), Goh Chee Kiong shared that the Singaporean government already has plans to reach 350-megawatt (MW) peak solar by 2020 and one GW peak solar after 2020.
Goh deep-dived into the topic by explaining Singapore's approach dubbed "urban solar" which comprises floating PV systems and building integrated PV, so as to address Singapore's land scarcity issues. He added that if Singapore is to achieve this two GW scenario, slightly more than one GW will be achieved through rooftop solar installation with the balance largely met by floating solar systems on our reservoirs as well as on the sea.
Solar in Singapore
Singapore's clean energy sector has made significant progress after a 10-year development process, which started in 2007. It was then that Singapore's Prime Minister Lee Hsien Loong announced clean energy as a growth area and backed it with S$350 million in research investment. Later that same year, major solar technology firm REC Solar decided to locate its world-scale solar manufacturing complex in Singapore after evaluating 200 locations globally.
As a land constrained nation, Singapore is capitalising on its surrounding waters to generate new forms of energy. Last year, the Solar Energy Research Institute of Singapore (SERIS), EDB and the Public Utilities Board (PUB) commissioned the world's largest floating photovoltaic (PV) testbed at the Tengeh Reservoir. Early results in the testbed exhibited that floating solar panels performed better than conventional rooftop solar panels due to the cooling effect from the water. Work is now underway to scale up and implement much larger PV systems on several reservoirs.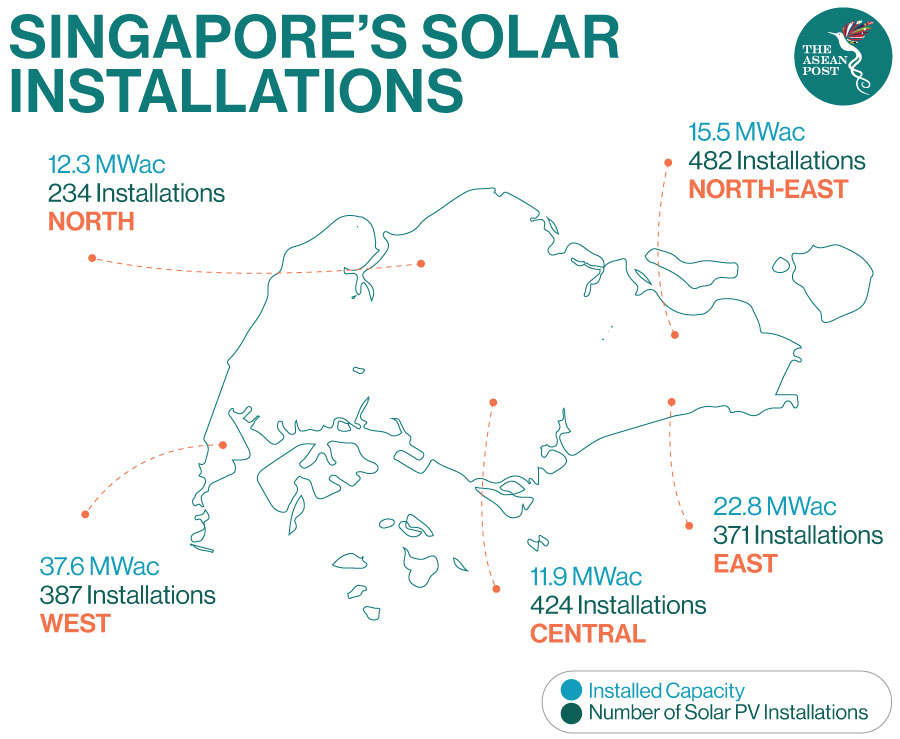 SolarNova
In 2014, the Singaporean government launched the SolarNova programme through the EDB to accelerate Singapore's solar adoption. The programme employs a solar leasing business model through a public-private sector initiative whereby a private sector entity will install, own and operate the energy-generating systems and sell electricity to government agencies through a long-term power purchase agreement."SolarNova is likely to be the single largest contributor to our solar adoption by 2025. SolarNova is being implemented on our many government-owned buildings such as public housing blocks, schools, utilities buildings, police and customs buildings. In fact, the next SolarNova tender is scheduled to be launched in early November," stated Goh.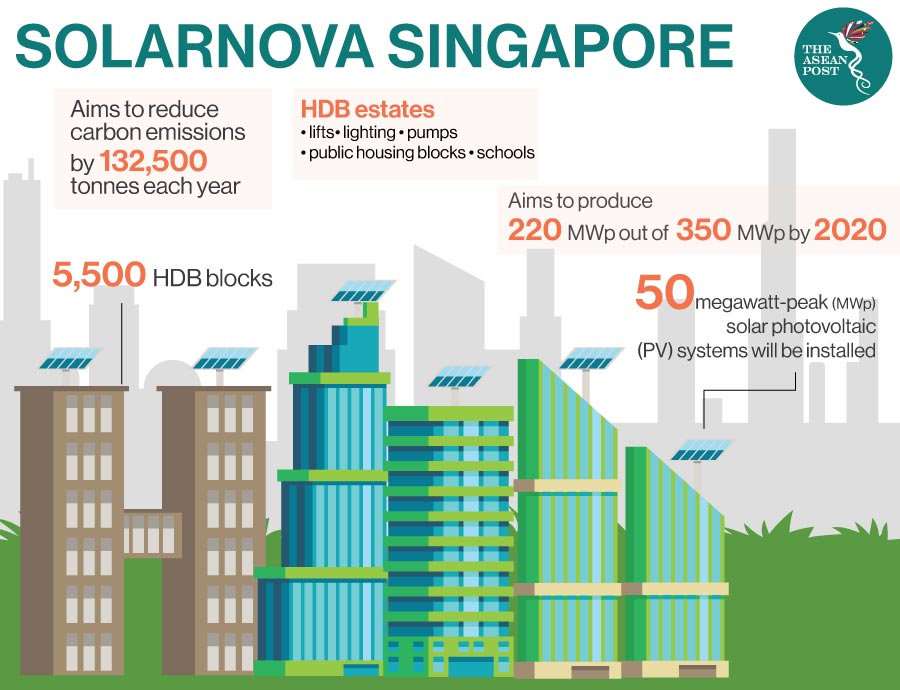 Singapore's energy mix
Natural gas – the cleanest form of fossil fuels – makes up approximately 95 percent of Singapore's existing energy mix. The balance five percent comes from waste-to-energy (four percent) and solar (less than one percent).Total installed power generation capacity in Singapore currently is 13 GW with peak demand at seven GW. "The peak power demand for Singapore is about seven GW and if the potential for two GW peak solar is realised, solar can make a meaningful contribution during peak hours," Goh highlighted. However, he explained that peak power for solar does not necessarily translate to the energy mix contribution since solar does not perform at its peak throughout the day.
Singapore as the ASEAN hub for renewables
At present, Singapore acts as an enabler for not only Southeast Asia's startup ecosystem but also as a hub for renewable energy developers and service providers. Given the pro-business environment, access to capital and investment in technology, Singapore has proven to be the leading centre for developing, financing and deploying renewable energy projects in ASEAN.
Goh commented, "Singapore is aiming to be the regional cleantech hub. We are building up capabilities and investing in research in the areas of urban solar and energy management, which includes microgrids and storage. We are leveraging Singapore's strengths as a financing centre to provide holistic services (which includes financing, advisory, legal and insurance services) for project development and financing." One cannot overlook the enormous progress Singapore has made over the last five decades but it remains left to be seen what rapid developments will take place in the next few years in view of Singapore's solar energy potential and rapid digitalisation from a once trading and banking hub.
Related articles:
Indonesian museum removes Nazi-themed exhibit after outrage
Laos makes it's mark on the Mekong river