Technology has always been one of the core catalytic factors that stimulate improvement or revolution in the way we live and work. Ever since the First Industrial Revolution in the 18th century, human beings have learnt to harness the power of mechanised production facilities to grow the production capacity beyond the physical limit of human hands. 
The discovery of electric power during the Second Industrial Revolution and its adaptation into assembly lines for mass production had further expanded the possibility of humans' creations. The electronic and information technology from the Third Industrial Revolution, again opened up tremendous transformative changes with the introduction of computers and automation into industrial production.
However, it was only until the emergence of the internet in the last century that an astonishing change was truly brought about by connecting everyone around the world together. This has resulted in a transformation unlike anything mankind has ever experienced before. Brand new business models leveraging on the internet and information technology are being introduced every day and this has fundamentally changed the way people approach and solve everyday problems.
Over the last two decades, we've seen a tremendous number of technological breakthroughs in emerging technologies such as robotics, artificial intelligence (AI), quantum computing, internet of things (IoT), 3D printing, autonomous vehicles, renewable energy, etc. These emerging technologies have formed the cornerstones for the Fourth Industrial Revolution, which is expected to bring another round of exciting transformation that will uplift the quality of life and work.
The phrase Fourth Industrial Revolution (4IR) was first coined by Klaus Schwab, executive chairman of the World Economic Forum (WEF), in a 2015 article in Foreign Affairs. The 4IR is characterised by a fusion of technologies that blur the lines between the physical, digital and biological spheres. The speed of current breakthroughs has no historical precedent and the 4IR is evolving at an exponential rather than linear pace. Most importantly, it is disrupting almost every industry in every country in the areas of production, management and governance.
Traditionally, the industrial revolution has been closely associated with manufacturing and production activities. However, the non-manufacturing industry sectors are also inevitably affected by the advancement of technology. 4IR technologies have brought about billions of possibilities along the value chain of almost every single industry.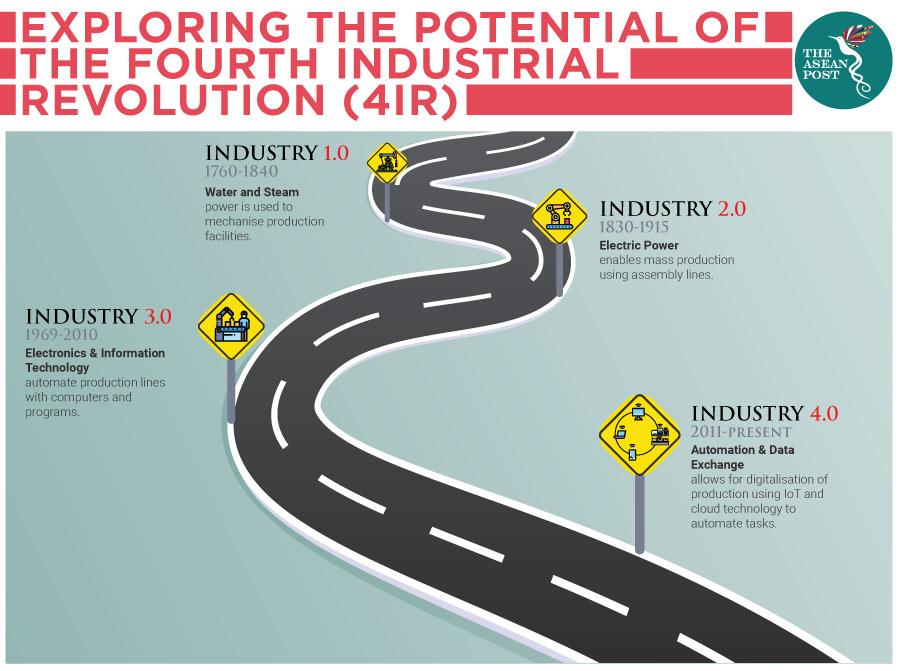 Below are several examples of 4IR technology providers and their adoption in non-manufacturing sectors:
Healthcare: Cohealo is a Big Data Analytics (BDA) system that allows for healthcare providers to share medical equipment across facilities, to optimise spend, accelerate cash flow and improve access to care. Prior to this creation, it was estimated that hospitals use any given medical machine about 42 percent of the time. Leveraging on BDA and system integration, Cohealo rolled out a software platform to hospital systems that catalogues and organises their equipment inventory, and then allows doctors or nurses to simply tap and order what they need, when they need it, from any hospital in their network. This business model is also being referenced as the Sharing Economy, similar to what Grab and Airbnb do.
Transport: Daimler is a truck provider based in the United States (US) that supplies semi-autonomous trucks that use a combination of radar, lasers and camera systems. Using AI, autonomous robots, and IoT, Daimler trucks can identify obstacles and boundaries of the road which effectively reduce the chances of crashes caused by distracted or drowsy drivers. Moving in convoys, driverless trucks avoid unnecessary overtaking and, by using the slipstream of the vehicle in front and by optimising accelerations and decelerations, they can reduce fuel consumption by 20 percent. The combination of safer, faster and more economical truck transportation through autonomous technology could lower the overall cost of goods, bringing greater value to end-users.
Construction: Apis Cos is a start-up housing company that uses 3D printing for the construction of houses. With the help of Additive Manufacturing, Advanced Materials and AI, Apis Cor built its first home in just one day using US$10.13 worth of materials. This technological breakthrough will contribute to solving the issue of supply in affordable housing. Furthermore, its layer-upon-layer approach allows construction companies to create objects using various materials like plastic, metal, or concrete at the same time to simplify the engineering process.
Banking and Finance: AuditXprt is a software provider that does automated auditing and compliance check for financial institutions. The current regulatory compliance assurance process used by the bank's Financial Crime Assurance team is largely manual, takes a very long time (six months), is expensive and yet there is high risk as it relies on sampling (0.05 percent sample of the customer data population). AuditXprt has developed an intuitive platform that uses AI, natural language processing and machine learning to automate auditing and compliance processes. This innovation has effectively reduced compliance costs by up to 90 percent. Financial institutions can now review 100 percent of the documents in a fraction of the time as compared to the sampling method which is manual and time consuming, yet prone to human errors.
The examples above are just the tip of the iceberg. Mankind is merely at the starting point of realising what 4IR technologies could do. Technology advancements and revolution are inevitable, with proper adaptation and implementation, a business or value chain can achieve significant improvement in productivity and quality. However, the key to this goes back to human factors. Industry leaders and practitioners have to embrace the change and openly explore the possible adaptation of 4IR technologies into their business activities to fully unlock their potential.
Ivan Yee is a principal consultant at 27 Advisory. With more than 27 years in business, 27 Group is a 100 percent Malaysian owned local consulting firm that is fast, flexible and focused with unique expertise that blends local socio-economic policy settings, global engineering-built assets and detailed financial analyses. Read more about 27 Group's consulting services at 27.group.
Related Articles:
How technology is enabling SMEs