Fake news is the biggest concern for millennials in ASEAN when consuming online content, and their reliance on social media is only making matters worse.
International communications consultants Ruder Finn surveyed 1,648 people between the ages of 18 to 35 in Indonesia, Malaysia, Singapore, Thailand, the Philippines and Vietnam recently, and the research offers valuable insight into consumer preferences across the region with regards to online content.
An even mix of male and female participants took part in the survey which was conducted over two weeks in March and April, and the resulting report titled 'Entertain Me. Inform Me. Inspire Me. Feed Me: How to Satisfy Southeast Asia With Your Content' found that ASEAN consumers want easy-to-understand and trustworthy content that is both entertaining and informative.
Despite the variety of digital platforms available today, Southeast Asian millennials consume the vast majority of their online content across just two platforms; social media (80 percent) and video (76 percent).
Traditional sources of information such as local and international news platforms (19 percent and 18 percent, respectively) have lost their shine, with messaging platforms (38 percent), blog/forums (18 percent), company/brand websites (15 percent), magazines (seven percent) and podcasts (four percent) also no match for the popularity of social media platforms and the wealth of content they offer.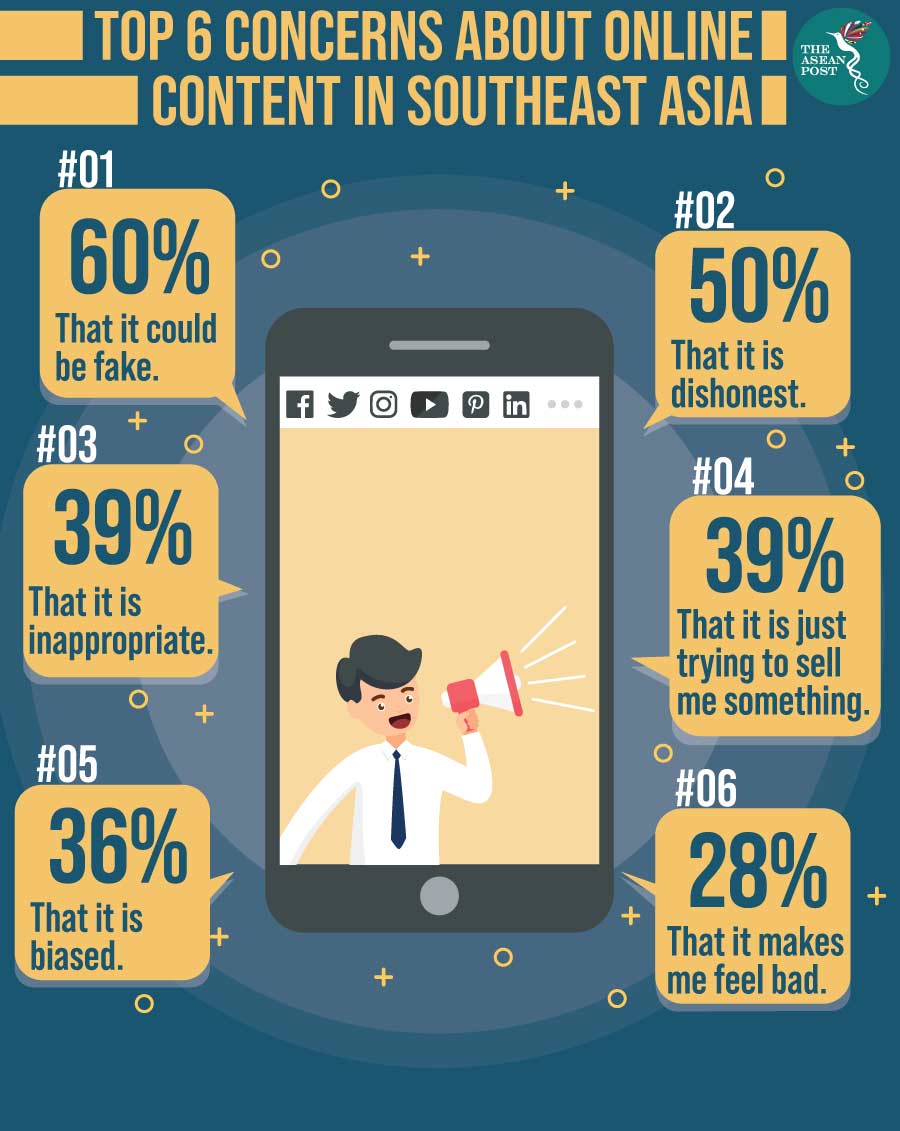 Source: Ruder Finn
Overall, 60 percent of respondents across all platforms agreed that fake information was their biggest concern while consuming online content, 50 percent were worried about dishonest content and 39 percent each were concerned about the content being either inappropriate or biased.
Fake news
Named "Word of the Year" in 2017 by Collins Dictionary, concern over fake news and the spread of false information has grown exponentially, especially since it often masquerades as official news reporting.
ASEAN has long recognised this problem and fake news was among the main topics at the 14th meeting of ASEAN Ministers Responsible for Information (AMRI) in Singapore last year, where the ministers issued the Declaration on a Framework to Minimise the Harmful Effects of Fake News. 
"One key challenge is the use of social media as a platform for the promulgation of fake news. As social media platforms seek to command the attention of users for monetary benefit, they may inadvertently facilitate fake news transmission," states the declaration.
As the declaration noted, the creation of information on social media is decentralised, unlike on traditional media which is structured around licensed media organisations. 
While content on social media is more immediate and better reflects the diversity of views and interests in society, its creators are not necessarily subjected to traditional regulations or journalistic standards.
Algorithms used by social media platforms tend to provide content to users based on what they would want to see, which then encourages isolation and polarisation as people are not as exposed to contradictory views or beliefs – making for a new media environment which poses several challenges to governments as well as the wider community.
The World Economic Forum (WEF) identified misinformation going viral online as one of the biggest threats to society, and there have been instances where information has been distorted to create fake news stories with the intention to provoke violence, sow hate, fear, distrust and discord. As the declaration pointed out, such cases have the potential to undermine confidence in political institutions and erode social harmony.
Facebook uses artificial intelligence (AI) to detect and delete bots, fake accounts and pages, and Google has taken steps to modify its search ranking system to prevent fake news from entering the top results for particular search terms. In addition, Google has partnered with the International Fact-Checking Network to fight against fake news in ensuring only accurate articles are posted.
While such industry-led initiatives are important in building social media's trust and credibility, a discerning, well-informed and media literate public that is able to detect fake news when it is presented to them is the first line of defence.
Credibility and authenticity
Inaccuracy and dishonesty are two key factors that turned consumers off according to the Ruder Finn report. This ultimately damages brand influence and impacts product purchases, thus making it all the more important that content is carefully crafted to reassure audiences of its credibility and authenticity.
The importance of factual and straightforward content also scored highly among the respondents in the survey, with 78 percent preferring it over content that is emotional. 
Among other key findings include the following – 52 percent of participants prefer to read instead of watch content online, 60 percent want content that entertains and 50 percent would opt for content that educates.
"The research argues for brands to strike a balance between appealing to the emotional needs of a consumer while also sharing the relevant information to influence the purchasing decision," said Martin Alintuck, Ruder Finn's managing director for Southeast Asia. 
"At the same time, consumers seem to desire an ongoing story or flow of content that brings them back to familiar information and places. And they are very open to not just watching content but reading it as well."
Related articles:
The rise of 'fake news' and disinformation in ASEAN