Cambodia's Information Ministry recently warned that it would revoke the licenses of print and online media outlets which distribute fake news that could endanger national security.
Phos Sovann, director-general of General Department of Information and Broadcasting, said in a Facebook video post that the ministry will strictly implement laws against fake news, and come down hard on outlets which violate the terms of the licenses or are not registered with the ministry.
"All websites operating in Cambodia must register with the Ministry of Information and obey the conditions, including strictly using the Kingdom's KH domain, when publishing news," he said.
Aside from Cambodia's notoriety for having poor media freedom, the warning also heightens worries after Sovann admitted that even if the news did not "threaten national security" media outlets run the risk of being shut down.
Sovann noted that over the past two years, 400 online media outlets had registered with the ministry and are operating across the Kingdom. He said some of them have violated their conditions in minor ways, which did not affect national security, adding that they were given warnings and told to remove the offending content, adding that if they did not take down the content or post corrections or still repeated such offences, the ministry would revoke their licenses.
If media that do not endanger national security can also be shut down too, then it would be extremely easy to close down media outlets over national security issues by simply accusing them of endangering national security. Lending to this fact is Cambodia's vague definition in Article 41 of the Constitution of Cambodia which provides that "Khmer citizens shall have freedom of expression" as long as it does not "infringe upon the honour of others" or disrupts "society, public order, and national security."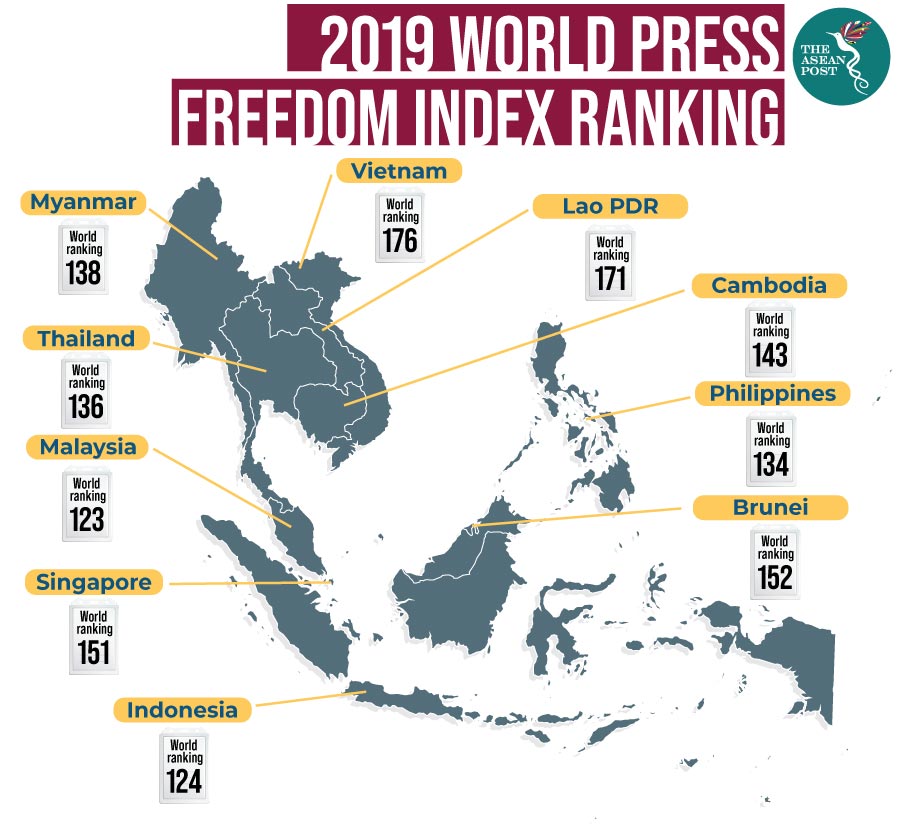 Source: Reporters Without Borders
Media clampdown
The Cambodian government does not have the best track record in the world for its treatment of the media. In 2017, in a much-publicised case, The Cambodia Daily – an independent bilingual newspaper which operated for more than 24 years – was forced to shut down in early September after it was slapped with a US$6.3 million tax bill, with Cambodian Prime Minister Hun Sen telling the newspaper to pay up or leave. The newspaper's final headline was "Descent Into Outright Dictatorship".
Prior to this, 15 other independent media outlets were also closed down in August 2017 due to their inability to follow licensing regulations and various registration requirements set by the Cambodian government – allegedly violating their contracts with the Ministry of Information.
Still, shutting down media outlets pales in comparison to the alleged murder of several journalists who were believed to have been killed for covering sensitive issues related to the government's administration.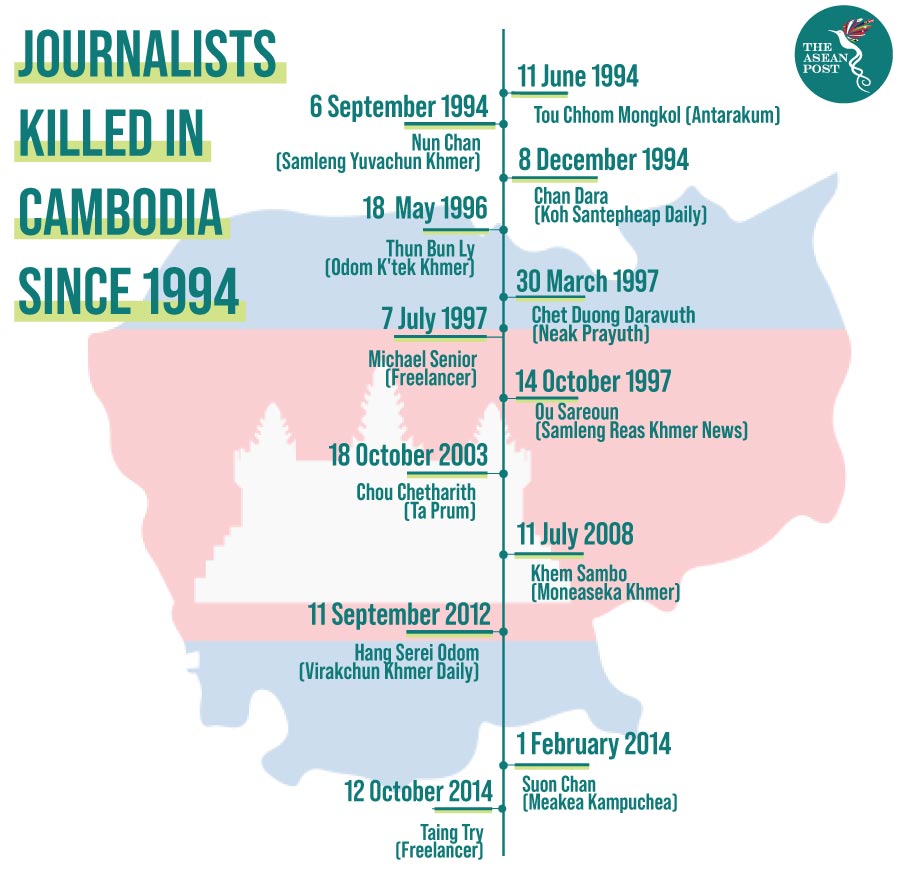 Source: Committee to Protect Journalists
National security, as mentioned earlier, has also been used as an excuse to shutdown media outlets. In February 2018, the Cambodian Ministry of Foreign Affairs published a report called "Cambodia, Stability and Development First" which noted that "other indispensable tools made available for the Cambodia National Rescue Party (CNRP) are foreign funded radio broadcasts in Khmer languages by Radio Free Asia, Voice of America, United States (US)-funded Voice of Democracy of the Cambodian Human Rights Center. Hidden under the rhetoric of freedom of press and freedom of expression these radio stations disseminated exaggerated news aiming at inciting people to disbelieve and stand up against the government".
Fake news
In December last year, the Cambodian government allowed shuttered media outlets to reopen. Numerous activists, journalists and government critics were released from jail in the months after strongman Hun Sen's Cambodian People's Party won all parliamentary seats unopposed in the July 2018 elections held without the participation of the country's main opposition party.
In a statement, Cambodia's Ministry of Foreign Affairs said that news outlets like the English-language Cambodia Daily could be allowed to return if it paid errant tax bills, adding that US-backed Radio Free Asia, which also shut its doors during the period of escalating pressure on the media, was welcome to reopen its offices too.
"Cambodia cherishes promotion of freedom of press and freedom of expression", the ministry said.
Following the positive news for media outlets, it is hoped that Cambodia does not intend to regress into its old ways of clamping down on media freedom. The government there should come clean and let Cambodians know whether "cherishing the promotion of freedom of press and freedom of expression" is merely fake news or not.
Related articles:
The case of Cambodia's media crackdown in 2017