The populations in many ASEAN countries are ageing fast. Singapore's population of 65-year-olds is expected to reach 26.6 percent in 2035, while the ageing population of Thailand is expected to reach 22.8 percent. By 2050, Thailand's old-age dependency ratio will rise to more than 50 percent, according to the International Monetary Fund (IMF).
The latest government statistic shows that Vietnam has 11.3 million old people, where 1.8 million are over the age of 80. Based on the same statistic, that proportion will rise to about 20 percent in 2038. 
Universiti Malaya's Social Wellbeing Research Centre revealed that the number of people aged 60 years and above in Malaysia will reach 3.5 million in 2020. This number is set to rise to 6.3 million in 2040 encompassing about 20 percent of Malaysia's population. The president of the Federation of Reproductive Health Associations Malaysia, Dr Kamaruzzaman Ali have said that government and citizens should ensure there are safety nets for the elderly. He also mentioned the need to provide more elderly-friendly facilities and infrastructures.
As ASEAN's ageing societies grow, concern extend beyond just the number of aged, to issues such as health, welfare, care and living arrangements.
Ageing in place
Environments that allow ease of access and mobility are enabling the elderly to remain in their homes as they age, without the need to relocate. According to the United Nations Economic and Social Commission for Asia and the Pacific (ESCAP) most elderly want to 'age in place', which means to have the ability to live independently in their own homes in comfort and safety, regardless of age, income or ability level.
Studies from the World Health Organization (WHO) and the United Nations Population Fund and Help Age International have shown that the concept of ageing in place is not new and the demand for long-term living arrangements around the world is increasing. The WHO also states that community health workers are important to promote healthy ageing in place. Support should also come from the community with accessible facilities, efficient infrastructures and healthcare that assure the wellbeing of the aged.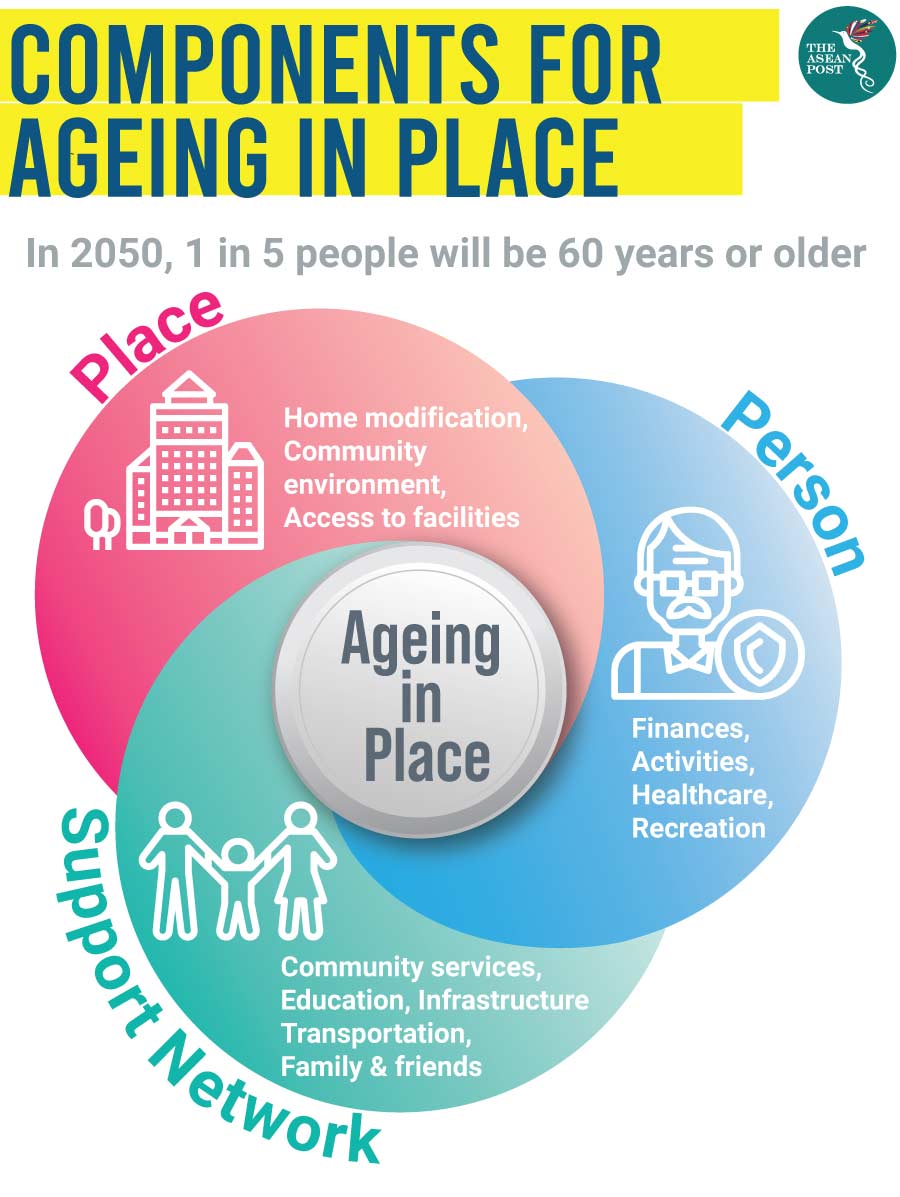 Source: United Nations ESCAP, 2017
Homage, a Singapore-based service platform, uses smart technology to provide on-demand home caregiving for seniors. CEO and co-founder of Homage, Gillian Tee says of the pressing need of elderly care, "My co-founder Lily Phang and I saw the pressing need for holistic care services that not only met our seniors' medical needs, but also helped them be more mobile and functional, providing emotional and social care to them in the comfort of their own homes." 
Homage recently launched in Malaysia to raise the standard of care for the ageing population there. Another Singapore based start-up offering elderly care services is CaregiverAsia. The online platform has also expanded into Malaysia and the United States.
Universal design
Universal Design (UD) looks at designing and building environments and spaces to be usable by all, to the greatest extent possible, without specialised adaptations. Essential features of UD include a no-step entry, wide doorways and reachable switches for people of every age and ability.
The Urban Wellbeing, Housing and Local Government Ministry of Malaysia is drafting its 'Physical Planning Guidelines for the Elderly' in order to provide more user-friendly living facilities and accessibilities for senior citizens. The guideline will look over building design and provision of facilities of new housing construction, senior care centres and retirement villages and retrofitting of existing homes.
Elderly-friendly elements not only cover building designs such as suitable height levels of electrical switches and windows for wheelchair users, but also pedestrian crossings with sufficient walking time. Product designers too must take into account that product value changes with age.
"The coming wave of older adults is better educated, more demanding and have experienced more technology throughout their lives. Technology developers and product designers will have to work harder to excite and delight the older consumers with innovative products and services," Dr Teh Pei Lee, associate professor at the School of Business at Monash University Malaysia told local media.
Teh is also the director of the University's Gerontechnology Laboratory, which harnesses technological innovation to encourage independent living of older adults to improve their health and wellbeing.
As medical advances continue to enable people to live longer, an ageing society should be able to continue contributing to their communities and be socially and economically engaged. Ageing populations may well be challenging to some countries, but they will also present some incredible business opportunities within those same nations. Providing employment opportunities for them is as important as making the environment inclusive and safer for all. 
Related articles:
Ageing Southeast Asians need homes