ENGIE – a French multinational company with operations located across 70 countries, is one of the world's leading energy giants in the renewable energy sector. The ENGIE Group also works with its own research and development lab known as the Center for Research and Innovation on Gas and New Energies (CRIGEN).
The lab employs over 1,000 researchers worldwide while in Southeast Asia, its Singapore branch has 10 researchers who conduct studies related specifically to the Asia Pacific region. CRIGEN's research is used to advance the development and progress of the company's main focus' which are Energy Efficiency, Microgrid and Smart Cities.
ENGIE Lab CRIGEN is a strong advocate for optimising energy consumption, which comes under their transitioning energy plan.
The plan involves two steps – reducing energy consumption and boosting energy efficiency. The company is attempting to enhance energy efficiency by providing high-performance solutions in the various energy production and consumption sectors. The principal of energy efficiency is to consume energy smartly so that as to be able to receive a similar service for lesser energy.
Microgrids are another sector that ENGIE is looking into. A microgrid is an energy supply network built around local power and heat generation facilities. They are designed to operate independently or in synchronisation with a national grid. Microgrids are able to completely revolutionise the standard of living in remote areas with reliable energy and electricity through the development of local mini-grids.
The development of smart cities is also a huge part of ENGIE's plans to be the leader in the shift towards new expectations of how good services should be utilised. ENGIE has created a business line for 'Decentralized Solutions for Cities and Regions', of which its objective is to accelerate the development of infrastructure, efficient services and intelligent digital solutions. The central areas that ENGIE looks into when transforming a city into a smart city are local decentralised energy, heating and cooling solutions, green mobility and digital systems and platforms.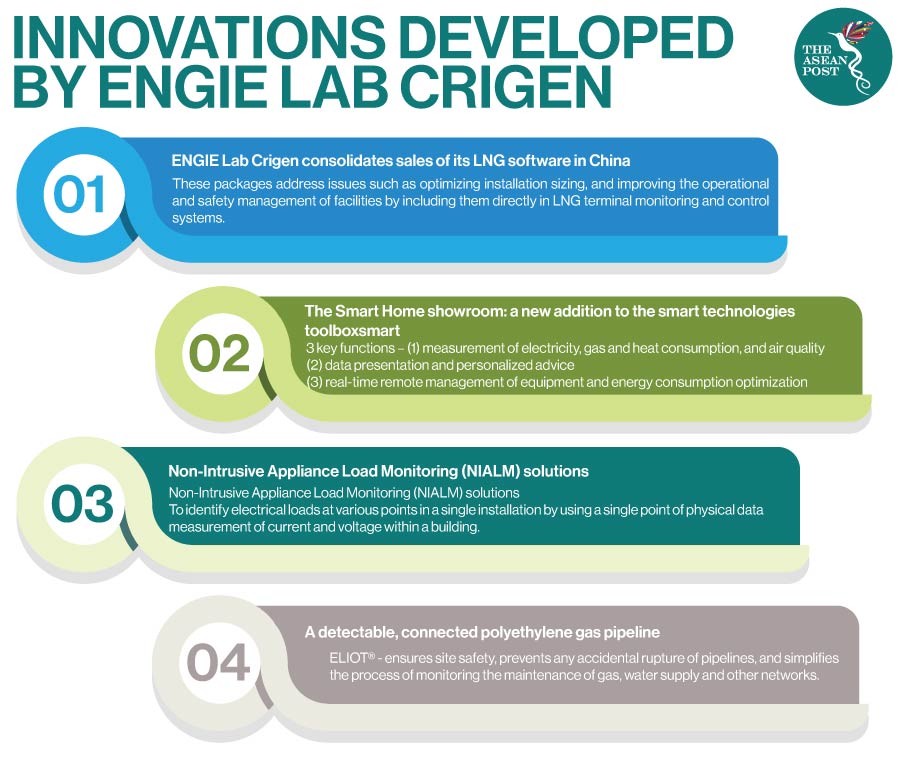 Biogas In Indonesia And Malaysia
Malaysia and Indonesia produce approximately 90 percent of the world's palm oil with nearly four million hectares of land being allocated for palm oil production alone. There are on average 1,200 palm oil mills in both countries which produce Palm Oil Mill Effluent (POME). POME is discharged throughout the palm oil production processes including the sterilisation process, crude oil clarification process and cracked mixture separation process. It produces a huge amount of methane gas, which is then turned into natural gas and electricity.
Potential
Indonesia alone has approximately 800 operational palm oil mills while Malaysia currently has about 400 mills. However, only less than 10 percent of POME is utilised for electricity production based on a study conducted by the Asia Pacific Economic Cooperation (APEC), which could be increased. The end result of having excessive POME makes for a substantial missed opportunity in reducing greenhouse gas emissions (GHG) and increasing the production of renewable energy.
Malaysia and Indonesia produce 53 million tonnes and 73 million tonnes of POME from palm oil mills per year respectively. This presents a massive opportunity in developing biogas in both nations. At the same time, the development of biogas facilities will allow both governments to shift from fossil fuels to a more environmentally-friendly alternative while increasing its power generation capabilities.
Due to this huge potential, ENGIE is currently looking at establishing a stronger presence in the Indonesian and Malaysian biogas sector. According to its official press release, ENGIE signed three partnership agreements with three local partners in Indonesia on March 29, 2017, to implement green energy products worth 1.25 billion dollars which include 300 MW of solar parks. The French energy giant has also signed four other partnership agreements with Malaysia and Singapore.
In an email correspondence with The ASEAN Post, Han Phoumin, Energy Economist with Economic Research Institute for ASEAN and East Asia (ERIA) said, "an increase in renewable energy supply in the ASEAN region will have multiple benefits for people and the environment. Its expansion and application could promote energy access at lower cost and more efficiently, and it could address the challenging issue of electricity access. ASEAN will enjoy quality growth by investing more in renewable energy sector."
Related Articles:
The shift in the East Asian order
Slum mum woes as Philippines birth control plans fail