One of the biggest beneficiaries of the growing digital economy in Southeast Asia is the gaming industry. Sea – formerly Garena – became the first Southeast Asian tech company to be listed on the New York Stock Exchange in 2017. Sea is a gaming company but has also ventured into e-commerce and e-payments recently.
A trend that has also been fuelling the games market in the region is the rise of eSports. eSports is essentially a competition using video games. Recently, eSports has taken the world by storm with international competitions such as The International and the Intel Extreme Masters. These competitions have turned heads worldwide due to the large number of spectators and prize money involved. The International 2018 saw the biggest prize pool in eSports history at US$25,532,177.00.
According to latest data from Newzoo, a market intelligence firm covering global games and eSports, global revenue from eSports in 2017 was estimated to be US$696 million and is expected to grow to US$1.5 billion by 2020. Newzoo also highlighted that the Asia-Pacific region accounts for 51 percent of global eSport enthusiasts in 2017.
In 2016, ASEAN decided to jump on the bandwagon by hosting its very own eSports tournament. Malaysia, in collaboration with eSports Malaysia hosted the first ever ASEAN Games for eSports (AGES) with a prize pool of around US$256,000.
Most recently, the 2018 Asian Games, held in Jakarta and Palembang simultaneously, had – for the first time – six demonstration games as part of its eSports event. The games were Arena Of Valor, Hearthstone, Pro Evolution Soccer, League Of Legends, Clash Royale and StarCraft 2.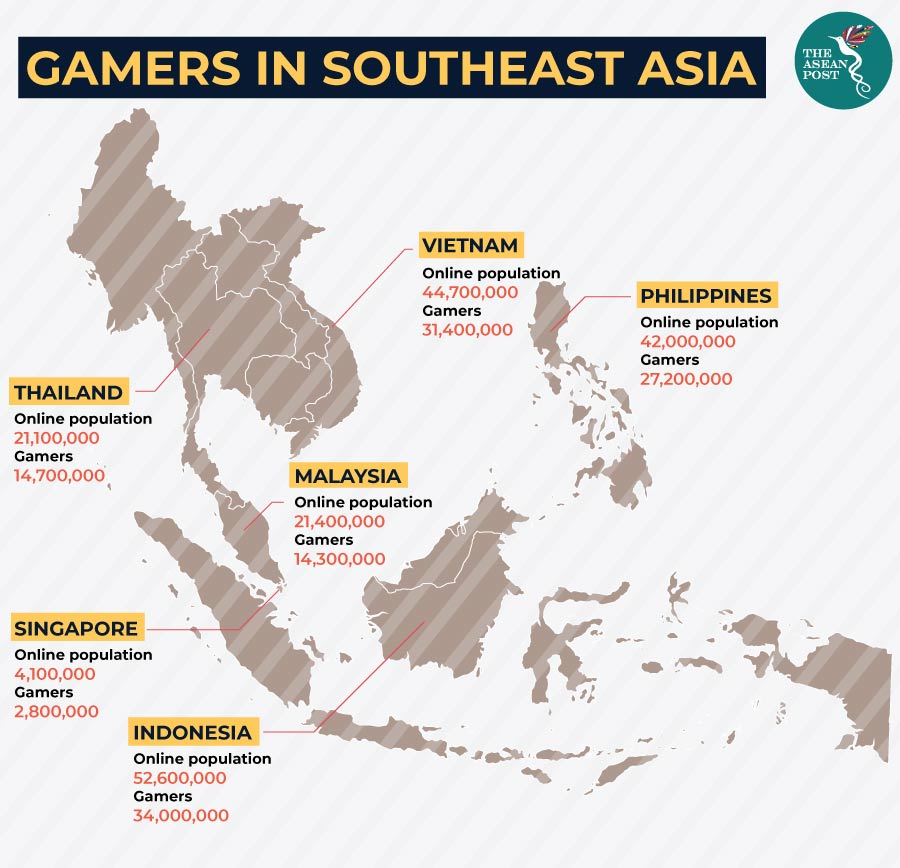 Other reasons why the eSports market is booming in the region is due to growing regional incomes. According to a Newzoo report from 2015, the "Big Six" countries in Southeast Asia for eSports are Vietnam, Thailand, Philippines, Indonesia, Malaysia and Singapore. The report stated that these countries account for 99 percent of the region's eSports revenue. The "Big Six" countries mentioned in the report have flourishing economies and a growing middle-class population. As populations grow, more disposable income is spent on hobbies and leisure activities which includes video games.
Southeast Asia's plunge into the global eSports market can also be attributed to the region's familiarity with English. According to Newzoo, this is the main reason why the ASEAN market could be easier to penetrate compared to countries like China for instance. In Singapore and the Philippines, English is already an official language.
The growth of the eSports industry has already seen an increase in gaming companies in the region – spurring job creation in Southeast Asia. Gaming conglomerate Ubisoft recently opened a production studio in the Philippines. Aside from that, locals are also picking up the mantle by opening their own gaming studios. For instance, Streamline Studios in Malaysia has collaborated with big game companies like Square Enix and Capcom. They've also worked on critically acclaimed games such as Final Fantasy XV, BioShock Infinite and Street Fighter V.
The mobile gaming industry is also on the rise in the region. In fact, mobile gaming could overtake computer and video games in terms of users. While eSports within mobile gaming isn't quite as lucrative or as popular as video games, the mobile gaming industry is projected to grow exponentially.
Mobile games are growing in popularity as they are much easier to localise compared to computer games.
"Compared with computer games, mobile games can be rolled out in overseas markets in more diversified ways," explained Xiao Hong, chief executive of gaming and media company, Perfect World Investment to Chinese tech website, Yi Cai Global.
With gaming gaining popularity throughout the region, it is no surprise that companies are scrambling for the Southeast Asian market. Alibaba's gaming arm, Ali Games began rolling out their games in 2017 for the region, while Tencent is the majority stakeholder in Singapore's Sea.
The gaming industry has really flourished in the past decade and will continue to do so. With a growing youth population, there is no reason why Southeast Asia shouldn't become an eSports and gaming hub as long as ASEAN governments continue to provide the right avenues and resources for upcoming players and local video game designers.
Related articles:
Gaming: A lucrative profession