We Are Social Inc in partnership with social media solutions provider Hootsuite, recently released its Digital 2020 Report which looks at digital, mobile and social media trends around the world. The report's findings revealed that Thais spent an average of 1.43 hours a day using games consoles. This average time spent statistic made Thailand the number one country in the world for this category.
In some ways, this could be looked at in a positive light. E-sports is growing at an exceptional rate and is today seen as a serious sport, with many e-sports events being organised on the international stage – the most recent being the December 2019 Southeast Asian (SEA) Games in Manila, Philippines.
Six different games were contested in e-sports. Thailand brought home two gold and two silver medals.
In 2018, Newzoo, a market intelligence firm covering global games and e-sports, predicted that by 2021, the annual growth rate of e-sports viewership will be approximately 14 percent. It also predicted that the number of casual viewers will grow to 307 million, and that there will be 250 million e-sports enthusiasts, making the total audience 557 million.
But while gaming has become increasingly lucrative and has presented viable career options today, there is still a dark side that is often overlooked by those pushing for the adoption and promotion of e-sports. 
Gaming addiction
From September to October last year, the Radio and Media Association for Children and Youth (RMACY) studied 3,056 Thais aged between 15 and 18 and found that a number of young people spent considerable time playing online games. 
During weekends and holidays, 32.6 percent of respondents spent three to five hours a day playing online games. Adolescents in Bangkok played the longest – more than eight hours a day on weekends. 
What's more, thanks to the popularity of mobile games, Thais are now able to play games anywhere, anytime. Around 70 percent of respondents played games at home or in dormitories while almost 18 percent played games at school, in bathrooms and bedrooms.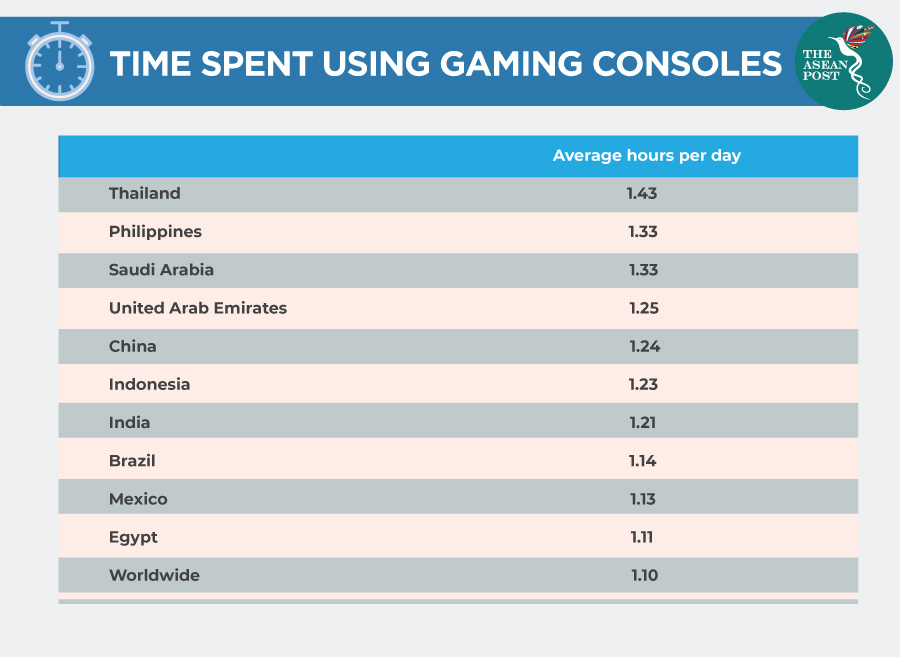 Tipawan Buranasin, a psychiatrist at the Child and Adolescent Mental Health Rajanagarindra Institute – a government organisation supported by Thailand's Department of Mental Health under Thailand's Ministry of Public Health – was recently quoted by local media as having explained how game addictions affect the lives of teenagers.
"The World Health Organization (WHO) recognised gaming disorder or gaming addiction as a disease. Young people who are addicted to games have other mental conditions such as anxiety, impulsivity and attention deficit disorder. Addicted gamers who spend time on screens and don't have proper meals have lower than average weight and height. These gamers are short and not intelligent. I met young addicted gamers who spent lots of money to top up games. A recent case spent 100,000 baht (US$3,231) for a game," Tipawan was quoted as saying.
Cyberbullying has also been found to be a serious issue when it comes to online gaming.
In a separate study, the Internet Foundation for the Development of Thailand found that one-third of child gamers experienced some form of cyberbullying, while another third of the victims bullied others. The study also revealed that around 40 percent of cyberbullying victims remained silent and that more victims tend to be girls – from the lesbian, gay, bisexual, and transgender (LGBT) community – than boys.
Finding a solution
Yongyud Wongpiromsarn from Thailand's Department of Mental Health blamed the official recognition of e-sports for the 100 percent rise in the number of children addicted to online gaming in 2018. Thailand's Institute of Child and Adolescent Mental Health also warned in September 2018 that as many as 60 children sought treatment for game addiction in a matter of months.
Regardless of where the blame should fall, finding a solution to the issue is where the focus should be. 
According to an article from the New York Times, South Korea has taken measures to combat gaming addiction among its youth. Measures include blocking children from accessing online gaming portals late at night, and providing funding for clinics offering gaming addiction treatment. 
Srida Tanthaatipanich, a researcher at Thailand Science Research and Innovation has been quoted as saying that this is unlike the case in Thailand. 
"South Korea is a leading country in the gaming industry, but they don't allow minors to attend e-sport competitions. Unlike Thailand, they aim to make money from programme development not e-sport competitions. They have regulations that prevent children from becoming addicted to games. If gamers are younger than 16, they must receive permission from parents to play. These young gamers can't access online games from midnight to 6am every day," Srida was quoted as saying.
While embracing e-sports in an increasingly technologically advanced world is important, Thailand must ensure that its children do not become victims. Perhaps, looking at some of the policies South Korea has implemented would do the gaming-crazed Southeast Asian country some good.
Related articles:
Thailand's children are gambling